Thai Red Beef Curry is so simple to make in the slow cooker, and is full of vegetables so only needs some steamed rice to accompany it.  The curry freezes well, so make double for those nights when you are to busy to cook.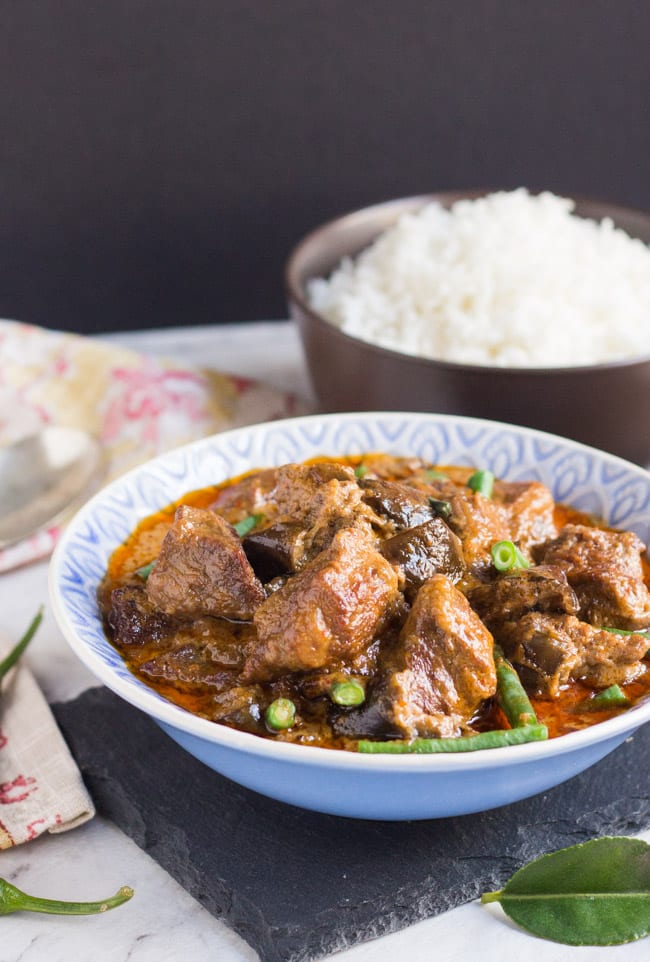 I have a love/hate relationship with my slow cooker.  Some days, thanks to The Princess's after school activities, we arrive home right on dinner time.  Without the slow cooker we eat quite late, no matter how prepared I try to be before we go out.  With the slow cooker, I can throw dinner together in the morning and have something ready for when we walk in the door.  This I love.  What I hate is that most slow cooker recipes seem bland and unappetising to me, as if the flavour has cooked out over time. Whilst this is probably a reflection of my recipe selection or my ability to use the appliance properly, it makes for a dull meal.
Over the years I have bought different recipe books to help me make the most of my slow cooker.  Some of the recipes have been successful, but many more have been average at best.  This winter, however, I uncovered a copy of Sara Lewis's Ultimate Slow Cooker: Over 100 simple, delicious recipes that I had obviously used once or twice then forgotten about.  This is not your standard slow cooker book.  With great variety in the recipes, and not a tin of condensed soup in sight, I have found it invaluable for delivering a tasty meal on a busy night.  Every dish I have cooked has been simple to make, full of flavour and delicious to eat.
I have been working my way diligently through the book, with my favourite dishes being the curries.  Curries seem to hold their flavour well during the slow cooking process, and as they freeze well I often double the recipe.  This means that I have a few emergency meals stashed in the freezer for those days I don't quite manage to get the slow cooker on.
The majority of curries I make have an Indian bent, but I'm on a bit of a Thai curry kick at the moment.  Maybe it is the advent of spring.  Years ago I completed three months of evening Thai cooking classes.  Once a week we would meet at the local college and pair up to cook a delicious feast for our dinner.  I cooked Thai food for a while afterward but then found myself distracted by other cuisines.  After not cooking Thai food for  long time I find myself drawn to it again of late.
This Thai red beef curry has appeared a few times this winter, and I am never disappointed with it.  I tone down the curry paste to reduce the complaints from The Princess.  This doesn't stop her from eating it with half a jar of yoghurt, but at least it gets eaten.  If you don't have someone whining about a little bit of heat then add more curry paste.  I add vegetables to the dish to make it a complete meal, but you could stir fry some greens to serve alongside the dish if you prefer.  Either way, it is great to come home and know that dinner is ready.  Maybe I no longer hate my slow cooker after all.
Slow Cooker Thai Red Beef Curry
I prefer to brown the beef and eggplant prior to placing it in the slow cooker as I like the depth of flavour it adds. This is the method I have given below.

If you are short on time, add all the beef and vegetables to the slow cooker, mix together the liquid ingredients and pour them over the beef, then cook as usual.

I like to blanch the beans and add them right at the end as I don't like them too soft. If you don't mind soft beans, add them at the start of the cooking time.

This recipe is suitable for a standard size slow cooker. My slow cooker is 4.5L
Total Time
8
hours
20
minutes
Ingredients
2

Tablespoons

coconut oil

700

g

braising/stewing beef

cut into 2cm pieces

3

small eggplants

cut into chunks, approximately 300g

2

Tablespoons

red Thai curry paste

400

ml

can coconut milk

2

Tablespoons

fish sauce

1

teaspoon

coconut sugar

5

leaves

kaffir lime

200

g

green beans

cut into 1cm lengths
Instructions
Heat 1 Tablespoon of the coconut oil in a large fry pan over a medium heat.

Brown the beef a few pieces at a time. Place the browned pieces into the slow cooker.

Heat the remainder of the coconut oil and brown the eggplant pieces in the same manner. Add these to the beef in the slow cooker.

Add the curry paste to the hot pan and fry for 30 seconds, or until fragrant.

Add the coconut milk, fish sauce and sugar to the fry pan and bring the sauce just to the boil.

Tip the sauce into the slow cooker, ensuring the beef and vegetables are covered.

Tuck the kaffir lime leaves under the sauce, cover with the lid and cook on low for 8 hours or until the meat is tender.

Just before serving, bring a small pot of water to the boil and add the beans.

Boil the beans for 2-3 minutes or until they are tender.

Drain the beans and gently stir into the curry.

Serve with boiled rice.
Recipe Notes
I only use 1 Tablespoon of curry paste when making this dish as my preferred paste is quite spicy. Judge the amount you require on how spicy your paste is.

Substitute any vegetables you like if eggplant and beans aren't your thing. The eggplant will cook right down into the sauce though so you won't notice it. You can substitute 1/2 cup of peas for the beans if you would prefer.

My preferred beef cut for this dish is chuck steak.
P.S.  Looking to make the most of your slow cooker?  Don't forget to check out my 7 Tips for Great Tasting Slow Cooker Meals.
 *This post contains affiliate links.  I will receive a small payment for any purchase you make by clicking these links at no additional cost to you.
Save