Ever wonder what soup mix was? Or how to use it? Throw soup mix into the slow cooker with a few chopped vegetables and some vegetable stock.  Eight hours later you will have this delicious thick and hearty slow cooker vegetable soup.
Total Time Investment:   8 Hours, 15 minutes
Have you ever trundled past the packaged soup aisle in the supermarket and spotted various bags of mixed beans, lentils and grains tucked amongst the brightly coloured packets of instant soup?  In my supermarket, they are strategically positioned on the bottom shelf, hidden just well enough that only the truly dedicated can find them.  Those mysterious bags are soup mix, and as I discovered recently, they are the express route to a hearty, filling and super easy vegetable soup.
Soup mix is not something I have previously used and if I am being completely honest, it wouldn't have been high on my list of must-try's had it not been for the packet that appeared in my monthly subscription box.  I have to say that I am now a complete convert.  Add some stock, a few vegetables and a good amount of seasoning, and you are well on the way to a substantial dinner.  All that is needed is a loaf of crusty bread or some soda bread for a complete meal.
So what is soup mix?  There are many different brands and variations, but it is essentially just a mix of lentils, peas, beans and grains that add bulk and fibre to a meal.  Soup mix does not require soaking before use, so can be added straight into your soup liquid.  It will also bulk up a simple meat and vegetable stew, giving it a hearty edge.  And as soup mix requires just that little more time in the pot to soften to eating consistency, it is ideal for adding to the slow cooker.
This slow cooker vegetable soup is what I refer to as a fridge cleaner.  I threw in the vegetables I had, so feel free to swap in whatever you have on hand.  Sweet potato or pumpkin would be good here.  A ratio of 1 cup of soup mix to six cups of stock will produce a thick, hearty soup.  Just add less soup mix if you want a thinner soup.
This recipe will make a lot of soup; ideal for a crowd or for stocking the freezer.  The soup will thicken on standing, although adding a little extra water or stock when reheating will loosen it back up.
It's finally beginning to warm up here, and soup is rarely on the menu anymore.  So I am stashing my little soup mix discovery away until next year, when I will start actively searching my supermarket aisle for this handy meal helper.
Meal Prep Tips & Tricks
Short on time?  Don't bother browning the onions and garlic.  This is an additional step I like to take to maximise flavour in the slow cooker but is not necessary.
This makes a large amount of soup.  Freeze leftovers in meal sized portions for ready made lunches and dinners.
If you are really short on time, cut up all the vegetables the night before.  In the morning just toss all the ingredients into the slow cooker.  Dinner done in less than five minutes.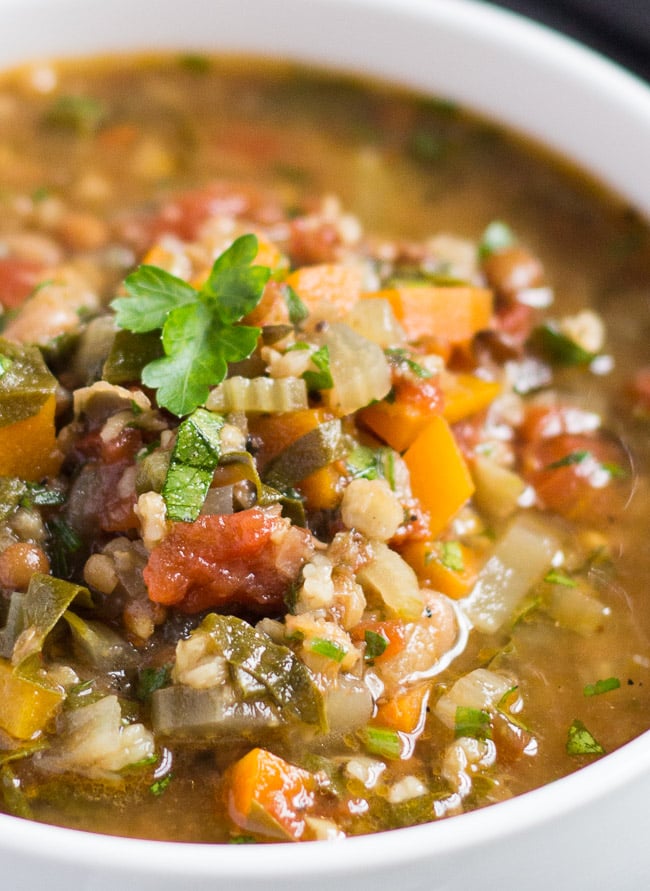 Ingredient Substitutions
Chicken stock can be used in place of the vegetable stock, although the soup will no longer be vegetarian/vegan
If you can't find soup mix, make your own.  Try 1/3 cup split peas, 1/3 cup lentils and 1/3 cup barley for an easy mix.  Replace the barley with quinoa to make the mix gluten free.
Use whatever vegetables you have on hand.  Try sweet potato or pumpkin, parsnip or celeriac.  Use kale in place of the silverbeet or spinach.
Slow Cooker Vegetable Soup
Ever wonder what soup mix was? Or how to use it? Throw soup mix into the slow cooker to create this thick and hearty slow cooker vegetable soup.
Total Time
8
hours
15
minutes
Ingredients
1

onion,

diced

2

Tablespoons

olive oil, extra*

2

cloves

garlic,

crushed

2

medium

carrots,

diced

1 1/2

litres (6 cups)

chicken or vegetable stock

2

stalks

celery,

diced

400g tin

chopped tomatoes

125

g (1 cup)

soup mix

1

teaspoon

oregano

2

large handfuls

chopped spinach or silverbeet

2

Tablespoons

chopped parsley

Salt & pepper
Instructions
Turn the slow cooker to low to allow it to warm whilst gathering your ingredients.


Saute the onion in olive oil in a small fry pan until lightly browned.


Add the garlic to the pan and cook for 1 minute.

Place the browned onion and garlic into the slow cooker.


Add the stock, carrot, celery, chopped tomatoes, soup mix, and oregano to the slow cooker.


Season well with salt & pepper. Stir thoroughly


Stir the chopped spinach or silverbeet, and the parsley, through the soup.


Allow to stand for five minutes before serving.

Recipe Notes
This soups freezes well, but will thicken on standing.  Just add a little water or stock when reheating to thin it back out. 
*The olive oil is only used if you are frying your onions and garlic.  Omit it from the recipe if adding the onions directly to the slow cooker.