These simple yoghurt popsicles are really just fruit and yoghurt, making them ideal for a quick breakfast, or dessert.  Or dessert for breakfast. They are an easy way to use up a glut of plums so keep a batch in your freezer for guilt free snacking. 
Total Time Investment: 40 minutes, plus Freezing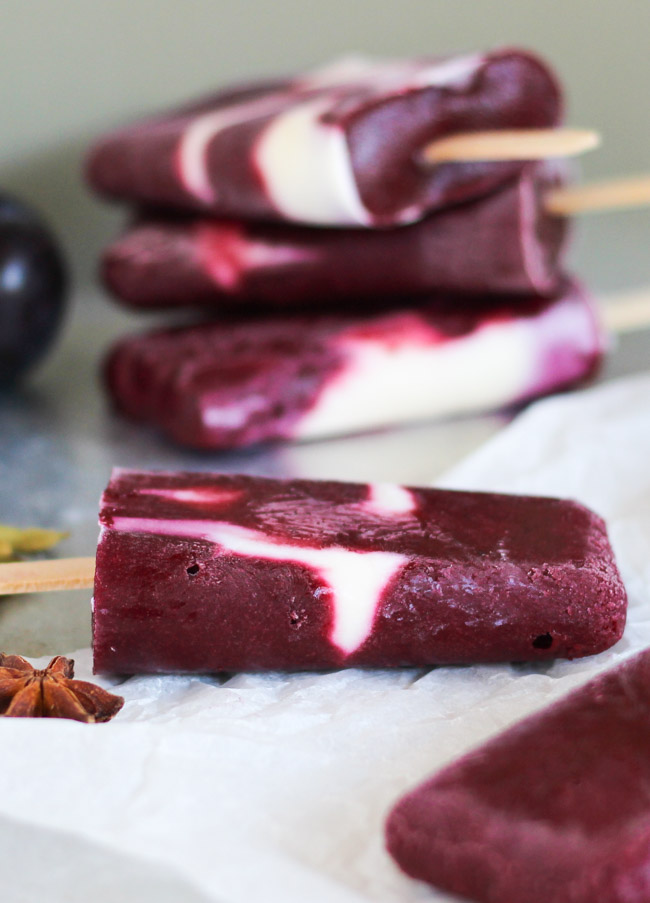 There is a certain amount of skill required to successfully eat a popsicle. Too slow and the popsicle starts to melt, drips cascading over your hand and arm before you can catch them with your tongue. Too fast and you run the risk of brain freeze. Then there is the stick to contend with. If luck is on your side, your chosen iced confection will peel away from the stick with ease. If not, you may be blithely licking away at your treat when your tongue rasps over the stick, leaving a strange woody note in your mouth and sending shivers down your spine.
Popsicles have become somewhat fashionable of late. Where once the choice was limited to Twin Poles, Frosty Fruits and Billabongs tucked into a small chest freezer in the corner of the local deli, popsicles now come in any flavour combination you can imagine and are available in dedicated food trucks and pop-up shops. Popsicles, or icy poles as they are still known to most of us, have come of age.
It is very easy to make popsicles at home. Popsicle moulds come in a vast range of shapes and sizes, and can even be bought in your local supermarket. The advantage of making your own is that you have complete control over the ingredients, which can turn the popsicle into a healthy snack rather than a over sweetened treat.
Plums are abundant at the moment and pair well with spices, red wine and yoghurt. Roasting the fruit concentrates the flavour and allows the spices to infuse the mixture. Plums can be quite tart, so it is necessary to taste the fruit you are using and adjust your sugar requirements accordingly. These popsicles are basically fruit and yoghurt in frozen form, so don't feel too guilty about eating these for breakfast if it is too hot to contemplate anything else. I certainly wouldn't.
Getting Ahead with Yoghurt Popsicles
These homemade yoghurt popsicles will last for over a week in the freezer, and even longer if you wrap the popsicles or store them in zip lock bags once frozen.  So make up a large batch in advance and store them in the freezer until required.
The roasted plums will store in the fridge for at least three days, so can be cooked in advance and then chilled until required.  Using chilled plums will also help the popsicles freeze faster.
Ingredient Substitutions
The plums can be substituted for any other stone fruit.  Peaches and nectarines will work extremely well here.
Use white wine or verjuice in place of the red wine.  Or even water will work, although won't add additional flavour to the plums.
Any yoghurt can be used in place of the Greek yoghurt.  Try a sheep's milk or goats milk yoghurt in place of the thick Greek yoghurt.
Easy Spiced Plum & Yoghurt Popsicles
These simple yoghurt popsicles are really just fruit and yoghurt, making them ideal for a quick breakfast, or dessert. Or dessert for breakfast. They are an easy way to use up a glut of plums so keep a batch in your freezer for guilt free snacking.
Ingredients
1

kg

plums

halved and stoned

250

ml (1 cup)

red wine

3

Tablespoons

dark muscovado sugar*

2

cinnamon sticks

2

star anise

5

green cardamom pods

crushed

215

g (3/4 cup)

Greek Yoghurt
Instructions
To make the plum puree
Preheat the oven to 200C (180C fan forced)


Lay the plums in a single layer in a baking dish.

Tuck the spices into the plums, sprinkle over the sugar and pour the wine into the bottom of the baking dish.

Roast the plums for 30 minutes, or until they are completely soft and beginning to slump.

Baste the plums with the red wine during the cooking time if they look like they are starting to dry out.

Allow the plums to cool completely.

Remove the whole spices and puree the plum mixture in a food processor or blender until completely smooth.
To make the popsicles
Spoon a small amount of plum puree into the bottom of the popsicle mould.

Dollop in small amount of yoghurt and then cover the yoghurt with more plum puree.

Continue layering the puree and yoghurt until the moulds are full.

Insert the popsicle sticks and freeze for 4-6 hours.
Recipe Notes
* I roasted the plums with 2 Tablespoons of sugar but needed to add an additional Tablespoon when I was making the puree as my plums were quite tart. Start with a smaller amount of sugar when you are roasting the fruit.
If you require more sugar then it can be stirred into the mixture once the fruit has cooled slightly.  Freezing the puree will dull the sweetness of the mixture, so make sure it is not too tart to begin with.
If you cannot be bothered making popsicles, the plums make a great dish on their own for breakfast, dessert or for a quick snack. Dollop the yoghurt on top.
Nutrition Facts
Easy Spiced Plum & Yoghurt Popsicles
Amount Per Serving
Calories 78
Calories from Fat 11
% Daily Value*
Total Fat 1.2g 2%
Cholesterol 2.4mg 1%
Sodium 9mg 0%
Total Carbohydrates 13.8g 5%
Protein 2g 4%
* Percent Daily Values are based on a 2000 calorie diet.
P.S.  Looking for other guilt-free popsicle recipes?  Try my Tropical Vegan Breakfast Popsicles or Grab & Go Green Smoothie Popsicles.
Save