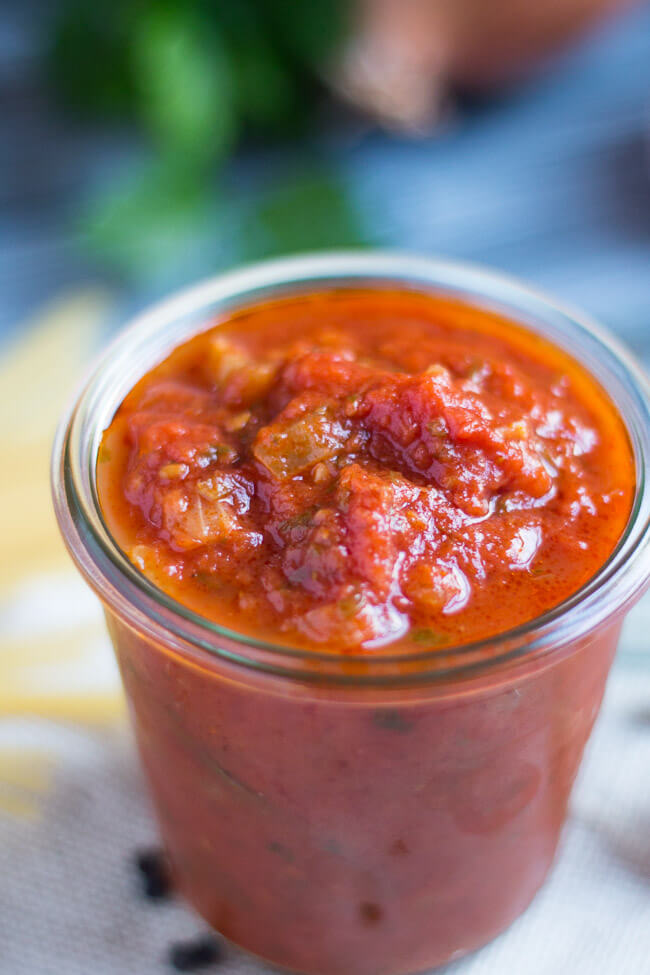 With this extremely useful tomato pasta sauce in your kitchen, you are never far from a quick meal. It is great simply stirred through pasta, and even doubles as pizza sauce in a pinch. Once you have made one batch, you will wonder how you ever did without it.
Heat the oil in a large pot, then add the garlic, onion and celery.

Saute the vegetables over a low - medium heat for about 15 minutes, until the vegetables have softened. Do not allow them to brown.

Add the remainder of the ingredients and bring the pot to the boil.

Reduce the heat to low.

Simmer the sauce for four to five hours, stirring occasionally, until the sauce has reduced and thickened. I crush the whole tomatoes into the sauce after it has been simmering for about two to three hours.

Allow the sauce to cool, then divide into meal size portions. I recommend dividing the sauce into 2 cup portions.


Either freeze or can according to your preference.
I use one of those really large tins (2.5kg size) of tomatoes in this sauce. I purchase mine from my local Italian deli. If you cannot locate this size tin, substitute 3 x 800ml tins of tomatoes instead.
I know it looks like a large amount of olive oil, but trust me. You are not cooking a single meal (unless you have an extremely hungry family) so this amount of oil is necessary to saute all of the vegetables.
I can (bottle) this sauce in 500ml bottles, using standard canning practices.
You can also freeze this sauce in containers or zip lock bags.
Nutrition Facts
A Really Useful Tomato Pasta Sauce
Amount Per Serving
Calories 90
Calories from Fat 49
% Daily Value*
Total Fat 5.4g 8%
Sodium 23.8mg 1%
Total Carbohydrates 9g 3%
Protein 1.7g 3%
* Percent Daily Values are based on a 2000 calorie diet.