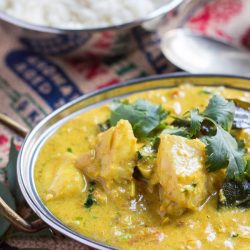 Print Recipe
A Delicious and Easy Fish Curry in Just 30 Minutes
Whip up this quick fish curry in under 30 minutes for an easy mid-week meal. The bold curry flavours, combined with the creaminess of coconut milk, are bound to win over even the most skeptical fish eaters.
Melt the coconut oil in a medium saucepan.

Saute the onion for about 5 minutes over a medium heat until translucent and just starting to brown.

Add the garlic and ginger, and cook, stirring gently for 1 minute.

Add the curry powder, turmeric and curry leaves, and cook, stirring for a further minute until the mixture is fragrant.


Slowly stir in the coconut milk, scraping up the spices and onion from the bottom of the saucepan. Bring the pan to a gentle simmer.


Add the chopped tomato, and continue to simmer for about 5 minutes or until the tomato begins to soften.

Add the fish and the salt to the sauce, and gently poach for about 6 - 8 minutes, or until the fish is cooked.

Gently stir in the coriander and lime juice.

Serve.
If your curry powder contains a lot of turmeric you may wish to decrease or omit the additional teaspoon of turmeric in the recipe.
Use a good quality coconut milk to ensure a creamy fish curry, or add a little coconut cream in place of some of the coconut milk,
This curry can be prepared in advance.  I recommend you make the sauce ahead, then slip the chunks of fish into the sauce to gently poach just prior to serving.
Calories:
428
kcal
|
Carbohydrates:
11.2
g
|
Protein:
33.5
g
|
Fat:
30.1
g
|
Cholesterol:
75
mg
|
Sodium:
98.7
mg
|
Sugar:
3.2
g
|
Vitamin A:
5
%
|
Vitamin C:
27
%