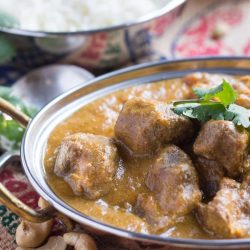 Print Recipe
Slow Cooker Lamb Korma Curry
This dairy-free, gluten -free Slow Cooker Lamb Korma Curry is so quick and easy to put together, and readily feeds a large, hungry family. The curry freezes well, so any leftovers can be stashed in the freezer for an emergency meal.
2

Tablespoons

ghee or olive oil

2

onions

sliced

1.5

kg (3 lb)

lamb

cut into 5cm (2") dice

400

g (14 oz)

tin crushed tomatoes

300

g (1 cup)

cashew cream

150

g (1/2 cup)

korma curry paste

8

cardamom pods

crushed

2

bay leaves

20

g (0.75 oz)

fresh coriander/cilantro

chopped
Melt the ghee in a medium fry pan.

Fry the onions for 5-8 minutes, or until golden brown.

Place the cooked onions in the bowl of slow cooker.

Add the lamb, cashew cream, curry paste, cardamom pods and bay leaves.

Stir thoroughly, then cook on Low for 7-8 hours or high for 4-5 hours. The actual cooking time will depend on your machine.

At the end of the cooking time, stir through the chopped coriander.


Serve with steamed rice.
Cashew cream freezes well, so can be made in advance and stored until you are ready to make the curry. 
Coconut cream can be used in place of the cashew cream.
Use diced lamb shoulder or leg, or any cut with a little fat and connective tissue. 
You needn't fry the onions off if you are short on time.  Simply add the  onions directly to the slow cooker with the rest of the ingredients.
I used a 4.5L slow cooker for this recipe.
Make the curry up to three days in advance and reheat it prior to serving.
Freeze the lamb korma for up to three months.