The sauce for this simple chicken pesto pasta recipe, made with garlic mushrooms, comes together in the time it takes to cook the pasta. Or why not swap out the chicken for green beans to make a delicious vegetarian version.
TOTAL TIME INVESTMENT: 20 MINUTES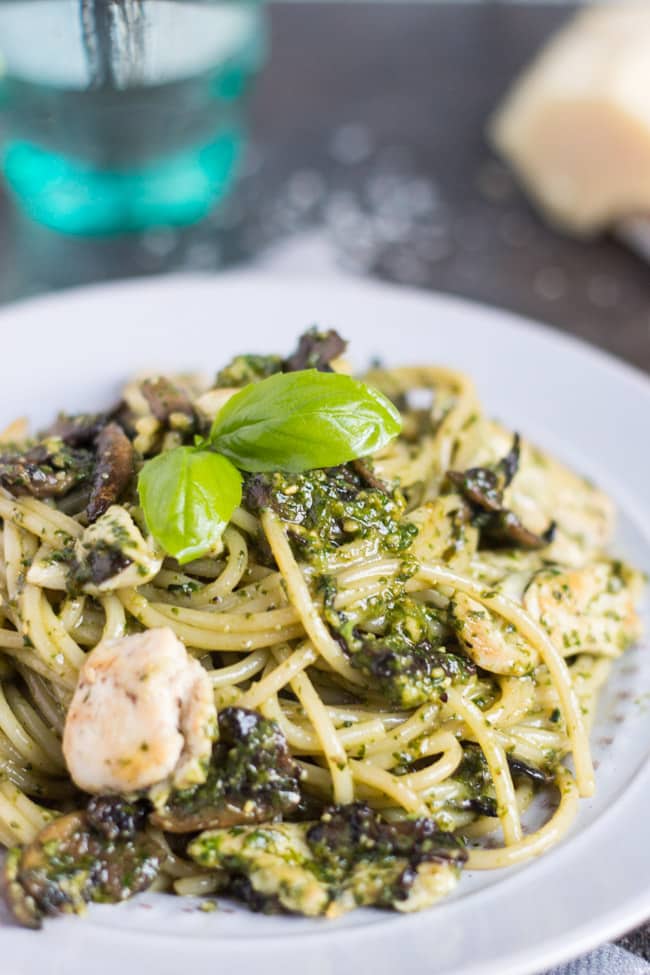 * We are a participant in the Amazon Services LLC Associates Program, an affiliate advertising program designed to provide a means for us to earn fees by linking to Amazon.com and affiliated sites.
The Princess would happily eat pasta every night if she could. Pasta is her second most requested meal (narrowly beaten by any gnocchi recipe), and she will ask for pasta even if it is 40C outside and far to hot to boil water. I swear she was an Italian in a past life.

This chicken pesto pasta with garlic mushrooms and my creamy lemon tuna pasta are the two recipes I turn to when time is short and I am too exhausted to think. They are recipes I can make with my eyes closed and can be done in under 30 minutes.

And because I know that sometimes all you want to do at the end of a busy day is cook, not search the internet for dinner ideas, I have put together a free mini ebook with my favourite 30 minute recipes. Download your copy of the ebook now from my Resource Library simply by clicking the link below, or by requesting the password for the library at the end of this post.

[Read more…]