I've put together this handy list of healthy meals that freeze well so you can quickly stock up the freezer for lazy dinners or emergencies. Soups, curries, slow cooker meals and even homemade take-out. Add a few frozen sides and you can have dinner on the table with very little effort.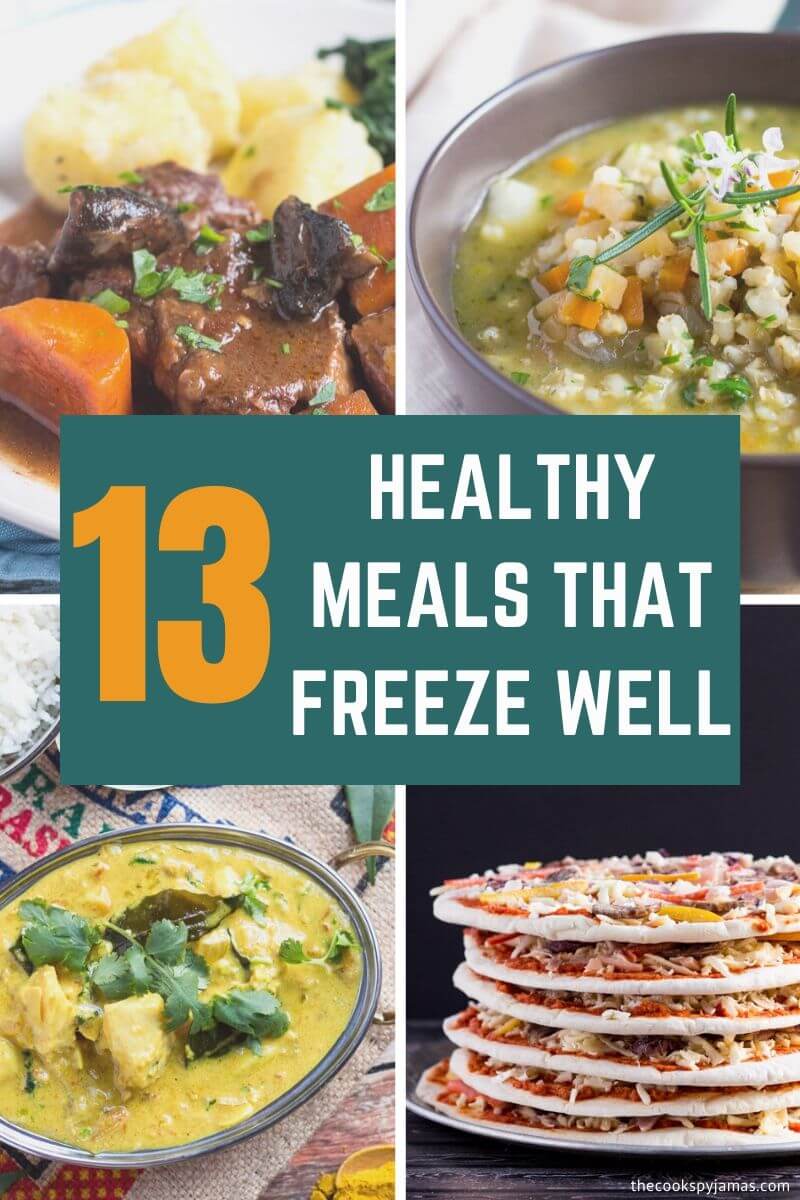 *We are a participant in the Amazon Services LLC Associates Program, an affiliate advertising program designed to provide a means for us to earn fees by linking to Amazon.com and affiliated sites.
We all have those days when the last thing we feel like doing is cooking dinner. And yet our stomachs, or the people we love, demand to be fed.
My solution to the yawning chasm between my desire to cook and going hungry is to make sure I always have a few meals tucked into the freezer that can be readily whipped out, defrosted and served with very little effort on my part.
So you don't have to think too hard about what makes a good freezer meal, I've put together this quick roundup of my favorite healthy meals that also freeze well so you can get to stocking your own freezer.
And if you want a few extra tips on freezing meals, make sure you grab the simple guide from my Resource Library. Simply click the link below or request the password to the library at the end of this post.
Soup From The Freezer
Soup is one of my go-to freezer meals. Almost all soup recipes freeze well – just check out my easy guide in the Resource Library if you want more information on this. What I like to do is to make a huge batch of soup for dinner, then freeze any leftovers for easy ready meals.
I portion the leftover soup into different sized containers for freezing: large containers for family sized dinners and a few single serves for easy lunches or solitary dinners.
You can find all my soup recipes here, but I have included my two favourites below. You will always find containers of these in my freezer during soup weather.
Red Lentil & Smoky Bacon Soup
A simple, hearty red lentil and bacon soup that is perfect for the cooler weather. It can be made ahead and freezes well, so double the recipe and stock the freezer. I guarantee that even the fussiest of eaters will love this one.
Click Here For The Recipe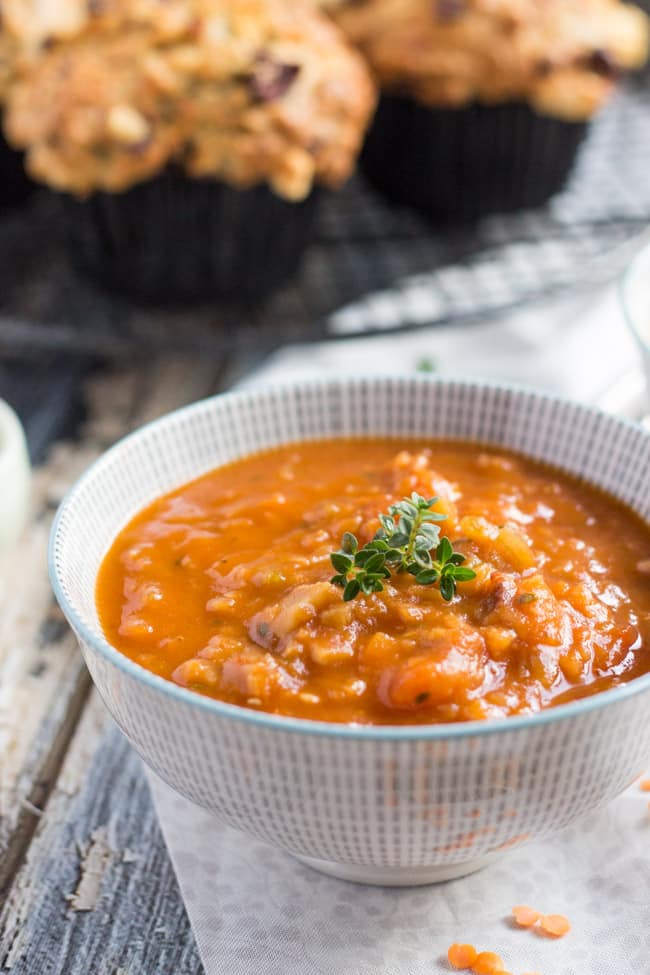 Hearty Winter Vegetable Soup
Hearty Winter Vegetable Soup, brimming with seasonal root vegetables, makes a filling vegan meal for the cooler weather. The pearl barley adds a creaminess & richness to the broth without the use of dairy.
Click Here For The Recipe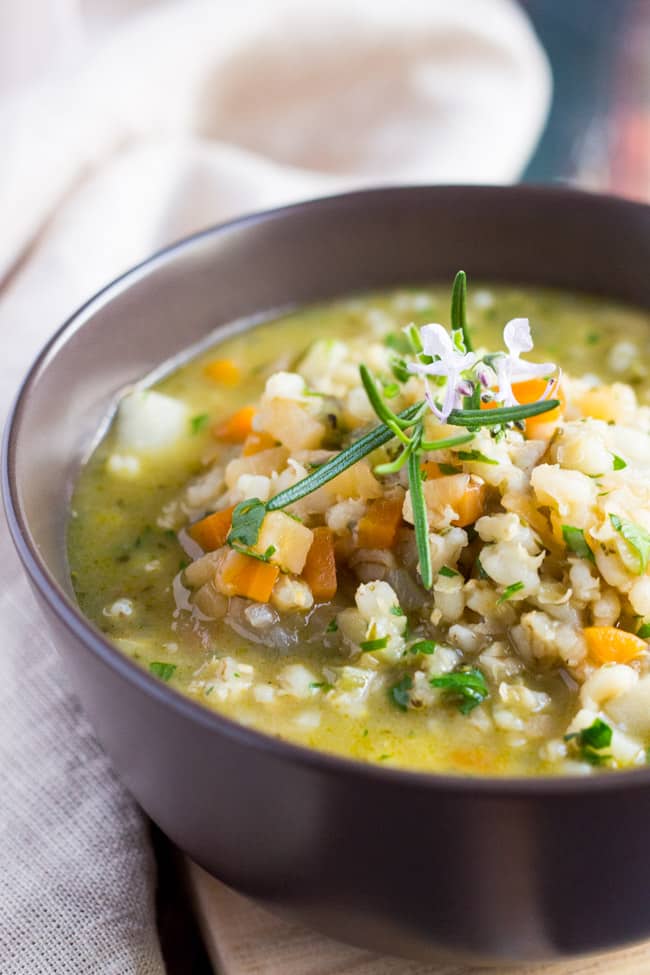 Freezer Friendly Slow Cooker Meals
Most slow cooker meals make great freezer meals. And if you have a large enough slow cooker, consider doubling a recipe so you can freeze half of the finished dish for another meal.
I want to be clear about frozen slow cooker meals though – there are many, many recipes on the web for slow cooker meals where the meal elements are prepared ahead and then frozen. The idea being that you simply dump your pre-prepared meal in the slow cooker in the morning and walk away.
That is not what I am talking about here. My preferred method for freezing slow cooker meals is the Cook 2, Freeze 1 approach. Which is why I advocate doubling a recipe if possible. I simply cook my meal as normal and then freeze half for another day.

If you have the freezer space, I also suggest freezing your extra meal in freezer to oven cookware. That way all you need do is whip the meal out of the freezer, pop it in the oven, and then put your feet up whilst dinner reheats.
All of my slow cooker meals are suitable for freezing, but I have included a couple here to get you started.
Slow Cooker Beef and Mushroom Stew
Hearty Slow Cooker Beef & Mushroom Stew is the perfect dinner for a cold winter's evening. With some simple boiled potatoes and green vegetables on the side, this is an easy dinner without the fuss.
Click Here For The Recipe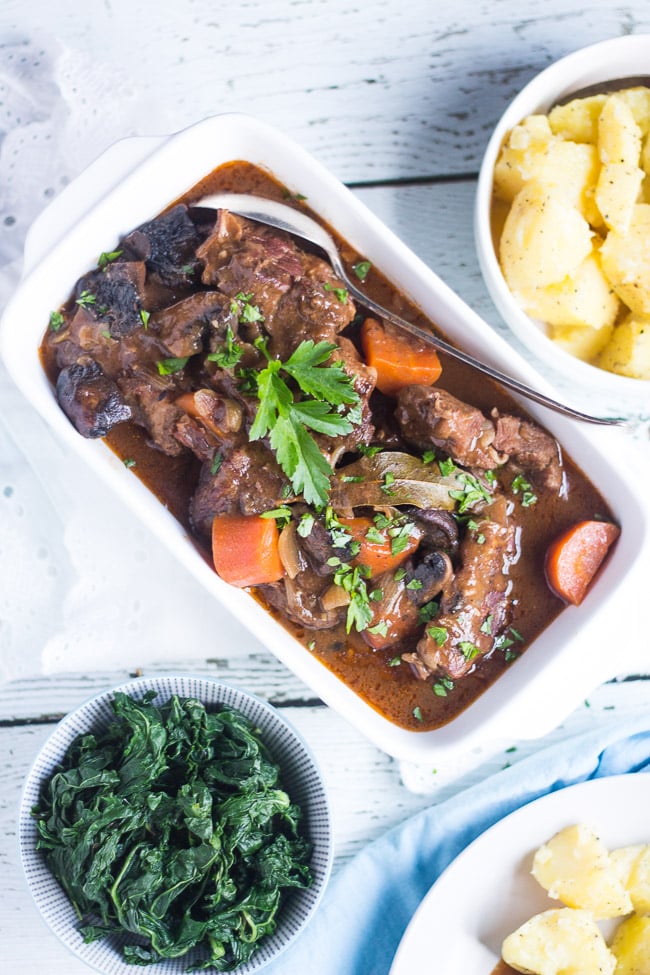 Slow Cooker Mild Chicken Curry with Coconut Milk
This gluten free, dairy free slow cooker mild chicken curry recipe is crammed with chickpeas and lentils so needs nothing more than a bowl of steaming white rice to complete the meal. Although a naan bread or two on the side wouldn't go astray!
Click Here For The Recipe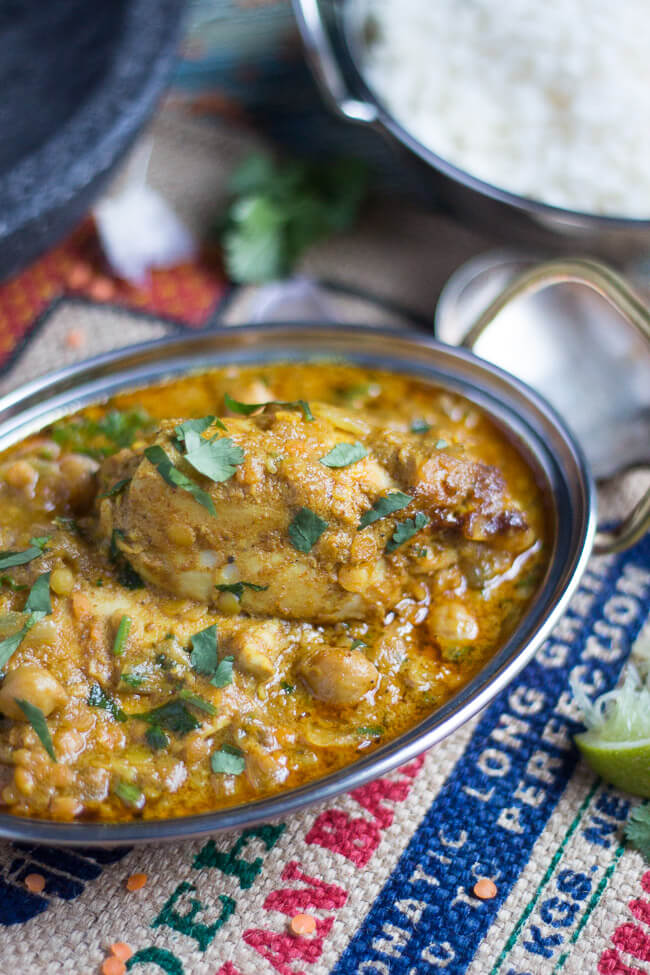 A Curry In The Freezer
It is a well known fact that curry tastes better the next day. Time allows the spices to meld together and round out flavours in the dish.

I find that freezing a curry also improves the flavour, whilst giving the added benefit of having dinner already tucked in the freezer.
Some curries, like my red beef curry below, can be frozen as a complete dish. Just add steamed rice or naan bread and you are good to go.
Others, like my fish curry, are better if you freeze the curry sauce and then just slip the delicate ingredients (like fish) into the sauce to poach just prior to serving. Making the curry sauce is usually the time consuming part of the recipe, so if you already have this in the freezer you are a step ahead on dinner.
I like to serve a main curry with a couple of side dishes or steamed vegetables. So to take the pain out of cooking two or three dishes for dinner, I also cook large batches of sides and then portion these for the freezer. Tuck some Indian breads into the freezer too (think naans, chapatis or parathas) and you are well on your way to a restaurant quality meal.
A Delicious and Easy Fish Curry in Just 30 Minutes
Whip up this quick fish curry in under 30 minutes for an easy mid-week meal. The bold curry flavours, combined with the creaminess of coconut milk, are bound to win over even the most skeptical fish eaters.
Click Here For The Recipe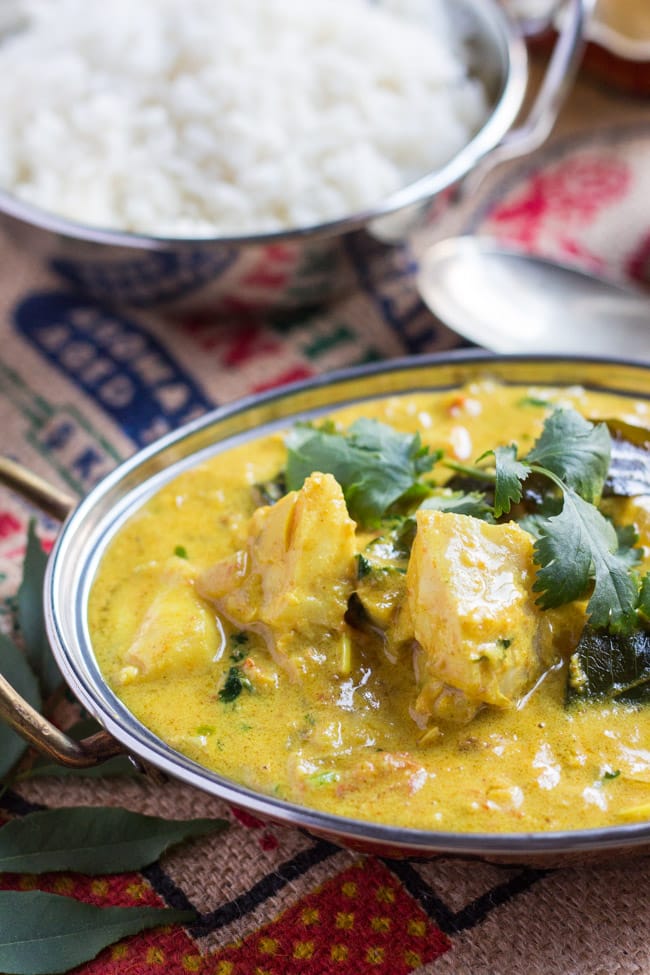 Slow Cooker Thai Red Beef Curry
Thai Red Beef Curry is packed full of flavour, and so easy to make in the slow cooker. My version is crammed full of vegetables, so really only needs some steamed rice to accompany it. Double the recipe, stash the extras in the freezer, and you have a delicious meal in reserve.
Click Here For The Recipe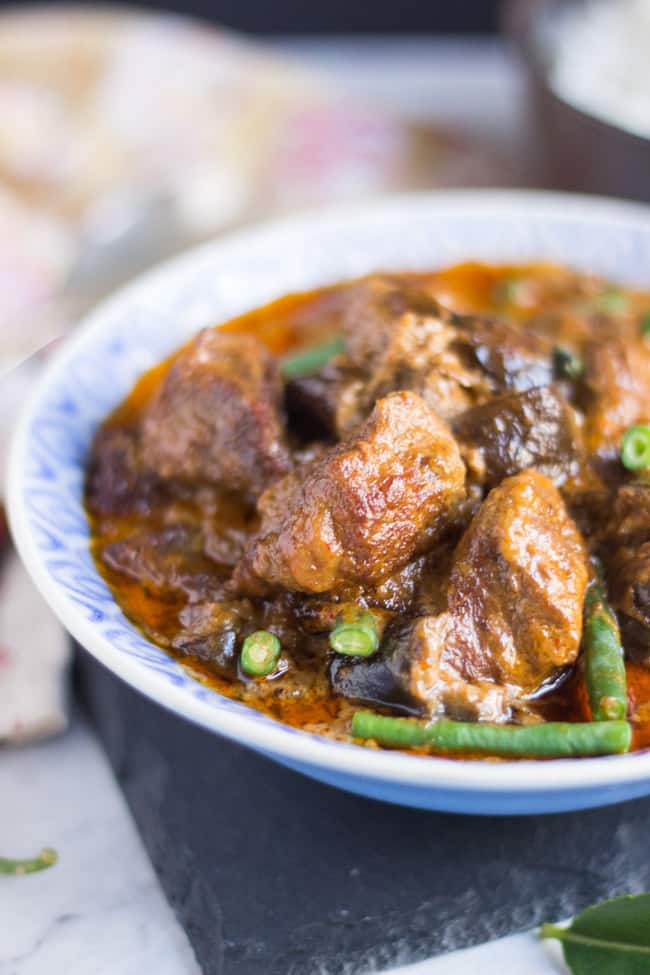 Easy Healthy Freezer Meals
For me, the easiest freezer meals are those that just need to be reheated and served. Think pies, tarts, quiches, casseroles or even a simple dish of baked beans on freshly made toast.

I like to hide additional vegetables in many of my freezer meals, like this Shepherd's Pie, so I feel no guilt about adding just a token green salad on the side to finish off the dish.
Lamb & Lentil Healthy Shepherd's Pie
This healthy shepherd's pie recipe, packed full of vegetables, earthy green lentils and a well seasoned, herby lamb mince, will happily feed a crowd. Or why not split the recipe, and stash one pie in the freezer for another easy meal.
Click Here For The Recipe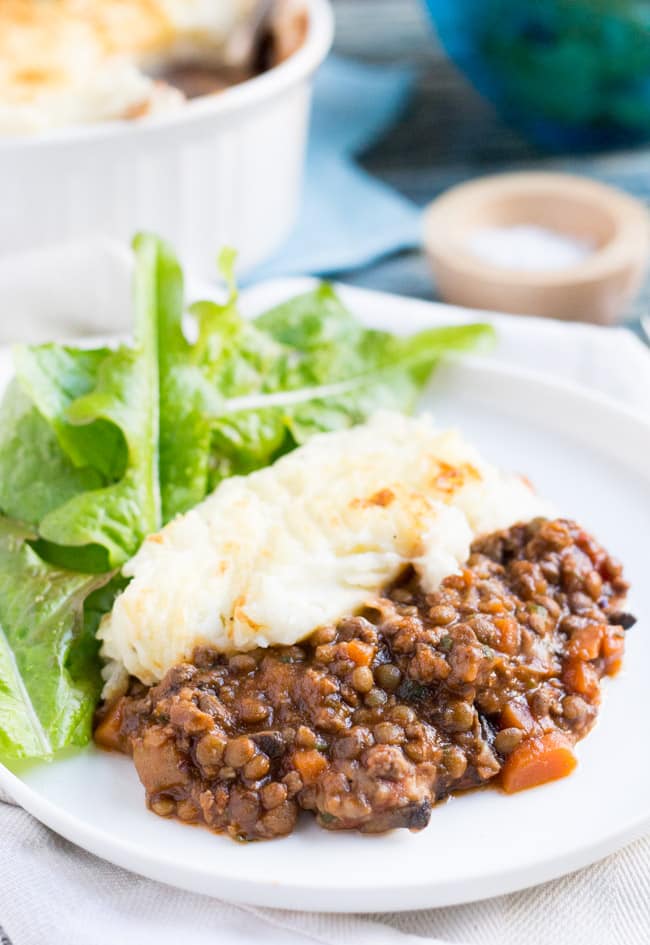 In summer, when our zucchini plants are in full swing, I cook multiple batches of this easy zucchini quiche in foil trays and freeze them for lazy weekend lunches or quick dinners.
Crustless Zucchini Quiche
This healthy crustless zucchini quiche recipe is quick to make, and is a good way to use up an abundant zucchini crop. Great served hot or cold, the quiche is ideal for either lunch or dinner.
Click Here For The Recipe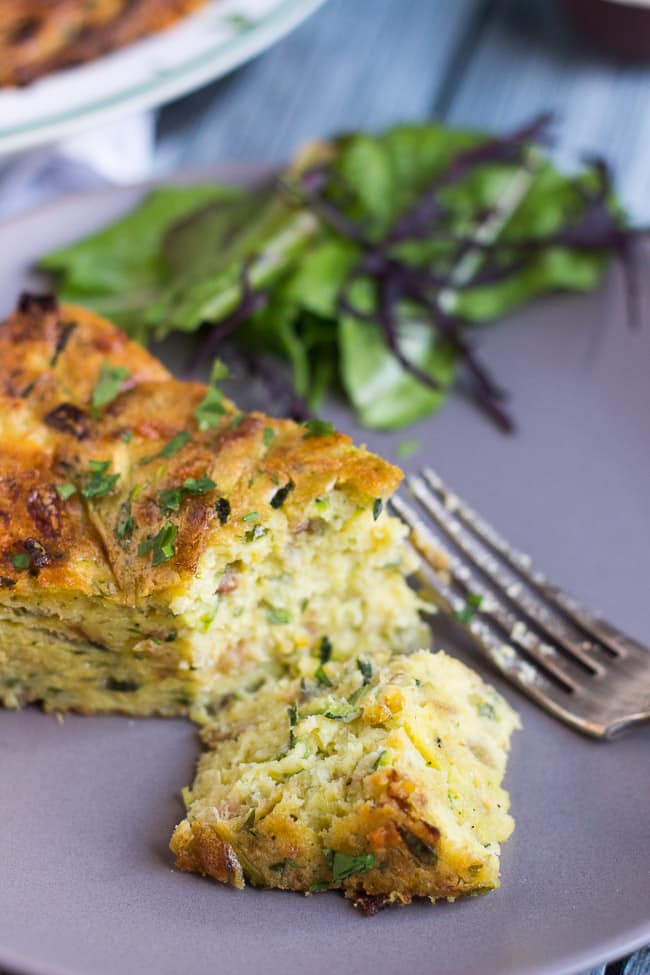 I know, I know …. you can buy baked beans in a can. Why on earth would you make them? Trust me, try making them just once. You will never go back to the can again. This recipe makes a large amount – perfect for easy Sunday night dinners, or for cheesy toasted cheese and bean sandwiches. Try it!
Homemade Baked Beans
Homemade baked beans are a world away from anything you can buy in a tin. Make them just once and I promise you will never buy baked beans again
Click Here For The Recipe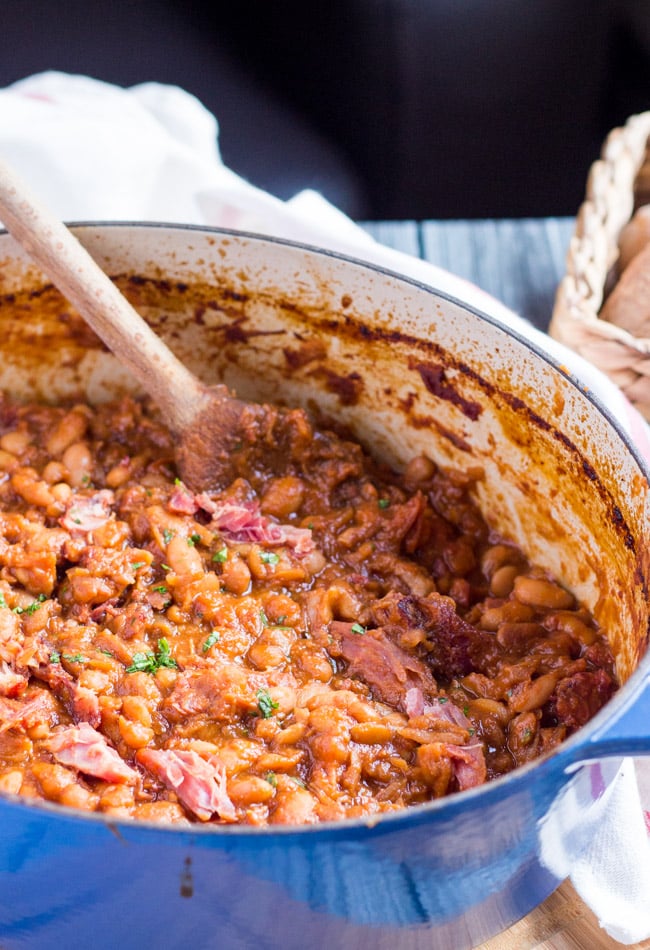 Take Out From The Freezer
With a well stocked freezer, you can have dinner on the table in the time it would take you to order take out and wait for it to arrive at your door. Think bowl fillings, enchiladas, burritos, curries (see above),

I always have frozen pizza bases in my freezer, but why stop there. Go that one step further, and freeze your ready-topped pizza. From freezer to oven in two minutes, and in your stomach in under thirty.
Take-Out, Fake-Out: Homemade Frozen Pizza
It is possible to make your own amazing frozen pizza at home. You need never buy another cardboard box from the supermarket again.

Click Here For The Recipe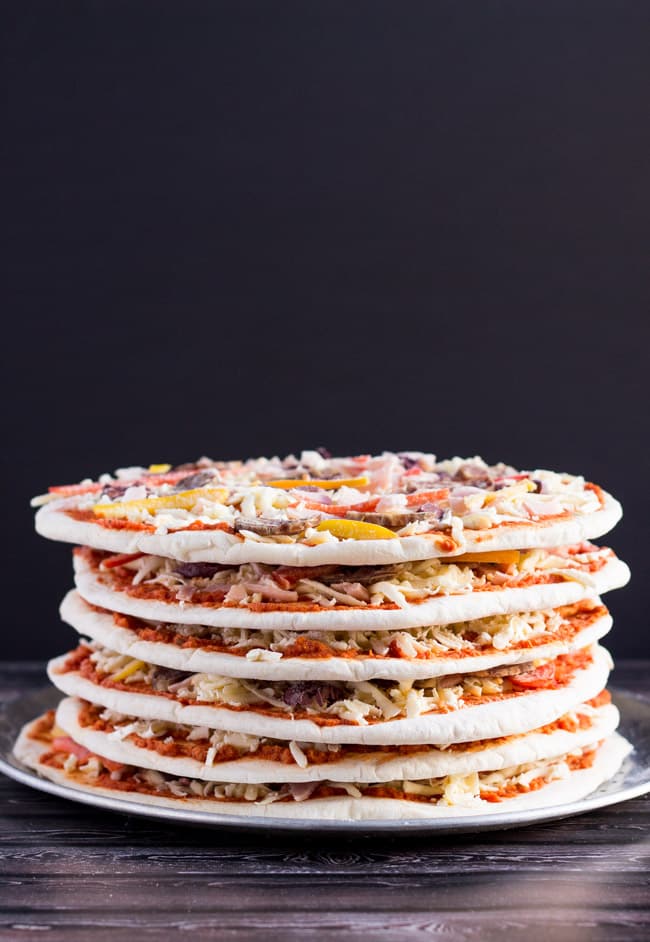 Meat and vegetarian fillings for tacos, burritos, and enchiladas are easy to make in bulk and they freeze really well. If you don't have the freezer space for trays of complete meals, simply whip up containers of delicious fillings and the hard part of dinner is already done.
Slow Cooker Lime Coriander/Cilantro Chicken Tacos
Whip up a batch of slow cooker coriander/cilantro chicken, stick half of it in the freezer, and you can have these tacos on the table in no time at all. Perfect for those days when everything else goes off the rails.
Click Here For The Recipe
Meal Helpers In The Freezer
Whilst I advocate freezing complete meals where you can, sometimes all you want is a little help to make dinner come together just that bit faster.
This is where having a few meal helpers tucked alongside those trays of dinners can be a huge help. I call these kitchen basics – staples that can readily turned into easy meals – and you can find my complete list here.
Simply pull a container of either of my favourite basics below out of the freezer, toss them through pasta, and dinner is sorted.
A Really Useful Tomato Pasta Sauce
With this extremely useful tomato pasta sauce in your kitchen, you are never far from a quick meal. It is great simply stirred through pasta, and even doubles as pizza sauce in a pinch. Once you have made one batch, you will wonder how you ever did without it.
Click Here For The Recipe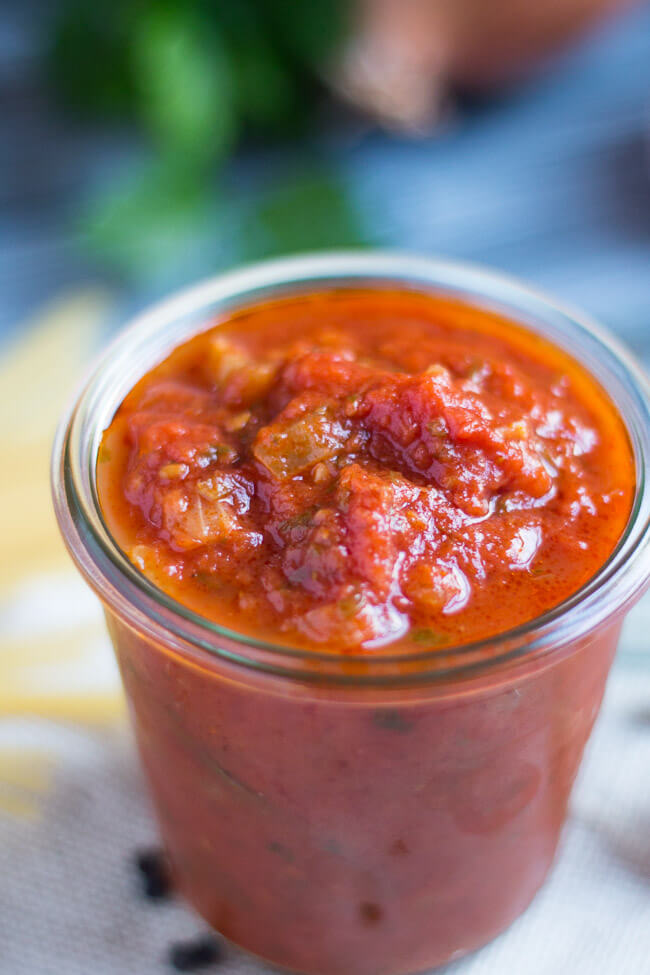 Kitchen Basics: A Simple Bolognaise Sauce
With this very useful bolognaise recipe in your arsenal, dinner will never be far away. Let the sauce simmer away on the stove whilst you get on with other things, and be rewarded with a hearty dinner.
Click Here For The Recipe
Final Tips For Great Freezer Meals
The aim in preparing meals for the freezer should be to ensure that they are just as tasty to eat the second time around. To do this it is important to to pay a little attention to freezing and reheating those meals.
To Freeze Meals
You can simple put the leftovers or excess meals into containers and put them in the freezer, but you will get a better result with just a little care.
It is important to cool meals completely before placing them in the freezer. As meals freeze, ice crystals develop in the food, which can affect the texture of the defrosted food. To minimise the formation of ice crystals, I like to cool my intended freezer meals overnight in the fridge before transferring them to the freezer.
If possible, freeze your meals in freezer to oven cookware. This means you can put your meal straight into the oven to reheat without defrosting it first. I like to use both Pyrex and foil containers for larger dishes, and I freeze individual serves of soup in old take out containers.
Always, always label and date your freezer meals. I cannot over-emphasise the importance of this step. You will be surprised how similar all meals look once frozen, and a good labeling system will ensure you defrost the correct meal for dinner. I find it also helps to add cooking temperature and time, and any additional instructions, on the container so I don't need to search for the original recipe when reheating.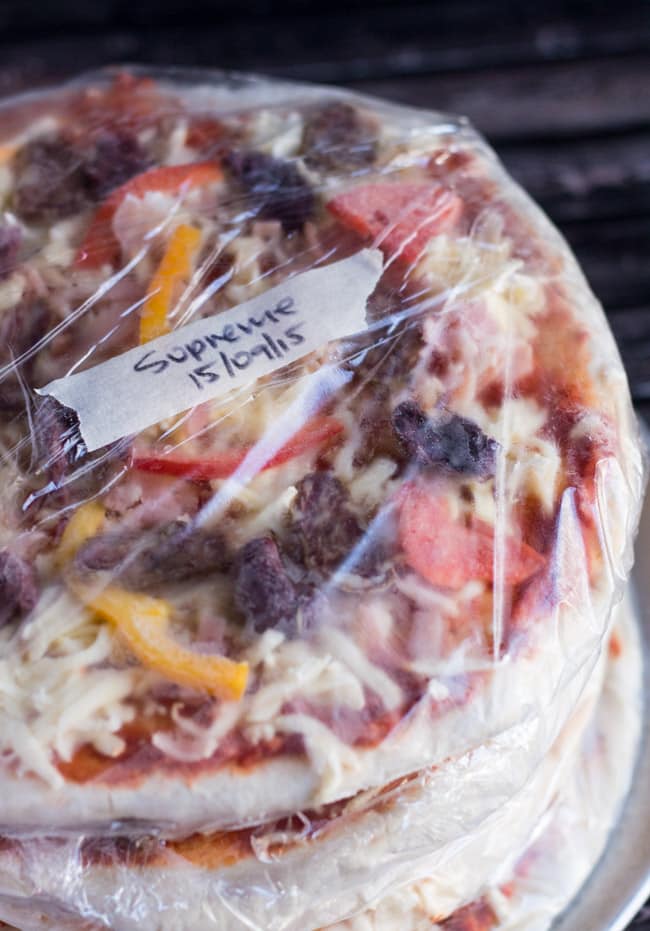 Defrosting Freezer Meals
Some freezer meals, such as baked beans, chili or soup, can be defrosted can be reheated straight from frozen (see below). However if you are not taking this route, your meal will need to be defrosted first.
The safest way to defrost freezer meals is to place them in the fridge overnight. This does, however, require a little planning in that you need to remember the day before to take dinner out of the freezer.
In all honesty, I very rarely remember to defrost meals overnight. And I need to emphasise that my favourite method of defrosting meals goes against all current health advice, but … I tend to pull my meal out of the freezer in the morning and allow it to defrost on the sink during the day.

This method is not advised in hot weather, and if it is really hot I transfer the meal to the fridge once it starts to soften, but as I usually defrost freezer meals during the winter months, I find this method works well for me.
I usually don't bother defrosting meals I have assembled in freezer-to-table cookware, but just place these directly in the oven to defrost and reheat using the method below.
Check out this handy list of 13 #healthymeals that #freeze well so you can quickly stock the freezer for lazy #dinners or emergencies. #Soups, #curries, #slowcooker meals & even #homemade #takeout. #freezermeals #frozenmeals
Click To Tweet
Reheating Freezer Meals
Both frozen and defrosted freezer meals can be reheated either:
in the oven, or
on the stove top.
In the oven: To reheat freezer meals in the oven, I place the (often still frozen) freezer meal in a cold oven, and then set the oven temperature as specified in the original recipe. Placing the meal in the oven during pre-heating gives the defrosting process a little kick start.
Once the oven is at temperature, cook the meal for about 20 – 30 minutes longer than specified in the recipe. This allows the meal to reheat properly, but do keep an eye on the dish and place foil over the top if it is browning too quickly.
The meal is ready when a metal skewer, or the tip of a sharp knife feels warm when plunged into the centre of the dish.
On the stove top: To reheat a freezer meal on the stove top, simply place your defrosted (or partially defrosted) meal into a large saucepan with a lid. Place the saucepan over a low – medium heat and gently reheat the contents. Stir the meal frequently (every 3 – 4 minutes or less) to stop it catching on the bottom of the saucepan as it reheats.
I do like to add a small amount of water to any dish that contains beans (baked beans, chili, dahl etc) as I reheat the meal to prevent it catching on the bottom of the pan. You can also add a small splash of water to any other dish as you reheat it if the meal seems to be too dry.
Side Dishes From The Freezer
The only thing better than having a main meal for dinner in the freezer is having a few sides stashed in the freezer as well. Tuck a few sides between the meal containers and you really can put together dinner with no effort at all.

A few sides you may like to freeze are:
Enjoy!