Whip up this quick and easy fish curry recipe in under 30 minutes for a simple mid-week meal.  The bold curry flavours, combined with the creaminess of coconut milk, are bound to win over even the most skeptical fish eaters.
TOTAL TIME INVESTMENT: 30 MINUTES
All families have those evenings. Those nights when everybody disperses in different directions, all demanding to be fed at different times. On those nights you need a meal that is happy to sit around, is easily reheated, and does not need to be served piping hot to be enjoyed. A good curry is usually that meal in our house.
Add in the fact that this easy curry recipe is ready in just 30 minutes and you have the perfect meal in my eyes. If you are looking for more 30 minute meal ideas, make sure you grab the free ebook with some of my favourite 30 minute meals from the Resource Library. Simply click the link below to gain access or request the password at the end of this post.

This simple curry is a family favourite at our house, and is a great dish to cook if your own family is a little apprehensive about fish.  Choose a mild fish, and the bold flavours of the curry, combined with the creaminess of the coconut milk, are bound to win over even the most skeptical eaters.
I consider this simple recipe the best fish curry recipe out there.  And whilst there is a slight chance I might be biased, but you will just have to try it to see if you agree.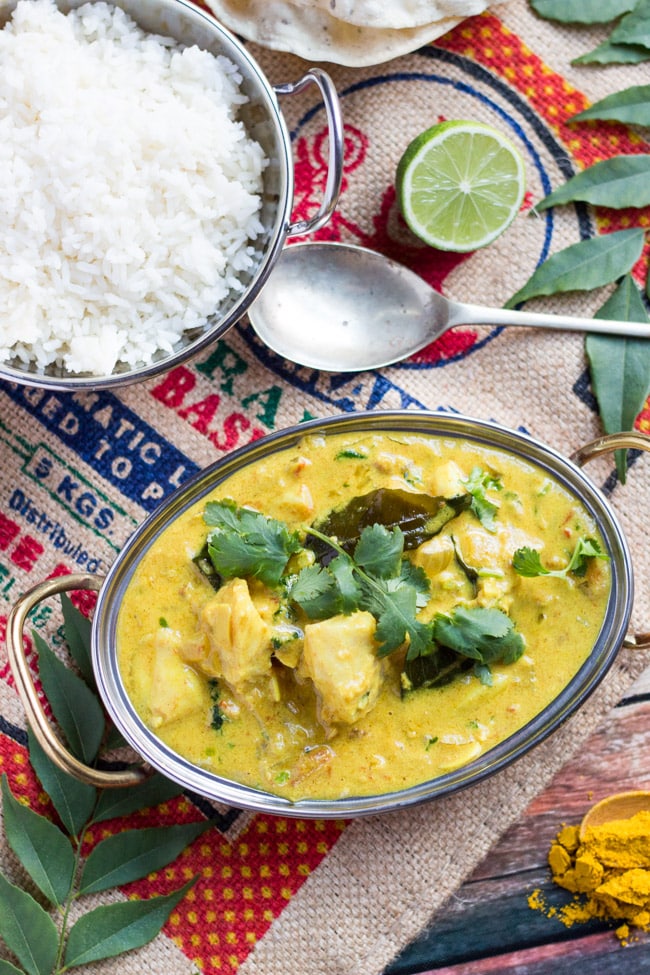 * We are a participant in the Amazon Services LLC Associates Program, an affiliate advertising program designed to provide a means for us to earn fees by linking to Amazon.com and affiliated sites.
Ingredient Substitutions for Fish Curry
You can easily tweak this fish curry recipe to make the most of the ingredients you have on hand, and to suit for own family's tastes:
Any curry powder can be used in this recipe. If your family does not like heat, choose a mild curry powder. Like a little bit of spice? Then use a hot curry powder instead. Some Asian grocery stores stock curry powders made specifically for fish curry, although the curry powder can also be used for chicken and vegetable curries.
If your curry powder contains a lot of turmeric – a really yellow powder will be high in turmeric – then omit the additional turmeric from the recipe and simply add an additional teaspoon of curry powder instead.
Fresh curry leaves are not an essential ingredient for this fish curry recipe, but do enhance the curry flavour in the dish. Bags of fresh leaves are usually available in Asian specialty stores, and may also be purchased in some supermarkets. The fresh leaves freeze well, so if you find the leaves then stock up. The leaves do not need to be defrosted prior to use.
If you cannot source fresh curry leaves, dried curry leaves can be used in place of the fresh leaves.
This particular fish curry recipe works well with either fresh or frozen fish fillets. If your family really doesn't like fish, try the recipe with chicken or vegetables instead.
Curry Paste or Curry Powder?
Ready made curry pastes and powders are an easy way to add flavour to any dish with little effort. Whilst both are a mix of spices blended together, curry paste may also contain moist ingredients such as fresh garlic, ginger and onions.
Curry pastes are mixed with vegetable oil to lock in the freshness of the ingredients, and typically fried off in a pan before adding additional ingredients, whilst curry powders are a mix of dried herbs that can be simply stirred into a dish at any point to add flavour.
I am not averse to using shortcuts when making curry, and always keep at least one jar of good curry paste in the cupboard ready to whip up a quick meal.  I also love the depth of flavour that a curry paste can provide in a slow cooker curry; the robust pastes standing up well to the long cooking time. 

Yet for speed and convenience, I prefer to use curry powder when it comes to making this particular fish curry recipe. A tin of curry powder takes up little space in the cupboard, and is handy to add a little flavour hum to all manner of dishes without having to open jars or tins.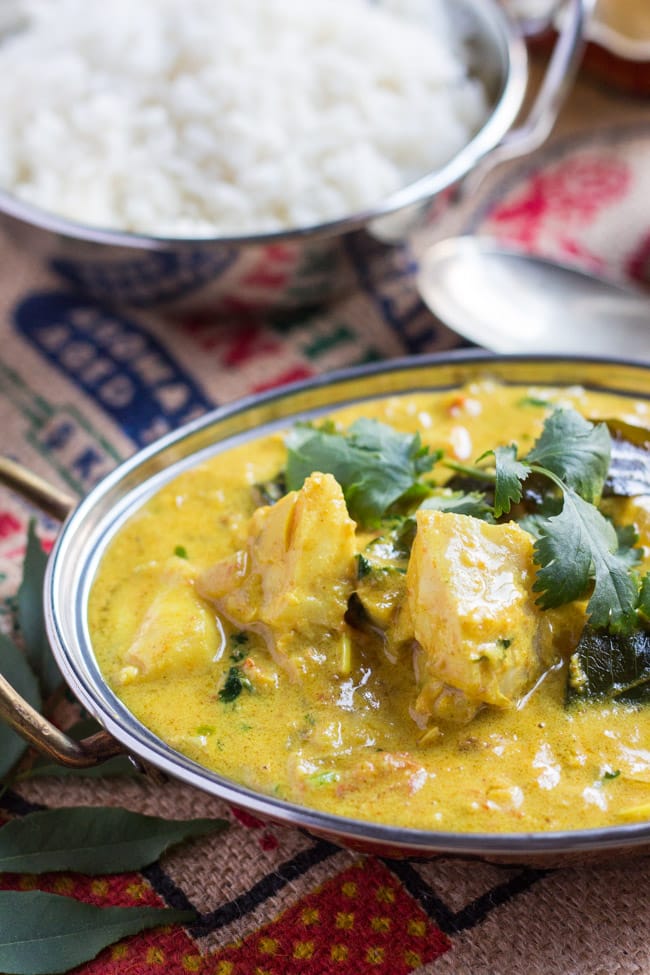 Frequently Asked Questions
How do you make fish curry?
Just follow the easy recipe below for the best fish curry recipe on the interweb.
What type of fish is good for curry?
Use a firm fish that will not flake during cooking.  Frozen fish fillets also work well in fish curry.  My preferred fish species for this curry are cod, Saddletail Snapper and Goldband Snapper.
How do you make curry fish with curry powder?
This fish curry recipe uses curry powder rather than curry paste.  Simply fry off the curry powder for a minute before adding the other ingredients to release the flavours in the powder.
Can you make curry in advance?
Curry is a dish that is actually better made in advance if you have the time. Making the dish in advance allows the flavours to develop and meld together.

However, if you wish to make my fish curry in advance, I would recommend that you make the sauce ahead of time (up to two days ahead) and then simply slip the raw fish into the sauce as you reheat the dish. This will ensure the finished curry dish doesn't taste too "fishy".
Why is my curry bland?
If your curry doesn't have enough flavour, it may mean you haven't added enough curry powder. Stir in a teaspoon at a time, tasting between additions, until you are happy with the taste of the dish.
A #quick & #easy #fish #curry makes the perfect mid-week meal. Bold #curry flavours & creamy coconut milk are bound to win over even the most skeptical fish eaters. #30MinuteMeals #dinner #paleo #dairyfree #glutenfree
Click To Tweet
A Few Final Tips & Tricks
I've been making this recipe for many years now, and over that time I have discovered a few simple tricks that will this fish curry into a firm family favourite:
Chose a good quality coconut milk for this easy fish curry recipe.  It will make all the difference to the end result.  Read the ingredients label, and buy a brand that contains a high proportion coconut: the brand I use contains 70% coconut.  A coconut milk with a high percentage of coconut will give a lovely creamy result to the final dish. If your coconut milk is quite watery, consider adding a little coconut cream as well as, or instead of, the coconut milk.
When selecting fish to use in your quick fish curry, choose firm fillets that hold their shape once cooked.  If the fish flakes too easily, it will fall apart in the sauce.
I use frozen fish fillets in this particular curry.  I can keep the fillets in the freezer, they defrost quickly, and this means I can whip up this curry without a trip to the shops.
Milder fish varieties work better in this recipe. I find stronger flavoured fish overpowers the delicate curry flavours.
Whilst the whole fish curry recipe can be frozen, you will achieve a better result if you freeze the sauce alone.  To serve, bring the sauce up to a simmer, and then add the fish.
This easy fish curry recipe is quick to put together and can be readily made in advance.  I prefer to make the sauce earlier in the day, or even the night before, then slip the chunks of fish into the sauce to gently poach just prior to serving.
Other 30 Minute Meals You May Like
Everybody needs a few easy 30 minute meals in their repertoire. These are the meals I turn to time and time again when I can't be bothered cooking, or I arrive home later than planned. I hope you enjoy them just as much as my family does:
And don't forget to grab my free 30 Minute Meals ebook from my Resource Library. Just grab the password for easy access below.
Enjoy!

Made this recipe? Tell me how it went in the comments below.
And if you loved it, please don't forget to rate it.


A Delicious and Easy Fish Curry in Just 30 Minutes
Whip up this quick fish curry in under 30 minutes for an easy mid-week meal. The bold curry flavours, combined with the creaminess of coconut milk, are bound to win over even the most skeptical fish eaters.
Ingredients
2

Tablespoons

coconut oil

1

onion

finely chopped

3

cloves

garlic

thinly sliced

2

Tablespoons

freshly grated ginger

about a 5cm piece

2

teaspoons

medium curry powder

1

teaspoon

ground turmeric

10 – 15

fresh curry leaves

400

ml (13 ozs)

coconut milk

2

medium tomatoes

roughly chopped

1

teaspoon

salt

600

g (21 oz)

firm white fish

cut into 3cm chunks

20

g (1 cup)

chopped fresh coriander (cilantro)

1/2

lime

juiced
Instructions
Melt the coconut oil in a medium saucepan.

Saute the onion for about 5 minutes over a medium heat until translucent and just starting to brown.

Add the garlic and ginger, and cook, stirring gently for 1 minute.

Add the curry powder, turmeric and curry leaves, and cook, stirring for a further minute until the mixture is fragrant.


Slowly stir in the coconut milk, scraping up the spices and onion from the bottom of the saucepan. Bring the pan to a gentle simmer.


Add the chopped tomato, and continue to simmer for about 5 minutes or until the tomato begins to soften.

Add the fish and the salt to the sauce, and gently poach for about 6 – 8 minutes, or until the fish is cooked.

Gently stir in the coriander and lime juice.
Notes
If your curry powder contains a lot of turmeric you may wish to decrease or omit the additional teaspoon of turmeric in the recipe.
Use a good quality coconut milk to ensure a creamy fish curry, or add a little coconut cream in place of some of the coconut milk,
This curry can be prepared in advance.  I recommend you make the sauce ahead, then slip the chunks of fish into the sauce to gently poach just prior to serving.
Update Notes:  This post was originally published in July 2013 and was republished on 2nd May 2017 to update the text and recipe card.  It was updated again on 30th October 2018 to add FAQ's, and to improve the readability of the text. Additional FAQ's and a Table of Contents were added on 4th March 2020.