Last Updated:
Blogging is like writing a journal.  Each post is a summary of my thoughts, ideas and feelings at that point.  From time to time I find it interesting to take a trip back through the archives, considering how my views have changed over the years.
One of my first posts, a little over two years ago, was a recipe for toasted muesli/granola.  It's a perfectly decent recipe, one that I still make for The Princess, yet I developed the original recipe with fruit.  I did this because every recipe I had ever seen for granola contained dried fruit.
You know what though?  I hate dried fruit in my granola and will inevitably pick it out if I can.  Thanks to the passage of time I now know that it is possible to make granola without those offending bits that to me look like dead flies floating in my bowl.  So I'd like to present my current favourite alternative, Coconut Macadamia Granola.  It's full of nuts, seeds and strips of coconut, all of which I much prefer over dried fruit.
Originally I used the minimum amount of fat required to toast the grains.  At that point I was firmly in the "too much fat is bad' camp.  I have learnt however, largely due to the Natural Chef Training Course, that this is not the case.  Fat is necessary in our diet to assist in the digestion of minerals, to carry flavour and to help us realise when we are full.  It is all about the type of fat that you use.
I have used quite a lot of coconut oil in this recipe.  I like the flavour the coconut adds.  I also find that foods with coconut oil keep me fuller longer, and a bowl of this granola can carry me through until lunchtime. If you don't want to add quite so much oil, reduce the amount to 1/2 cup.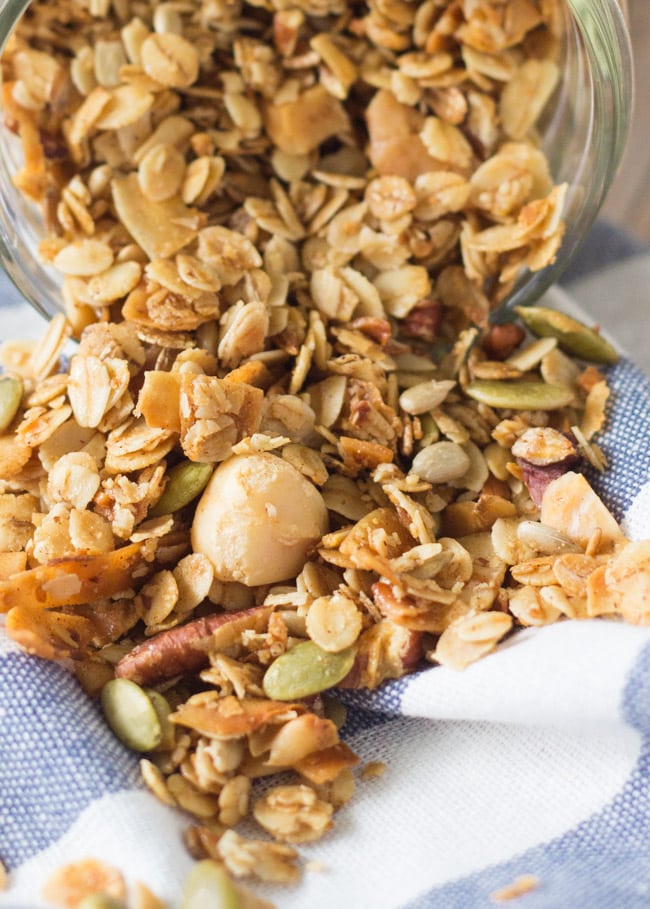 Over time I have come to appreciate the different flavours grains contribute, and I've used a variety in this recipe.  If you don't like barley or rye, use other grains.  As long as you keep the total quantities the same you will still have a tasty breakfast.
The Princess tells me that this granola tastes like cookies.  According to her this is not a bad thing in the morning. I don't know if I agree with this but let me know what you think.
Coconut Macadamia Granola
Mix up the grains, nuts and seeds in this recipe to make it your own. Just try to keep the total quantities the same.

If you don't want to use quite so much coconut oil, reduce the quantity to 1/2 cup.

Coconut oil can be substituted for macadamia oil. If substituting oils, reduce the amount in the recipe to 1/2 cup.
Servings
2
x 1.5L containers
Instructions
Preheat the oven to 160C (140C fan forced).

Line two large trays with baking paper.

Place the rolled grains, nuts, sunflower seeds, pepitas, and coconut in a large bowl. Stir through to combine.

Add the cinnamon, nutmeg and salt. In a separate bowl, place the coconut oil and the maple syrup and whisk to combine. Stir again to mix the spices through the grains.

Place the melted coconut oil, rice bran syrup and maple syrup into a small bowl or jug. Add the vanilla extract then stir until combined. The mixture will seem to thicken and emulsify.

Pour the liquids over the dry ingredients and stir until the muesli seems slightly damp.

Spread the mixture onto the lined trays.

Bake for about 30 - 40 minutes, stirring the edges of the mixture into the middle every 5 -10 minutes to ensure even baking.

Watch the muesli carefully towards the end of the baking time and check more frequently as it can burn easily.

When golden brown, remove from the oven and allow to cool.

Store in an airtight container.
P.S.  Looking for other great breakfast ideas?  Try Breakfast in a Jar or Homemade Instant Wholegrain Waffle Mix.