Last Updated:
Spiced Chickpea Burgers, paired with smoky chipotle sour cream, are perfect for an easy vegetarian lunch or dinner. The patties also freeze well, so stock up the freezer and a quick meal will never be far away.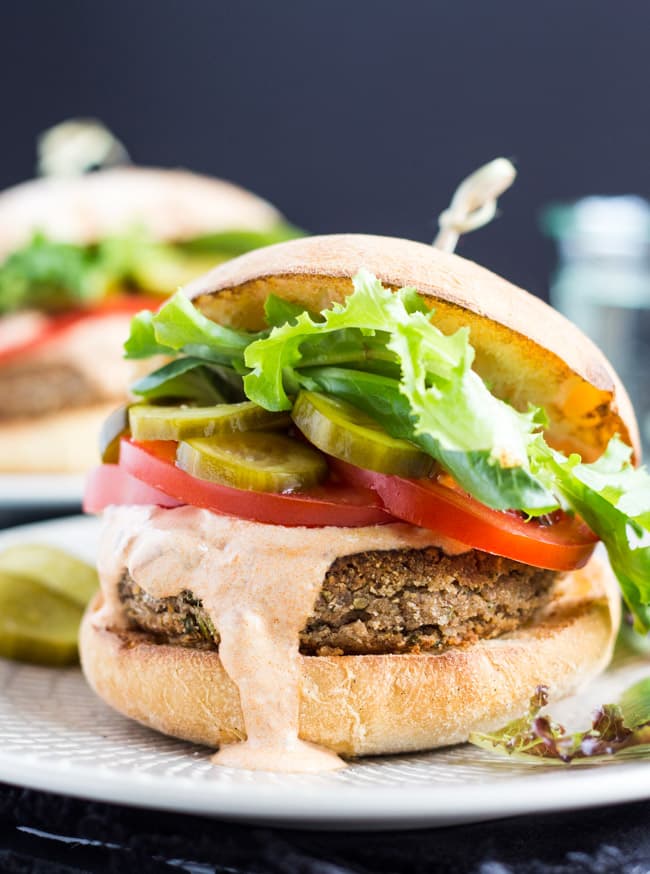 I have a hot tip for you.  Chickpeas swell significantly when cooked.  So upon deciding to cook the small bag of chickpeas in the cupboard (no sense in leaving just a few after all), you may find you have enough chickpeas to make not only these chickpea burgers, but also spiced roasted chickpeas, a large batch of hummus, enough salads for an entire week, and still have a few left over for the chickens.
Initially I made these chickpea burger patties as a way to use up the surplus chickpeas.  However they were well received by the family, and after a couple of attempts (yes I had enough chickpeas for more than one) I knew they were a keeper.  Even The Princess is quite enthusiastic about them.  We like to eat them as a simple weekend lunch, tucked into sourdough buns with salad, pickles and loads of chipotle sour cream. However I think the patties would also be good on their own for dinner, accompanied by some simple sides.
Chipotle sour cream is my new favourite accompaniment.  It has just two ingredients, takes two minutes to make, and pairs brilliantly with tacos, enchiladas and, of course, burgers.  Thanks to the recent Australian fascination with 'authentic' Mexican, tins of chipotles in adobo are becoming much easier to find.  I have seen them on the shelves in my local delis and even in the occasional supermarket.
When making the burger patties, don't panic if the mixture initially looks quite loose and wet.  The breadcrumbs soon work their magic, firming up the mixture and making it easier to shape.  If it is still a little loose after resting, add a few more breadcrumbs.  I did try a gluten free version with ground oats, which was not that successful.  If you need a gluten free burger, make sure to use gluten free breadcrumbs.
The patties freeze extremely well, so make a double batch to keep on hand for a quick lunch or dinner.  I shallow freeze them before packing into zip lock bags, which prevents the patties sticking together, and makes it easier to remove the required number from the freezer.
I prefer to defrost the patties before cooking.  However, they can be cooked from frozen in a pinch by lowering the pan temperature and cooking for slightly longer each side.  And just in case you don't happen to have a huge surplus of freshly cooked chickpeas on hand, you can open a can of chickpeas instead.  I promise they will be just as good.
Spiced Chickpea Burgers
These patties can be made ahead and stored in the fridge until ready to cook. They can also be frozen for up to three months, however allow them to defrost before cooking them.

The mixture will seem quite soft initially. Allow it to sit for at least 5 minutes after adding the breadcrumbs, which gives the breadcrumbs time to soak up the moisture. This makes the mixture firmer and easier to shape. Use gluten free breadcrumbs for a gluten free version.
Ingredients
300

g

cooked chickpeas*

2 cups

50

g

walnuts

1/2 cup

40

g

roughly chopped coriander leaves

1

clove

garlic

roughly chopped

2

teaspoons

ground coriander

1

teaspoon

ground cumin

1/2

teaspoon

hot smoked paprika

1

egg

lightly beaten

1

Tablespoon

lemon juice

70

g

dried breadcrumbs

1/2 cup

Salt & pepper

Dried breadcrumbs

extra, for coating

Ghee or olive oil for frying

Burger buns

chipotle sour cream and salad to serve

Salt & pepper
Instructions
To make the burger patties
Place the chickpeas, walnuts, coriander leaves, garlic, spices, and salt & pepper in the bowl of a food processor.

Pulse the mixture together until the chickpeas and walnuts are roughly chopped.

Add the egg and lemon juice.

Pulse again to combine.

Sprinkle over the dried breadcrumbs.

Pulse until the breadcrumbs are incorporated.

Set the mixture aside for 5 minutes to allow the breadcrumbs to absorb some moisture.

Divide the mixture into 6, and form into patties. Mine are roughly 9cm wide and 2cm high.

Press the patties into the extra dried breadcrumbs to coat.

The patties can be frozen at this stage.
To cook the burger patties
Heat the ghee or olive oil in a fry pan over a medium heat.

Add the patties to the oil, and fry for 5 minutes or until the underside is golden brown.

Flip the burger patty and cook for a further 5 minutes, or again until golden brown.

Remove the patties from the frypan and assemble your burger.
Notes
* There are roughly 3 cups of chickpeas in 2 x 400g tins of canned chickpeas. Any leftovers can be tossed into salads, frozen for another recipe, or you could always make a small batch of Indian Spiced Roasted Chickpeas.
Chipotle Sour Cream
I make this in small amounts, just enough for three to four burgers. If you are making more burgers, you may wish to double this recipe.

Chipotles in adobo sauce are available from good delicatessens and some supermarkets. Unused chipotles will keep for a few weeks in the fridge, or can be frozen.

I like a little heat in the sauce, so use two chillis and a few teaspoons of sauce. If you want smoke but no heat, use one chilli.
Ingredients
125

ml

sour cream

1/2 cup

1-2

in

chipotle chillis adobo sauce

plus a teaspoon or two of adobo sauce.
Instructions
Finely chop the chipotle chillis.

Stir into the sour cream, together with a teaspoon or two of the adobo sauce.

Taste the sauce. If you want it spicier/smokier, add either an additional finely chopped chilli or some more sauce.

Drizzle over your burger patties.
Save