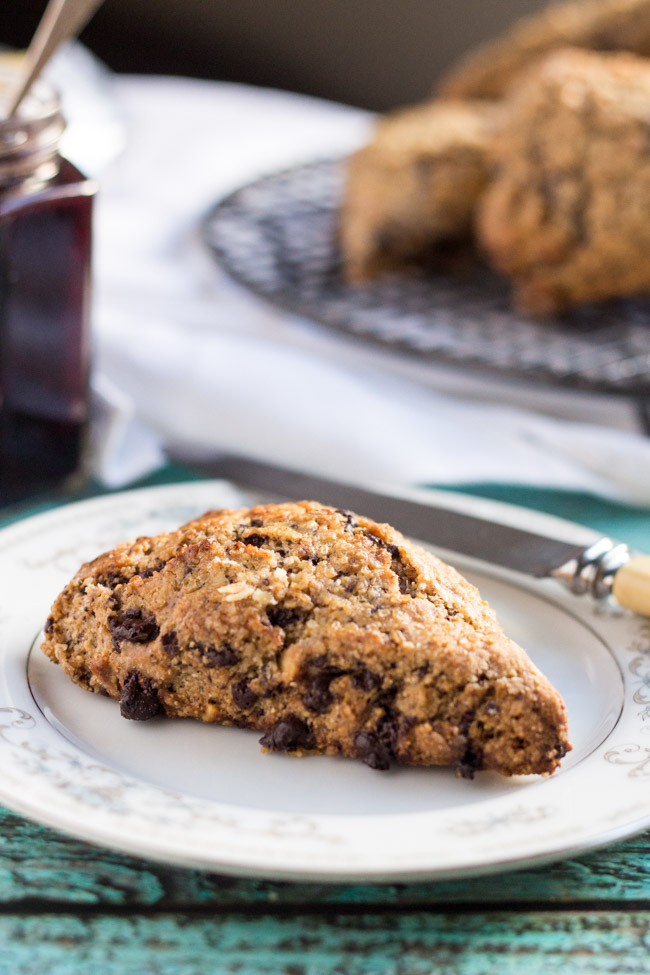 I am quite particular about the chocolate I eat.  It has to be very dark, preferably Fairtrade, and come in a block so I can break off small pieces to enjoy with my cup of tea.  It is my small daily indulgence.  Every year for Easter, however, my mother and sister ignore my pleas and load me up with dark chocolate bunnies that are not quite dark enough to be eaten on their own.  Usually I find random children to feed them to.  This year I got creative and turned them into these Chocolate and Almond Scones.
The Princess informs me she doesn't like scones.  She won't even deign to try my Oat and Buckwheat Jammy scones.  I pointed this fact out to her when she was part-way through her third Chocolate and Almond Scone.  Her response was muffled by her full mouth, however I suspect it had something to do with that irrational logic most teenagers display.  These scones are apparently fit for consumption in her eyes.
There is no added sugar in the scone mixture.  I feel that the chocolate adds just enough sweetness, but if you like things a little sweeter either use milk chocolate or add a couple of tablespoons of unrefined sugar to the batter.
I have been freezing these, and defrosting them when dessert is requested.  They pair very well with cultured cream, and I suspect that they would also be very tasty if paired with roasted cinnamon strawberries or berry ice cream. I may have to test this theory.
These scones are so good that we quickly ran out of Easter chocolate, and I have resorted to chopping up my personal stash to make them.  So just a quick note to my family for next Easter. I'll have the large rabbits please.
Chocolate and Almond Scones
I use a food processor (Thermomix) to chop the nuts and chocolate, and to cut the butter into the flour. This is the method I have given below, but these steps can easily be done by hand if you prefer.

There is no added sugar in the scone mixture. If you like things a little sweeter, either use milk chocolate or add a couple of tablespoons of unrefined sugar to the flour before adding the butter.
Ingredients
100

g

toasted almonds

120

g

dark chocolate

minimum 70% cocoa solids

145

g

wholemeal spelt flour

1 cup

130

g

spelt flour

1 cup

3

teaspoons

baking powder

1/4

teaspoon

baking soda

1

teaspoon

cinnamon

Pinch Salt

115

g

cold unsalted butter

chopped into small cubes., 1/2 cup

3/4

cup

buttermilk

2

eggs

1

teaspoon

vanilla extract

2

tablespoons

milk

extra

Unrefined demerara sugar or raw sugar

extra
Instructions
Preheat the oven to 220C (200C fan forced).

Line a large baking tray with baking paper.

Pulse the almonds a few times in a food processor until roughly chopped. You will have a mix of sizes of nut pieces.

Remove the nuts to a large mixing bowl.

Repeat this step with the chocolate.

Place the flours, baking powder, baking soda, cinnamon and salt to the food processor.

Pulse to mix, then add the butter.

Pulse a couple of times to cut the butter into the flour. You should have a mix of small and larger pieces resembling tiny pebbles distributed throughout the flour.

Tip the flour mixture into the bowl with the almonds and chocolate and mix thoroughly.

Whisk the eggs and vanilla into the buttermilk.

Pour the buttermilk over the flour, and cut the liquid into the flour with a knife or spatula. Stop once there is no dry flour visible in the bowl.

Tip the dough onto a floured surface and divide in half.

Lightly flour the top of the dough and pat each half into a 1.5cm high circle.

Divide each circle into six pieces, and carefully lift each scone onto the lined baking tray.

Brush the tops of the scone with milk and sprinkle over the demerara sugar.

Bake for 12-15 minutes, or until the scones are risen and golden brown.

Remove the tray from the oven, and immediately transfer the scones to rack to cool or eat them immediately.
Notes
These scones freeze really well. I reheat them by quickly zapping them in the microwave, but I have also wrapped them in foil and reheated them in the oven for dessert if the oven has already been on.