I have vague memories of dukkah exploding onto the culinary scene. I'm sure it happened during the pre-child era, when every restaurant seemed to provide dishes of dukkah and olive oil and some nice bread to distract you whilst you perused the menu. I don't recall the last time I was offered dukkah in a restaurant without having to pay for it, although this may say more about the Perth dining scene (or the fact I can't recall the last time I was in a restaurant) than anything else.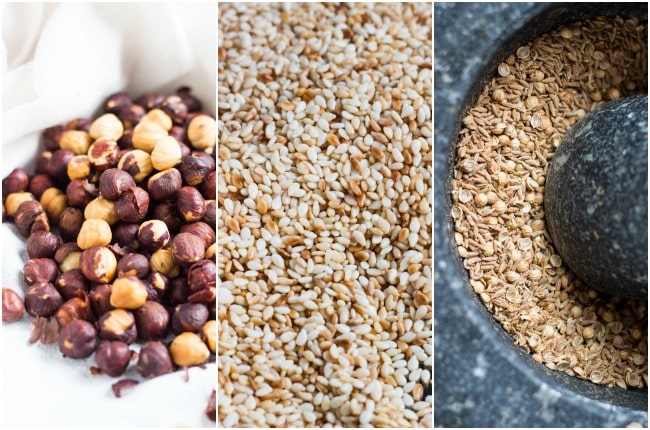 Dukkah is a mix of herbs, nuts and spices. It originated in Egypt, where it is traditionally served as a side dish with either bread or vegetables. The popularity of dukkah in Australia has seen an explosion in recent times of companies selling this versatile spice mix. Unfortunately it is really easy to throw some spices and nuts together, call it dukkah and charge an absurd amount of money for it without actually making sure it tastes good. I personally have been underwhelmed by the commercial varieties I have tried
Thankfully you can readily throw the same spices and nuts together in your own home, not pay a fortune for it and actually make something really tasty. Dukkah is highly versatile, beyond serving it as an appetiser with bread and oil. It can be used to coat meats, particularly chicken and fish, prior to cooking. Mix it into bread dough, toss it through pasta or sprinkle it over cooked vegetables or salads as a seasoning. Substitute dukkah for salt and pepper in lamb koftas or burger patties for a quick dinner.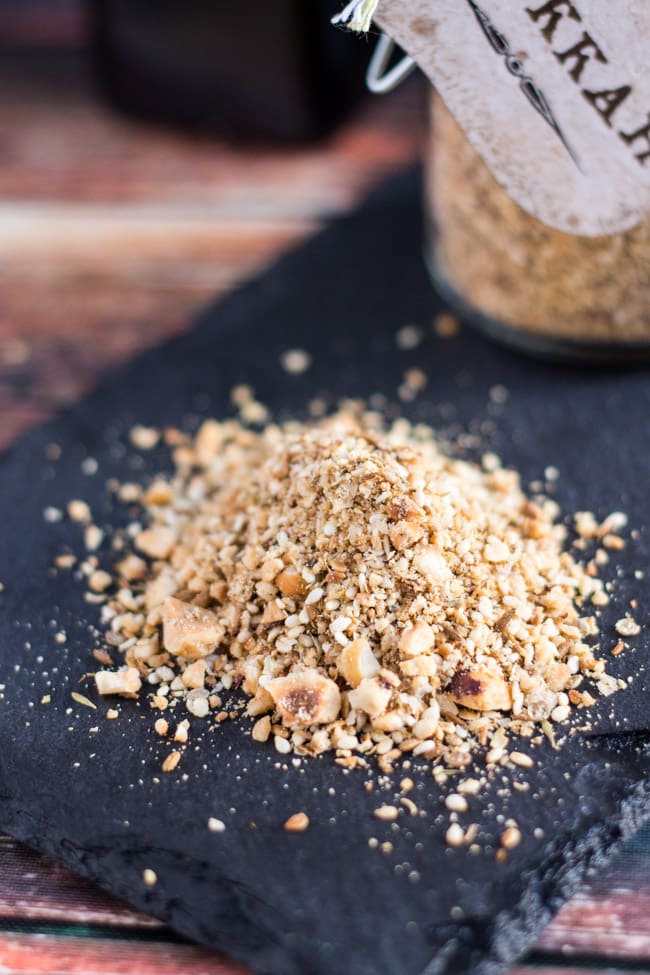 I store my dukkah in the freezer as roasted nuts and seeds are prone to rancidity and crushed spices can quickly loose their flavour. Yet another reason to make your own rather than buy the pre-made varieties that have been sitting on the supermarket shelves. So make yourself some flatbreads, whip up a batch of dukkah and enjoy that restaurant experience in your own home.
Kitchen Basics: How to Make Dukkah
You can substitute other nuts for the hazelnuts in this recipe, or try roasted seeds to make a nut free version. Adjust the spice and seasonings to your taste. It is a very forgiving recipe so play with it and make it your own.
This recipe can be made in a blender or food processor, or even a mortar and pestle.

Note that all Tablespoon measurements in this recipe are 20ml.
Ingredients
160

g

hazelnuts

1 cup

80

g

sesame seeds

1/2 cup

3

Tablespoons

coriander seeds

3

Tablespoons

cumin seeds

2

teaspoons

ground black pepper

1 1/2

teaspoons

flaky sea salt

I use Maldon

1/2

teaspoon

dried thyme
Instructions
Pre-heat the oven to 175C

Place the hazelnuts on a tray in a single layer and roast in the oven for 8-10 minutes, stirring once or twice. The nuts are ready when they smell fragrant and are slightly browned.

When the nuts are ready, tip them into a clean tea towel and, using the towel, rub the nuts together. This will loosen the skins and allow them to fall off.

Set the nuts aside. Discard the skins

Place the sesame seeds in a frying pan on a low heat. Toast the seeds for about 5 minutes, stirring frequently, until they are light brown and fragrant.

Remove from the frying pan and place in a medium size bowl.

Place the coriander and cumin seeds in the same frying pan and toast for 1-2 minutes, or until fragrant. Remove from the heat and set aside.

Put the nuts into a blender or food processor and pulse until they are crumbly. Add the nuts to the sesame seeds.

Pulse the coriander and cumin seeds in the blender or food processor to break the seeds up. Add to the nuts and sesame seeds.

Add the salt, pepper and thyme to the seeds and stir to combine.

The dukkah is ready for use.
Notes
Be careful not to process the nuts for too long. You want almost a sandy texture with some slightly larger pieces mixed through. If you process the nuts for too long you will end up with nut butter. Not ideal.
The texture of the finished dukkah really comes down to personal preference. I like some texture in my nuts and am happy to eat bits of seeds. If you don't like whole and broken coriander and cumin seeds in your mix, then process the seeds for a longer time.