Have you noticed a theme developing in my recent posts? We started at flatbreads, detoured via dukkah and now here we are at lamb koftas for dinner (or lunch). I'll admit I am not the greatest fan of lamb. Does that make me un-Australian? As an aside, I don't like Vegemite either. Don't judge me.
I grew up on a farm, where a run into town was a 40 minute round trip. Nearly all the meat we ate was killed by my dad. I remember being surrounded by cows, pigs and chickens but they never figured largely in our evening meals. Mutton, however, seemed to always be there. I was a fussy eater as a child. Many a night I was left sitting in front of my plate with the fat slowly congealing around the cold mutton chop, the rest of the family having long since finished and left the table.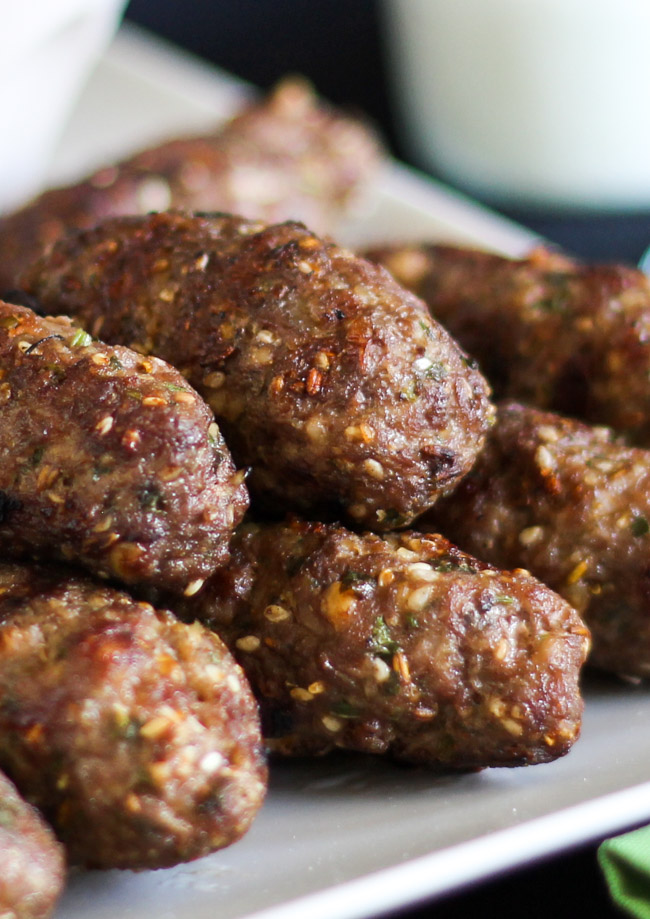 For many years I refused to eat anything sheep related. Somewhere along the line mutton was replaced by lamb, not that I could be convinced it was any better. Then I met Mr Grumpy, who loves lamb. It appears he passed this love onto The Princess, who is also quite partial to it. So now I cook lamb, albeit occasionally.
If I am going to eat lamb, it needs to be well spiced and seasoned. These koftas fit the bill perfectly. They are quick to put together, and the spices in the dukkah add great flavour to the meat. The koftas freeze well, so I will often make a batch to keep in the freezer for quick weekend lunches. I like to eat them wrapped in flatbreads, with salad and a drizzle of yoghurt or tahini (or both). They are equally good with cous cous. And if I spice them enough, I can pretend they aren't lamb at all.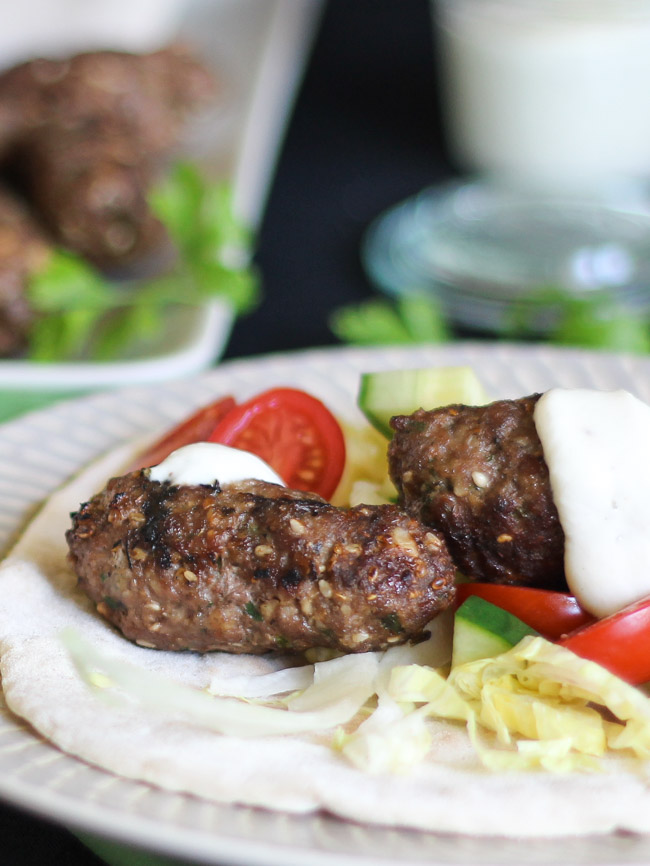 Easy Dukkah-Spiced Lamb Koftas
If you have time, work the lamb mince thoroughly with your hands to a sticky paste before you shape the koftas. I usually throw these together at the last minute, so work the mince just enough to ensure that the herbs and spices are distributed evenly. Both methods give you a decent kofta, the only difference is in the texture of the cooked kofta.
Add as much Dukkah as you would like to the meat. I have given you a starting range. Feel free to add more or less according to your tastes. The Dukkah should contain enough salt & pepper to season the meat.
Serve with
flatbreads
, yoghurt and salad.
Ingredients
500

g

lamb mince

1

clove

garlic

crushed

2

Tablespoons

chopped parsley

2-3

Tablespoons

Dukkah
Instructions
Put the lamb mince into a medium size bowl.

Add the remainder of the ingredients and mix thoroughly with you hands until the herbs and spices are evenly distributed through the meat.

Divide the meat into 12 even sized balls, then shape into fat cigar shapes.

Grill or BBQ the koftas for approximately 10 minutes, until they are browned and cooked through.
Notes
If you wish to freeze the koftas, shape them as described then place on a lined baking tray. Freeze solid, then repackage into sealed plastic bags or containers to prevent the garlic odour penetrating everything in your freezer.