Last Updated:
A simple Ginger Soy Marinade with an infinite number of uses.  Great for chicken, steak, pork chops, salmon, or even tofu.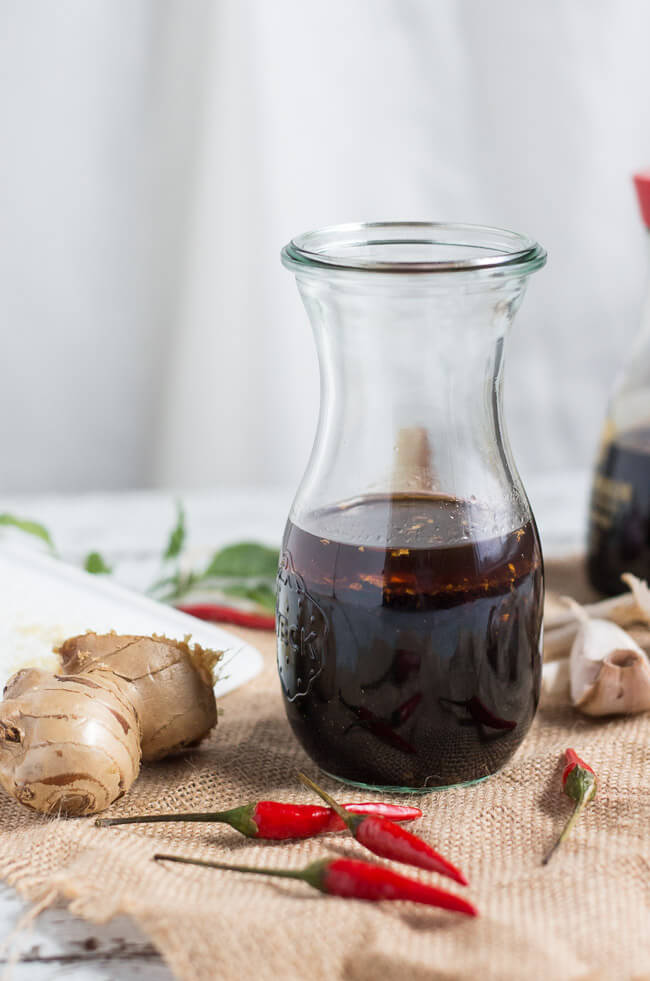 We all have those days when cooking dinner seems like a step too far.  No matter how well I have planned, I still have moments when my menu plan doesn't interest me, and I cannot bring myself to cook anything more complicated that a simple piece of protein and some sides.  In cooler weather, my fallback is easy weeknight roast chicken and baked sweet potato chips.  In summer, it is usually some form of grilled protein with a tomato and white bean salad.
You don't have to put in a lot of effort to make an impressive meal.  My pro-tip for you; if you want people to think you've slaved over dinner for hours, even though you haven't, add a little pizazz to your protein of choice.   If time is not on your side, use a quick rub.  If you do have a little time, dipping your protein into this really simple soy marinade will make the world of difference.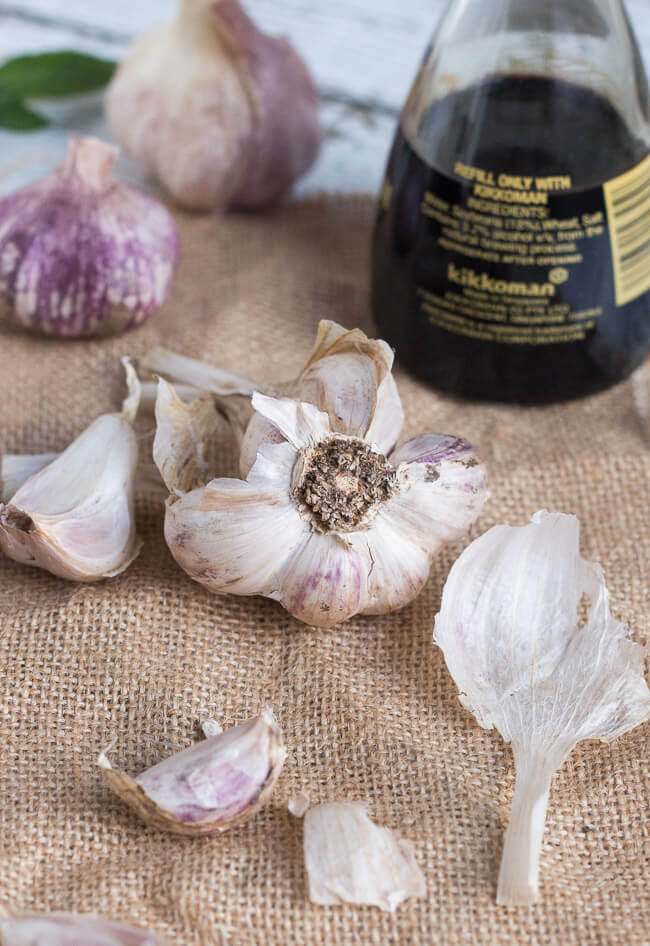 Once upon a time, I would mix up only enough marinade for a single meal.  Long time readers will be aware though that I am a recent convert to freezer cooking.  So as it takes limited effort to double or even triple this soy marinade recipe, given that all of the required sauce bottles and condiments are already on the bench, I often make extra.
To do this, I place multiple containers in front of me (depending on how many batches I wish to make)  and measure the ingredients into each container at the same time.  Scaling up the recipe requires only a few extra spoonfuls, and no additional dishes.  I freeze the other batches of soy marinade until required, or if I am really organised I will freeze some meat in the marinade.  Doing this saves time later on (see my tips below).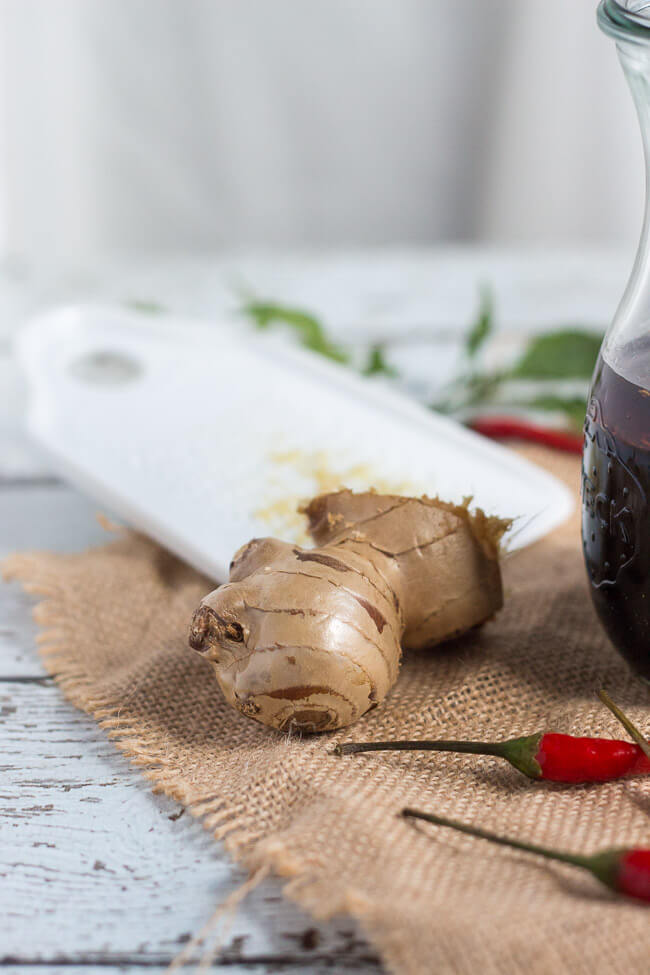 Ingredient Substitutions
Mirin can usually be found in your local supermarket.  However if you can't find it, you can use Shaoxing cooking wine (Chinese rice wine) instead, which can be sourced from Asian markets.  And if you really have issues sourcing this ingredient, use a dry sherry to make the soy marinade.
Tamari or light soy sauce are interchangeable in this recipe, so use whichever you have on hand.
Dinner just got a whole lot easier with this #Simple #ginger #soy #marinade #BBQ
Click To Tweet
The toasted sesame oil adds flavour to the marinade. I also use the oil for frying off vegetables to accompany Asian dishes and also for frying potstickers.  If it is not an ingredient you would otherwise use, or if there are allergies in the family, use a light, flavourless oil instead.
I think fresh garlic and ginger are important to the flavour of the marinade, but feel free to use commercial garlic and ginger preparations if you are short on time.  Maybe add a little more though to boost the flavour of the marinade.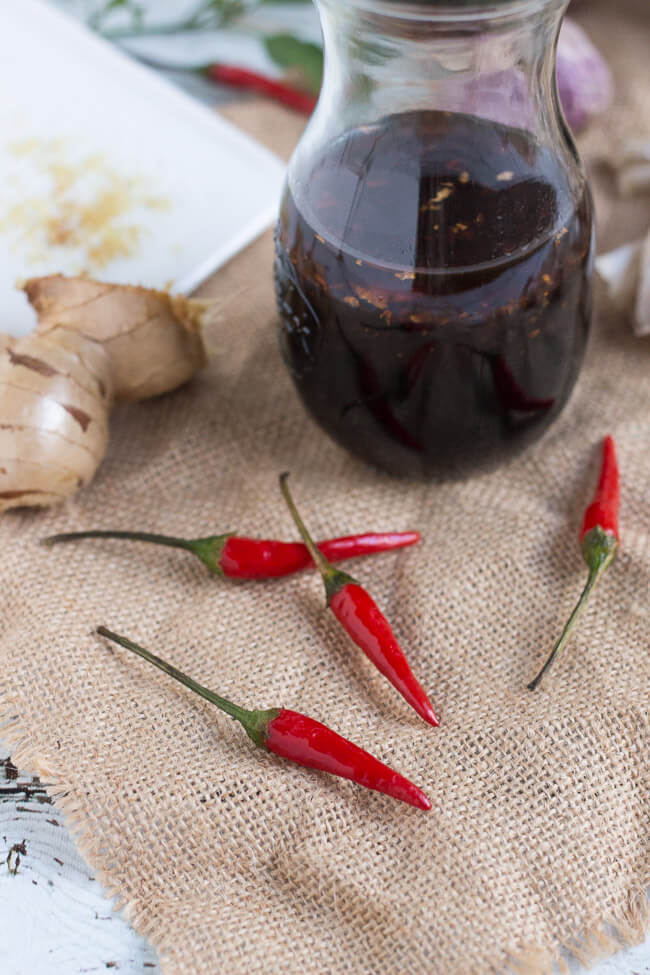 Making The Most of Your Ginger Soy Marinade
You are only limited by your imagination when it comes to using this ginger soy marinade.  It is fantastic for chicken, but will also work well with steak, salmon, pork chops or even tofu. You could even use it as the basis for an easy stir fry.
This recipe is sufficient to marinate 500 – 700g (1/2 – 3/4 pound) of meat.  If you have larger amounts of protein to marinate, double the recipe.
The easiest way to use the marinade is to just pour it over your chosen protein, then leave it to sit in the fridge for a few hours to let it do it's work.
However a much better idea is to place your chosen meat in a freezer safe container or freezer bag, pour over the marinade and freeze the two together.  Pull the whole package out of the freezer in the morning, and defrost it in the fridge whilst you go about your day.  Come dinnertime you have a tasty meal ready to cook, and no-one need know you didn't slave over it for hours.
A Simple & Useful Ginger Soy Marinade
A simple Ginger Soy Marinade with an infinite number of uses. Great for chicken, steak, pork chops, salmon, or even tofu.



Instructions
Measure all of the ingredients into a glass jar with a lid.

Replace the lid and shake the jar to combine the ingredients.

Use as desired.
Notes
I like a lot of ginger in the marinade, which will also contribute a spicy hum to your dish. If this is not to your liking, use less ginger.
This marinade can be frozen in small containers, or place some meat in freezer safe containers, add your marinade and freeze.
This recipe is sufficient to marinate 500 - 700g of meat. You can marinate larger amounts but the flavours may not be as strong in the cooked product.
Nutrition
Calories:
90
kcal
|
Carbohydrates:
4.1
g
|
Protein:
1.9
g
|
Fat:
5.2
g
|
Cholesterol:
0
mg
|
Sodium:
575.6
mg
|
Sugar:
0.7
g
|
Vitamin A:
50
IU
|
Vitamin C:
23.1
mg