Ready in less than 30 minutes, asparagus and goat cheese frittata is the perfect solution for a quick meal at the end of a busy day.  Just add salad and a crusty loaf for a simple dinner.  Delicious either hot or cold, it also can be turned into a simple canape for entertaining. 
Total Time Investment: 25 Minutes

Asparagus season is in full swing.  At the start of the season I cook asparagus quite simply, wanting to really enjoy the flavour.  As the season progresses, I become more inventive.  Asparagus begins to appear as an ingredient in a meal rather than the main event, and this easy asparagus and goat cheese frittata is a good example of this.  Simple enough that the asparagus shines, yet substantial enough for dinner. 
There are so many things that appeal to me about frittatas.  Unlike most quiches (crustless quiches aside) or savoury tarts, they don't require pastry, which suits me perfectly as I inevitably forget to defrost or make pastry.  Frittatas are quick to make, and cook in a fraction of the time of quiches or tarts.  And they are delicious either hot or cold, so can be cooked in advance if necessary.  Served with a salad and some crusty bread, frittatas make a simple, yet delicious, lunch or dinner.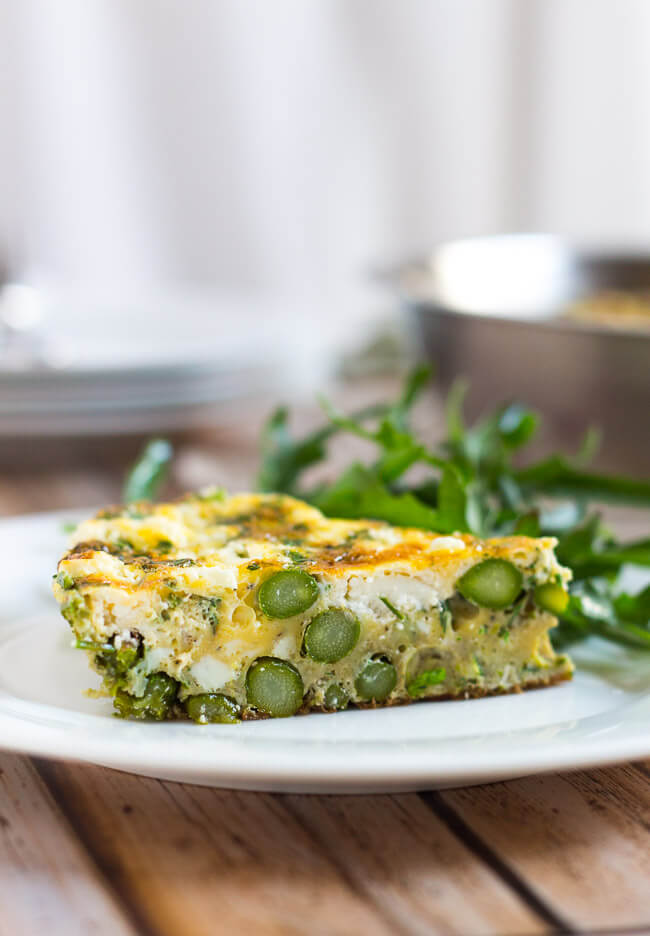 *We are a participant in the Amazon Services LLC Associates Program, an affiliate advertising program designed to provide a means for us to earn fees by linking to Amazon.com and affiliated sites.
 Ingredient Substitutions for Asparagus & Goat Cheese Frittata
With such a simple recipe, the opportunities to mix it up a little are limited.  However, you could consider the following:
Use feta cheese in place of the goat cheese. You could also try adding spoonfuls of goat curd, or Persian feta to the frittata.
Mix up the herbs according to what you have on hand.  Basil, chervil, chives, dill, thyme, parsley and tarragon all pair well with both eggs and asparagus, so choose two or three of your favourites to mix into the goat cheese frittata.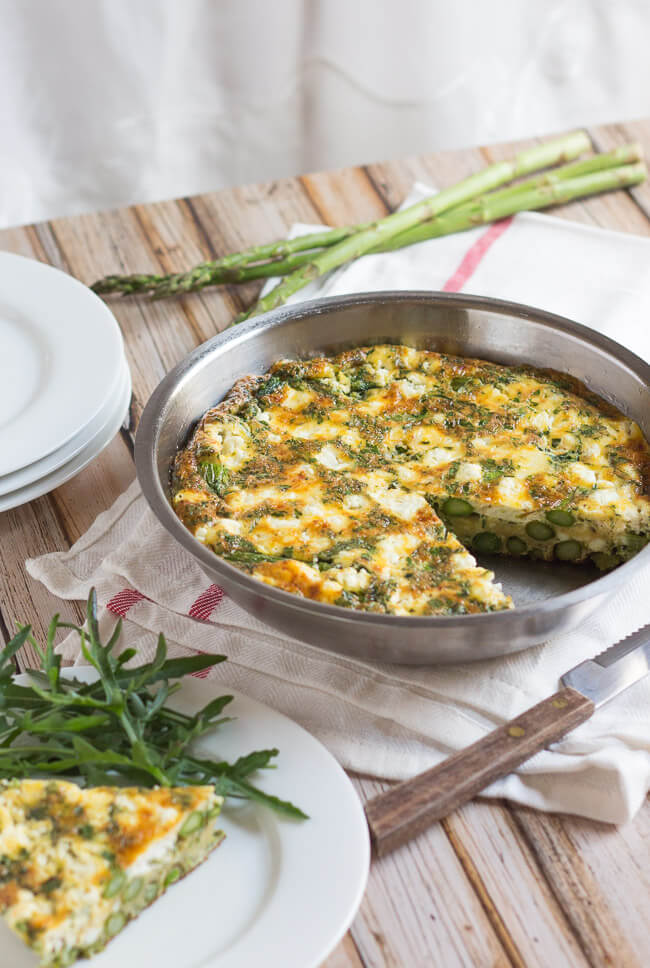 Tips & Tricks For The Best Asparagus & Goat Cheese Frittata.
Asparagus appears in spring, and has a very definite season.  If you find asparagus in the shops in the middle of winter, it is safe to assume it is imported. Enjoy it to excess when it is season, and try my roasted vegetable frittata instead during the remainder of the year.
I was surprised to learn recently that the size of the asparagus spears are not an indication of quality.  Fat or thin, choose fleshy plump spears rather than tough woody spears for the most delicious asparagus.  You can find more tips for choosing the best asparagus here.
#Asparagus & #goatcheese #frittata, makes an ideal #dinner at the end of a busy day. Simple to make, all you need is #salad and a crusty loaf to turn it into a satisfying meal. #vegetarian #glutenfree #quick #easy #recipe
Click To Tweet
The recipe below gives a range for the amount of goat cheese to add.  I find some people like only a little cheese in their frittatas, whilst others (such as my family) like a lot. Don't be tempted to go over the upper range given in the recipe though, as this may cause the frittata to crumble as you slice it.
A good heavy bottom fry pan will ensure your success when it comes to making frittata.  If your frypan is too thin, the bottom of the frittata may burn before it has begun to cook through.  I use a 20cm stainless steel fry pan to make my frittatas. If I owned a cast iron skillet, I would absolutely use that instead.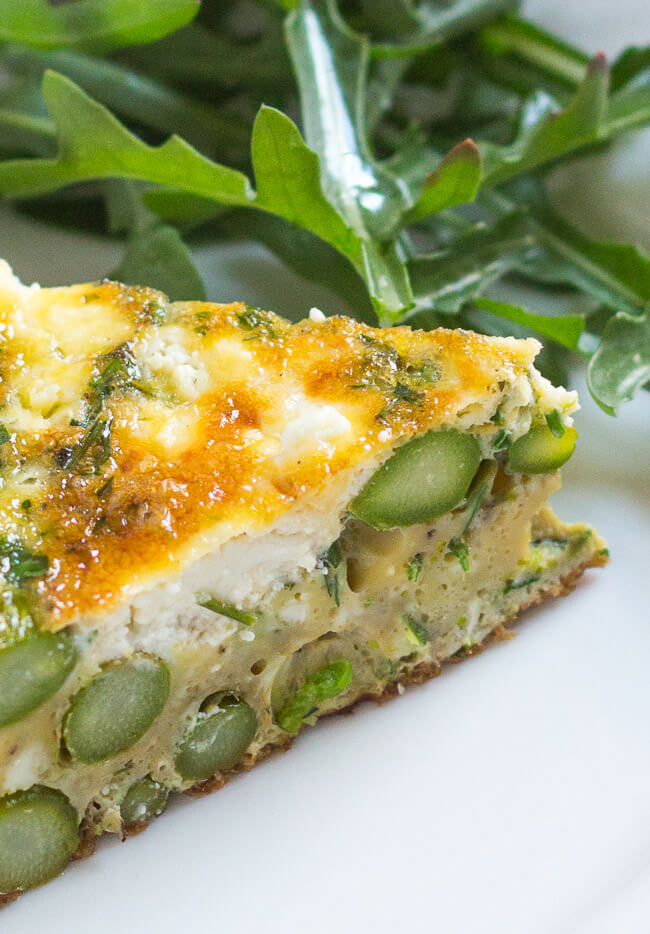 Turn Your Asparagus & Goat Cheese Frittata Into A Simple Canape
This simple asparagus and goat cheese frittata has saved me on more than one occasion when I have needed to provide nibbles for a gathering.  Sliced into cubes and skewered with fancy tooth picks, these make an elegant yet simple canape.
The frittata does need to be cold before you attempt to slice it into cubes, otherwise it will just fall apart.  This makes it perfect for entertaining, as it can be made the day before required, then sliced into cubes just before your event.
Enjoy!
Made this recipe? Tell me how it went in the comments below.
And if you loved it, please don't forget to rate it.
Asparagus and Goat Cheese Frittata
Ready in less than 30 minutes, asparagus and goat cheese frittata is the perfect solution for a quick meal at the end of a busy day. Just add salad and a crusty loaf for a simple dinner.
Ingredients
6

eggs

2

Tablespoons

chopped fresh herbs

(I used chervil, chives & parsley)

Salt & Pepper

1

Tablespoon

butter or ghee

200

g (7 oz)

fresh asparagus spears

woody end removed & chopped into 4cm pieces

60 - 90

g (2 - 3 oz)

fresh goat cheese

crumbled
Instructions
Pre-heat the grill (broiler) to high.

In a small bowl, whisk the eggs together with the herbs.

Season the eggs with salt & pepper, and set aside.

Melt the butter in the fry pan over a medium-low heat, and add the chopped asparagus.

Cook for 2-3 minutes, stirring occasionally, until the asparagus begins to soften.

Reduce the heat to low and pour the egg mixture over the asparagus, pushing any stray pieces of asparagus below the egg mixture.

Scatter the goat cheese over the eggs, and poke some of the cheese under the egg mixture.

Allow the frittata to cook for 10 minutes. You will see small bubbles rising in the mixture but the top will not be set at the end of this time.

Place the frittata under the grill for 3 - 5 minutes, until the top has set and has started to brown.

Set the frittata aside for 5 minutes before serving, or allow to cool completely.
* This post was originally published in November 2014, and has been substantially revised and updated.