Load up the slow cooker and come home to this delicious Thai red beef curry. Packed full of flavour, and crammed with vegetables, just add some steamed rice for a complete meal. You can also double the recipe and stash the extras in the freezer to have a delicious meal in reserve for those days when everything goes to pot.
TOTAL TIME INVESTMENT: 8 HOURS 20 MINUTES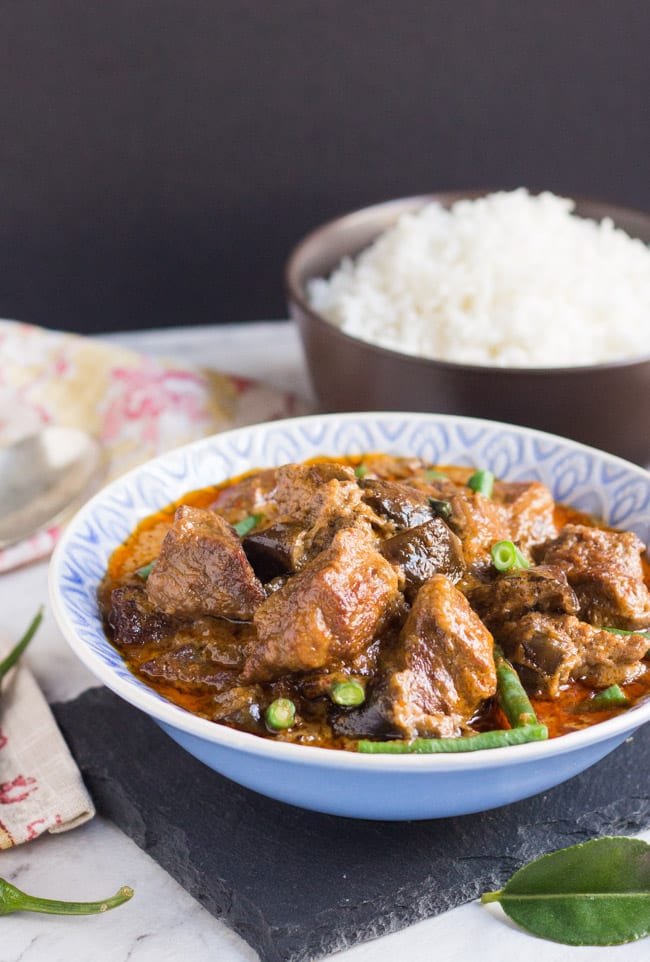 I have a love/hate relationship with my slow cooker.  Some days, thanks to The Princess's after school activities, we arrive home right on dinner time. 

Without the slow cooker we would eat quite late, no matter how prepared I try to be before we go out.  With the slow cooker, I can throw dinner together in the morning and have something ready for when we walk in the door.  This I love. 

What I hate is that most slow cooker recipes seem bland and unappetising to me, as if the flavour has cooked out over time. Whilst this is probably a reflection of my recipe selection or my ability to use the appliance properly, it can make for a dull meal.
To combat this constant dinner disappointment, I have developed a number of tips that ensure we eat the best slow cooker meals ever (in my not so very humble opinion). And to ensure you can do the same, I have created a handy cheat-sheet for you so you needn't commit my tips to memory. Grab the cheatsheet from my Resource Library by requesting the password at the end of this post or by clicking the link below.

Curries, such as lamb korma curry, are my favourite dishes to make in the slow cooker. There are three reasons for this:
Curries seem to hold their flavour well during the slow cooking process, so the finished dish is still full of flavour and a joy to eat.
Curries freeze so well that I will often double the recipe to ensure that I have a few emergency meals stashed in the freezer for those days I don't quite manage to get the slow cooker on.
If I put my rice cooker on as well before I leave the house, all I have to do when I come home is serve up dinner.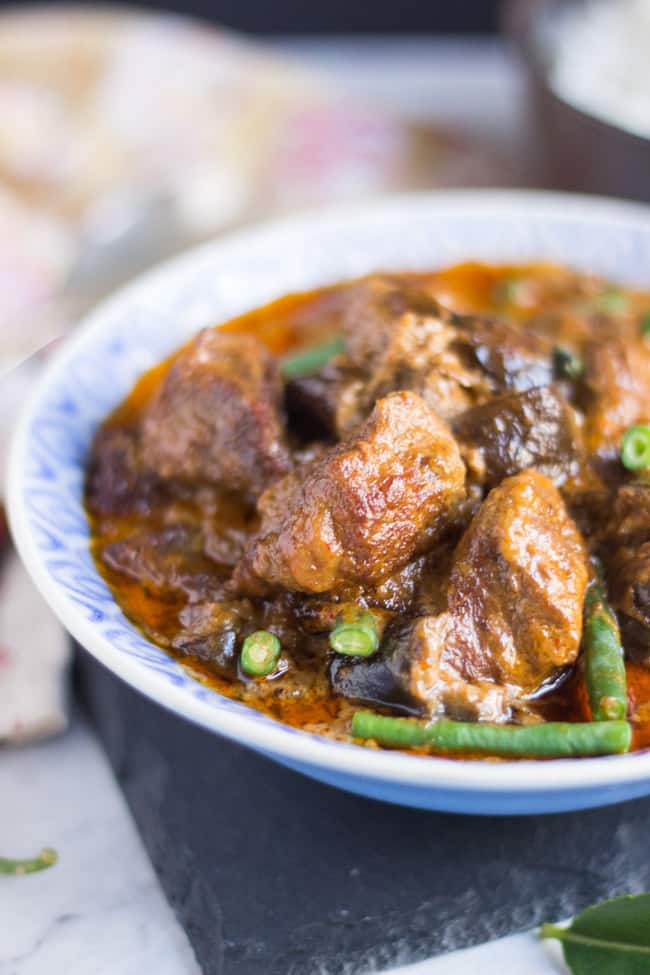 * We are a participant in the Amazon Services LLC Associates Program, an affiliate advertising program designed to provide a means for us to earn fees by linking to Amazon.com and affiliated sites.
The majority of curries I make have an Indian bent, but I'm on a bit of a Thai curry kick at the moment. My Thai red beef curry appears regularly on our dinner table, and I am never disappointed with it. I do tend to tone down the amount of curry paste I use in order to reduce the incidence of complaints from The Princess. Even that doesn't stop her from eating it with half a jar of yoghurt, but at least it gets eaten.
If you don't have someone whining about a little bit of heat in your household then simply add more curry paste to the recipe. I add vegetables to the dish so as to make it a complete meal, but you could stir fry some greens to serve alongside the dish if you prefer. Either way, it is great to come home and know that dinner is ready. Maybe I no longer hate my slow cooker after all.
Load up the #slowcooker with this easy #Thai red #beef #curry. Stuffed with vegetables, all you need add is steamed rice. And why not double the recipe so you can stock the freezer at the same time. #freezermeals…
Click To Tweet
Ingredient Substitutions for Slow Cooker Thai Red Beef Curry
Don't be afraid to make a few substitutions in this dish to truly make it your own:
Whilst I have not tried it myself, I do think you could successfully use chicken thighs in place of the beef in this curry.
Not a fan of eggplant? Use your preferred vegetables instead. Try onions or capsicum (peppers) cut into cubes, or use chunks of sweet potato. Replace the green beans with frozen peas, which need only be dropped into the sauce at the last minute to defrost and heat through.
I have not tried other curry pastes, but see no reason why a green curry paste would not work just as well here. You could also turn this into an Indian dish by using your favourite Indian curry paste, although if you were to go this route I would also omit the kaffir lime leaves and fish sauce.
Normal white granulated sugar can be used in place of the coconut sugar.
You can, in a pinch, use soy sauce in place of the fish sauce. The purpose of the fish sauce is to add salt to the dish, which soy sauce would also do. Just be aware that the flavour is different, so only try this if you don't have fish sauce on hand or won't use it for anything else.
There is no real substitute for fresh kaffir limes leaves, although dried kaffir lime leaves will do in a pinch. The curry will be perfectly fine without them, but if you stumble across fresh leaves at some point, stock up and freeze them so you always have some to drop into dishes.
Equipment Recommendations for Slow Cooker Thai Red Curry
I have written this recipe to be made in an electric slow cooker. You could try making it in a cast iron dutch oven either in the oven or on the stovetop. However, I have not done this myself so am not in a position to advise you on temperatures or cooking times if you choose to stray from the recipe as written.
In addition to a slow cooker, I recommend you use a good frypan for browning the meat and the eggplant.
And to be honest, if you don't already own one, I highly recommend you invest in a rice cooker with a timer function. This way you can set the rice cooker to be finished when you arrive home, so all you need do is serve and eat.
Freezing Tips for Slow Cooker Thai Beef Curry
This slow cooker Thai red curry freezes extremely well, so I usually double this recipe when I make it and then freeze half for a later meal. To freeze my slow cooker red curry:
If you have doubled the recipe, scoop half of the cooked Thai red curry into a freezer safe container. If you are cooking the dish specifically for freezing, then allow the finished curry to cool slightly in the insert before transferring it to a freezer safe container.
Allow the curry to cool slightly before putting the lid on the container. I usually let the meal destined for the freezer to cool whilst we eat dinner before applying the lid.
Clearly label and date the container.
Put the sealed container in the fridge to allow it to cool completely. I let the red curry sit in the fridge overnight, but allow it to cool for at least a few hours before transferring the dish to the freezer. This is an important step as it reduces the formation of ice crystals in your frozen meal. Ice crystals can impact the texture of your defrosted dinner.
Store the red beef curry in the freezer for up to three months. Defrost the curry in the fridge overnight then simply reheat before serving.
Frequently Asked Questions About Red Beef Curry
Does red curry have peanuts? 
Red curry paste does not traditionally contain peanuts, so any red curry will only contain peanuts if they are added as an ingredient to the recipe.  If you have an allergy, it is however advisable to read all packaging before purchasing as curry paste recipes differ between brands.
Is Thai red curry spicy? 
Red curries are not as spicy as a green curry.  If you don't like curries very spicy, just reduce the amount of curry paste in the recipe to suit your individual tastes.
Is there a substitute for Thai red curry paste? 
You could substitute any Thai curry pastes for another in a recipe.  Just be aware that by substituting the curry paste your will change the flavour profile of the finished dish.  I have provided some suggestions above for ingredient substitutions for the red curry paste.
Can I substitute curry powder for paste?
Technically you could substitute curry powder for curry paste, however be warned that to do so will completely change the flavour profile of the dish.  This does not mean it will be inedible, just that it will probably taste completely different to the original.  Also be aware that curry powders are either Indian or Asian, so consider my precautions in the ingredients substitution section above if you use an Indian curry powder.
Are chili paste and curry paste the same? 
No, they are not the same thing.  Chili paste is primarily ground chilies, with maybe a few additional ingredients like sugar, vinegar or oil added, that is typically used as a condiment on the side of a dish.  Curry paste is a mix of various aromatics such as onions, ginger, garlic, galangal, lemongrass, basil, and including chili, that are added at the beginning of a recipe and add additional flavour to a curry.
Tips and Tricks For The Best Slow Cooker Thai Red Curry
I've made this red beef curry many times now, and have developed a few tricks to guarantee a delicious outcome. To achieve the same in your home, try the following:
Choose a good stewing/braising beef for this red beef curry. You want something that can withstand the long cooking time, and not become dry and tasteless. My preferred cut is chuck steak or braising steak, although this will obviously be called different things depending on where in the world you live. My advice is to have a chat to your butcher to see what they would recommend.
I prefer to brown the beef and eggplant prior to placing it in the slow cooker. I think this adds to the flavour of the final dish, and is the method I have given in the recipe below. However, if you are short on time, add the beef and vegetables straight into the slow cooker, mix together the liquid ingredients, pour them over the beef, then cook as usual.
Not all curry pastes are created equal. Some hold up better to the long cooking time than others. Make sure you use a good quality curry paste to ensure the final dish retains its flavour. I use, and recommend, the Maesri Red Curry Paste for this dish.
Add more curry paste to the dish if you have a higher tolerance to heat. I find the amount I use is suitable for The Princess.
I like to blanch the beans and add them right at the end as I like the beans to retain a little crunch in the finished dish. If you don't mind soft beans, add them at the start of the cooking time.
When you assemble the dish, it will seem like there is not enough liquid in the crock pot. This is how it should look, so do not be tempted to add additional liquid. As the curry cooks, the juices from the beef and the vegetables will mingle with the coconut milk to form a delicious thick curry sauce.
This recipe is suitable for a standard size slow cooker or crock pot, and I find it fills my 4.5L slow cooker perfectly.
My red beef curry freezes extremely well, so is the ideal dish to double for an extra meal. Just allow the extras to cool in the fridge overnight before transferring them to the freezer. And don't forget to label it.
Other Slow Cooker Recipes You May Like
Looking for more easy slow cooker recipes? That I can help you with. All of my slow cooker recipes on the blog can be found here, but some of my favourites are:
Enjoy!

Made this recipe? Tell me how it went in the comments below.
And if you loved it, please don't forget to rate it.


Slow Cooker Thai Red Beef Curry
Thai Red Beef Curry is packed full of flavour, and so easy to make in the slow cooker. My version is crammed full of vegetables, so really only needs some steamed rice to accompany it. Double the recipe, stash the extras in the freezer, and you have a delicious meal in reserve.
Ingredients
2

Tablespoons

coconut oil

700

g (1 1/2 lbs)

braising/stewing beef

cut into 2cm pieces

3

small (approx. 3 cups)

eggplants

cut into chunks

1 – 2

Tablespoons

red Thai curry paste

1

can (400ml)

coconut milk

2

Tablespoons

fish sauce

1

teaspoon

coconut sugar

5

leaves

kaffir lime

200

g (2 cups)

green beans

cut into 1cm lengths
Instructions
Turn the slow cooker to low to warm whilst you are preparing the ingredients.


Heat 1 Tablespoon of the coconut oil in a large fry pan over a medium heat.

Brown the beef a few pieces at a time. As the pieces brown, place them into the slow cooker.

Heat the remainder of the coconut oil and brown the eggplant pieces in the same manner. Add these to the beef in the slow cooker.

Add the curry paste to the hot fry pan and fry for 30 seconds, or until fragrant.

Add the coconut milk, fish sauce and sugar to the fry pan and bring the sauce just to the boil.

Tip all of the sauce into the slow cooker, scraping the fry pan well.


Stir everything well to ensure that the beef and eggplant are coated in the sauce.


Tuck the kaffir lime leaves under the beef.


Place the lid on the slow cooker, and cook on low for 8 hours or until the meat is tender.

Just before serving, bring a small pot of water to the boil and add the beans.

Boil the beans for 2-3 minutes, or until they are tender.

Drain the beans and gently stir them into the curry.

Serve immediately with steamed rice.
Notes
I only use 1 Tablespoon of curry paste when making this dish as my preferred paste is quite spicy. Judge the amount you require on how spicy your paste is.
Substitute any vegetables you like if eggplant and beans aren't your thing. The eggplant will cook right down into the sauce though so you won't notice it. You can substitute 1/2 cup of peas for the beans if you would prefer.
Update Notes:  This post was originally published on 14th September 2014. It was updated on 28th June 2018 to complete the recipe card, update post links, and to generally improve the readability of the post.  It was updated again on 5th February 2019 to add FAQ's and equipment recommendations, and republished. A Table of Contents, freezing tips and links to other slow cooker recipes were added on 13th August 2019.

Save