Last Updated:
The Princess happily eats the same lunch for weeks on end, then with no warning will suddenly change direction.  She makes her own lunch, and my only task is to actually provide the food.  I take the opportunity to stock up on ingredients if I can, so any sudden changes often leave me with a surplus which I then have to find a use for.  And so it was that her sudden loss of interest in lunch wraps left me with packets of flatbreads in the freezer. My suggestion of making flatbread pizza was met with disdain (apparently they are no longer in favour either), so to make some space in the freezer I turned them into these Quick Flatbread Crackers.
If you are trying to avoid processed foods, crackers can be a minefield.  Some crackers are loaded with hydrogenated oils, dubious emulsifiers and mysterious numbers.  Mind you, the same can be said for flatbreads, so it is really important to read packet labels if you are trying to avoid these ingredients. The flatbreads I buy contain only flour, water, salt, sugar and yeast and freeze really well, so I usually buy a few packets at a time.
I dream of being one of those people that makes my own crackers from scratch.  There are some great recipes out there, and my Pinterest board continues to grow with crackers I intend to make one day.  I do not make crackers from scratch though, so flatbread crackers it is.  They require only a few minutes of my time and make a good substitute for their more processed counterparts.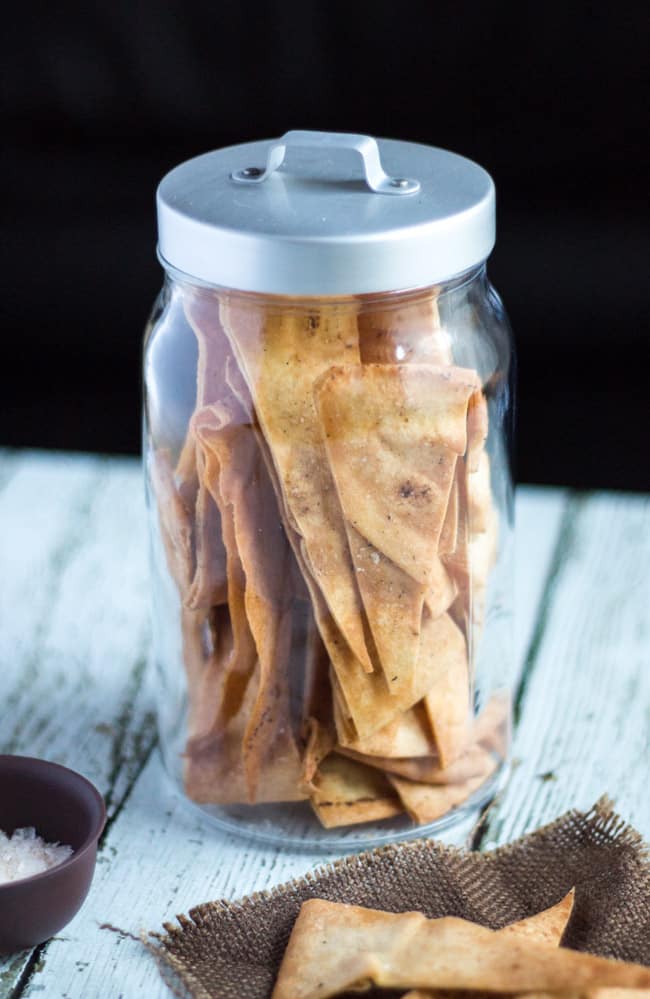 After all the muffins, cookies and cake I have baked lately, it is nice to provide something savoury to feed The Princess.  Pair these crackers with chunky spinach dip, or even spicy kale pesto, and she has a great healthy snack.  They are also good with a simple wedge of cheese, or just munched by themselves.
The Princess is currently eating cheese and salami bagels for lunch.  Any and all recipes for surplus bagels or salami would be appreciated.
Quick Flatbread Crackers
Brush the oil on to the flatbreads before you cut them. It is much easier than trying to oil individual pieces.

I have not specified the amount of oil required in this recipe, as the amount required will depend on how large your flatbreads are, and how many you have.

These flatbreads will keep for up to a week in an airtight container, if you don't eat them all first.


Ingredients
1

packet flatbreads

preferably wholemeal

Olive oil

Salt & pepper
Instructions
Preheat the oven to 180C (160C fan forced).

Line a large baking tray (or two trays) with baking paper and set aside.

Place the olive oil in a small bowl, and season with salt & pepper.

Brush the seasoned oil over each side of a flatbread.

Stack the oiled flatbreads on top of each other, and cut into wedges with a sharp knife. You can make the wedges whatever size (i.e. as fat or as skinny) you like.

Spread the wedges in a single layer over the lined baking tray(s).

Bake for 6 - 8 minutes, or until golden brown.

Remove from the oven and allow to cool on a rack.

When cool, store in an airtight container.
Notes
Watch the crackers towards the end of the cooking time as they burn quite easily. If necessary, remove any that appear to be cooked, and leave the remainder in the oven until they have also browned.