Tropical Vegan Breakfast Popsicles combine zesty lime and mango with creamy coconut yoghurt to produce a great breakfast on the go.
This post is sponsored by NuLac Foods, in accordance with my Disclosure Policy.  All opinions remain 100% my own.
I'm not a huge breakfast fan, although I persevere due to some weird body chemistry that makes me extremely ill if I don't eat.  My breakfast aversion means that on a normal day it takes me forever to get through the meal in front of me.  On mornings when I really just need to get out the door, this situation is obviously less than ideal. Enter the breakfast popsicle.  With the weather warming up, and the busiest part of the year approaching, these Tropical Vegan Breakfast Popsicles are the perfect solution to breakfast on the run.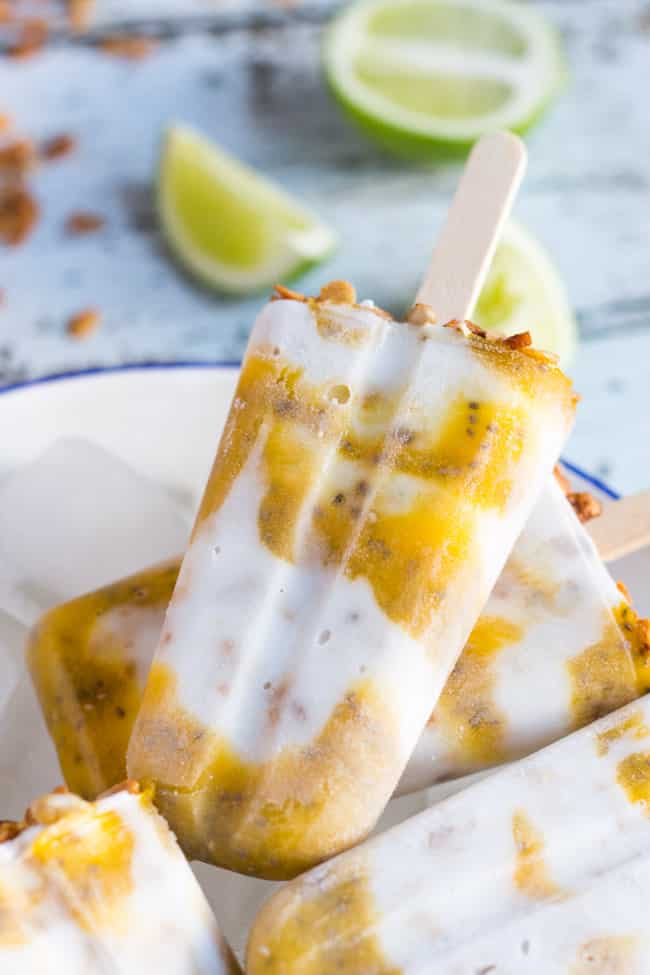 I find coconut products to be quite filling, more so than dairy, which is why I often try to work coconut milk or oil into my breakfast and snack recipes.  It was only a matter of time before I added coconut yoghurt to the list.   NuLac's coconut yoghurt is made from coconut milk cultured with the same probiotics found in dairy yoghurt, and is therefore an ideal probiotic source for anybody avoiding dairy.
Breakfast popsicles pack everything I normally eat for a summer breakfast into a simple on-the-go package.  My initial attempts, in which I blitzed the granola into the yoghurt, were not well received by The Princess.  Apparently they tasted like a popular breakfast shake that she despises.   In this version I have gently mixed my Coconut Macadamia Granola into the coconut yoghurt.  I prefer the crunch of the whole nuts and grains over the blitzed version, but let's keep that between us.  The Princess need never know.
Coconut yoghurt is slightly sweeter than a traditional dairy yoghurt, mostly due to the presence of natural sugars in the coconut milk.  This sweetness is perfectly balanced by pairing the yoghurt with fresh fruit; the ideal breakfast combination.  I have used mango and lime juice in these popsicles, however any pureed fresh fruit would work equally well.
NuLac's coconut yoghurt is currently available under the Alpine brand from Woolworths, and the No Udder brand in Coles.  No Udder almond milk yoghurt is also available if you are not a fan of coconut, and are lucky enough to live in any Australian state other than WA.  Unfortunately, Coles do not currently stock the No Udder brand in Western Australia.
And in case you are wondering how good this coconut yoghurt actually is, I have had to hide both the yoghurt and the popsicles from The Princess so she didn't consume everything before I could finish this post.  Those of you familiar with The Princess's food fancies will be aware that this is high praise indeed.
Tropical Vegan Breakfast Popsicles
I have used fresh mango & lime, and my Coconut Macadamia Granola in these popsicles. Feel free to substitute these with other pureed fresh fruits, and your favourite toasted granola.
You will need a minimum 8-cavity
popsicle mould
to make these popsicles.
Ingredients
150

g

chopped fresh mango

Juice 1/2 lime

2

teaspoons

chia

500

g

Alpine Coconut Yoghurt

1/2

cup

Coconut Macadamia Granola
Instructions
Blitz the mango together with the lime juice. I use a handheld stick blender.

Gently stir the chia seeds through the mango puree and set aside.

Place the coconut yoghurt in a bowl, and stir through the toasted granola.

Layer the mango puree and coconut yoghurt in the popsicles moulds. I do this by dropping dollops of the puree and then the yoghurt into the moulds until they are full.

Gently tap the moulds on the bench a few times to remove any air pockets.

Top up the moulds if necessary.

Freeze the moulds for 5-6 hours, or until frozen solid.

To remove the popsicles, gently run the moulds under a warm tap until the the popsicle can be easily removed.
Notes
You may have a small amount of mango puree left over, depending on the size of your moulds. Consider it a snack.
P.S. Looking for other breakfast popsicles? Try using coconut yoghurt in these Spiced Plum & Yoghurt Popsicles or make these Grab & Go Green Smoothie Popsicles
Save