Last Updated:
I have a large bag of popcorn in my pantry.  I can see you thinking it can't be that big (standard supermarket size probably) so let me start again.  I have a five kilogram bag of popcorn in my pantry.  The Princess is a creature of habit, and eats the same thing every day for breakfast, lunch or afternoon tea, until she inexplicably changes her mind and moves on to something else.  And so it was with the popcorn.
For a long time popcorn was her staple after school snack.  Coated in loads of butter and nutritional yeast, she would devour a large bowl every afternoon.  In the midst of this popcorn obsession I placed a large bulk dried goods order, and as it wasn't going to affect the postage costs, I added a five kilo bag of popcorn to my cart.  I figured that The Princess would get through it.  Almost to the day that the delivery arrived on my doorstep, The Princess decided she was done with popcorn.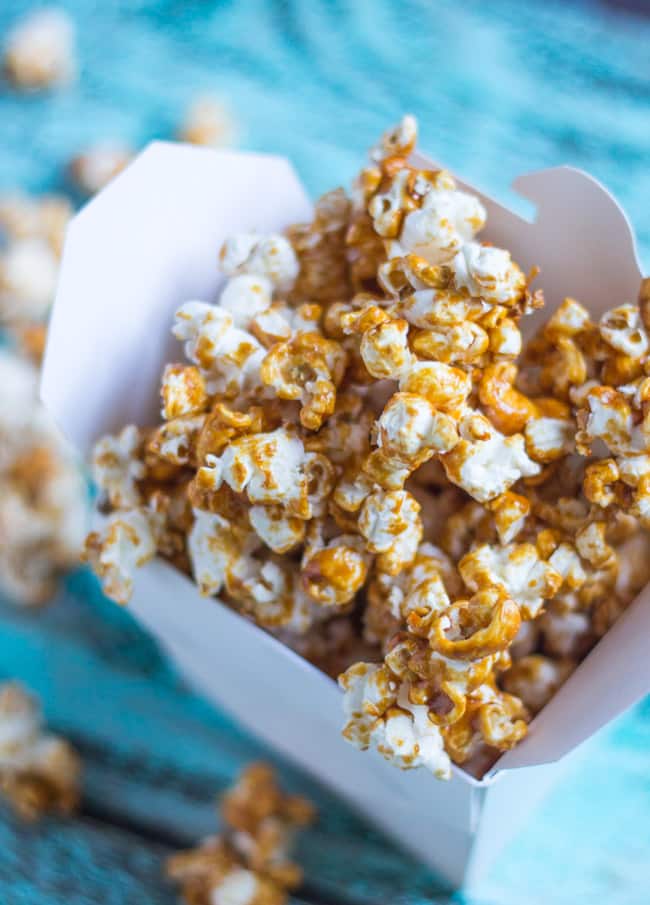 That large bag of popcorn languished in the back of the pantry for a while.  Thank goodness it keeps well, but I had to do something with it eventually.  Enter the teenage birthday party.  I had been eying off recipes for caramel popcorn for a while now, but all of them use sugar and corn syrup to make the caramel.  Ingredients that don't really fit my wholefood philosophy.  I had enough popcorn though, so experimentation was called for.
The caramel coating on my popcorn is a mix of maple syrup and coconut nectar.  These are both unrefined sweeteners, and therefore contain some minerals, nutrients and antioxidants, along with the sucrose.  Both sweeteners have a lower Glycemic Index (GI) than standard table sugar, but they are still sugars so this popcorn is not an everyday food.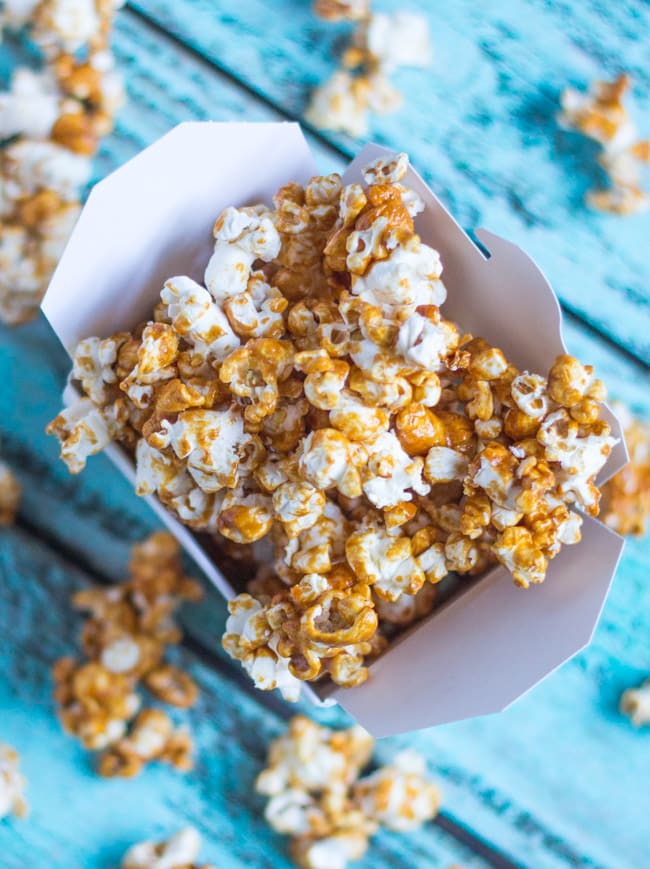 I was concerned that caramel made from liquid sweeteners wouldn't be crunchy, and wouldn't be sweet enough to pass the child taste test.  I needn't have worried.  This popcorn is very, very good (if I do say so myself).  To prevent myself eating the entire test batch I gave some to my little taste testers down the road.  They came hunting for more.
Just to be sure I was on the right track, I placed a large container in the midst of ten thirteen year old girls who dived on it like seagulls on a chip.  It was devoured with much appreciative groaning, and cries of "This is the best popcorn I have ever eaten". I think I may have found a use for the rest of that very large bag.
Coconut Maple Caramel Popcorn
I have used less caramel to coat the popcorn than a standard recipe, which will help reduce the amount of sugar consumed. If you like a thicker coating of caramel, just double the caramel ingredients in the recipe, but keep the amount of popcorn the same.

This recipe uses 15ml Tablespoons.
Ingredients
80

g

popcorn kernels

1/3 cup

45

g

unsalted butter

3 Tablespoons

42

g

maple syrup

2 Tablespoons

42

g

(2 Tablespoons coconut nectar

1

teaspoon

vanilla extract

1/4

teaspoon

bicarbonate soda

baking

1/4 - 1/2

teaspoon

sea salt
Instructions
Preheat the oven to 120C (100C fan forced).

Line a large baking tray.

Pop the popcorn using your preferred method and place in a large bowl.

Place the butter, maple syrup and coconut nectar in a saucepan.

Warm over a low heat until the butter melts, then bring the mixture to the boil over a medium-high heat.

Allow the mixture to boil for 4 minutes, without stirring.

Remove the saucepan from the heat and stir in the bicarbonate soda and the vanilla extract.

Pour the caramel over the popcorn and stir thoroughly to coat.

Spread the coated popcorn in a thin layer on the lined baking tray.

Sprinkle the sea salt over the popcorn.

Cook for 15 minutes then stir gently.

Cook for an additional 15 minutes.

Allow to cool.

Eat immediately or store in an airtight container until required.
Notes
I use an air popper to pop my popcorn. If you do not have an air popper, heat a Tablespoon of coconut oil in a large saucepan (one with a lid) on a medium high heat. Add the popcorn, put on the lid and continue to cook, shaking the pot occasionally, until the popping slows. Continue with the recipe.