Thick, hearty soups are the perfect meal for a cold winter's evening.  In this comprehensive list of soups, I have gathered together 55 of the best soup recipes ever that are guaranteed to suit all tastes.  Fill your stomach with a steaming bowl of spicy noodles, cheesy vegetables, earthy lentils or creamy grains.  I guarantee there is something here for everyone.

Last updated: 14th February 2019
Personally, I think there is nothing better to eat for dinner on a cold winter's evening than a large bowl of hearty, warming soup.  We eat soup at least once a week during the cooler months (much to The Princess's disgust), and I am constantly searching for new hearty soups to serve.
Thinking that I cannot be the only one needing inspiration from time to time, I have gathered together some of the best soup recipes ever from my fellow food bloggers.  I have tried to find a little something for everyone, whether it is meat or vegetable based, and I really hope you manage to find a new favourite family recipe here.
Why Soup For Dinner?
Soup is the ideal dinner for a busy family. And if you don't believe me, think about this:
Most soups can be made in advance, and generally reheat well.  This means that you can make your soup early in the day, and then simply reheat it right before dinner.  The nature of soup also means it is very easy to reheat individual portions if you have various family members eating at different times.
Soup will last for up to three days in the fridge, which again means they can be made in advance or served as individual portions.
Most hearty soups freeze extremely well, so you can always have an extra meal on hand in the freezer.
Hearty soups can be served as a main meal, and require little accompaniment.  Often a few toppings or some crusty bread is all that is required to finish off the meal.
How To Freeze Soup
To me, a container of soup in the freezer is an insurance policy.  If my day goes completely pear-shaped and I don't have time to cook dinner, I know that I can just pull out that tub of soup and all will be well.
In fact, I freeze soup so often I have written a whole post about it.  I have also produce a quick guide so that you can always have my tips on hand.  To grab your copy from my Resource Library simply click the link below or request the library password at the end of this post.

And so to the recipes.
Hearty Vegetable Soups
Vegetable soups need not be boring.  What about feasting on spicy noodles, cheesy vegetables, earthy lentils and creamy barley-laden broths?  Do be aware that some of these soups in the list contain chicken stock, so if you want your meal to be vegetarian or vegan then simply switch out the chicken stock with a good vegetable stock.
Mushroom, Barley and Brie Soup – Pinch and Swirl
Miso Soba Noodle Bowls with Spicy Tofu – The Girl on Bloor
Sweet Potato & Kale Corn Chowder – The Organic Dietitian
Tuscan Bean Soup -Delicious Everyday
Scotch Broth – Caroline's Cooking
Creamy Cauliflower Cheese Soup – The Cook's Pyjamas
Cleansing Vegetable Turmeric Soup – Emilie Eats
Rustic Italian Lentil Soup – Plus Ate Six
Green Lentil Soup with Harissa – Quite Good Food
A hearty #soup is the perfect meal for a cold winter's evening. Choose from 55 different #recipes & fill your stomach with a steaming bowl of spicy #noodles, cheesy #vegetables, or earthy #lentils.
Click To Tweet
Hearty Chicken Soups
Feeling poorly? There is a lot of anecdotal evidence to suggest that a steaming bowl of hearty chicken soup will fix all of your ills. And old wive's tales aside, a bowl of hot chicken soup is a true joy to eat.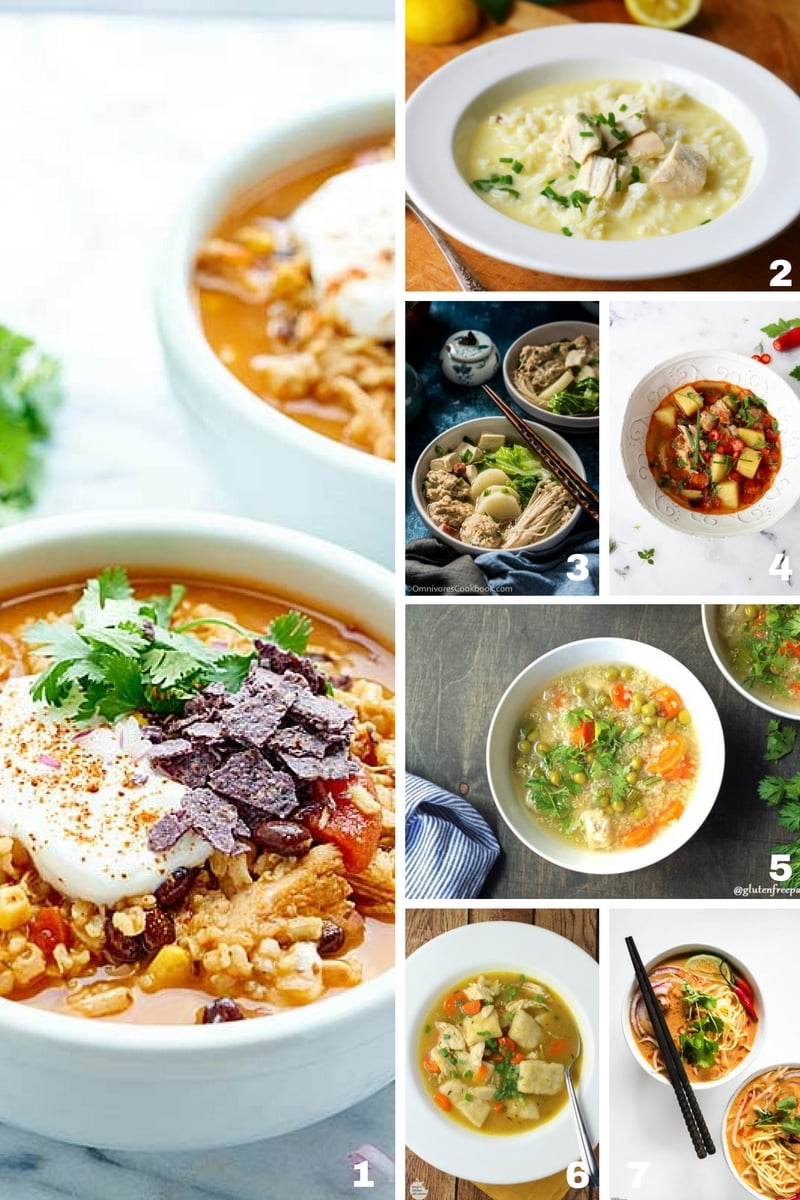 Bacon & Sausage Hearty Soups
Bacon makes everything taste better. That's a fact, and those that disagree are simply wrong (in my opinion).  And sausage comes a close second to bacon.  Add either sausage or bacon to lentils or pasta, and you will truly find yourself in soup heaven.
Hearty Beef Soups
The deeply savoury notes of a hearty beef soup are ideal for the coldest winter days.  These are guaranteed to fill you up.
Hearty Slow Cooker Soups
The slow cooker was made for hearty soups.  Load up the crockpot in the morning, turn it on and walk away.  There is no better feeling than arriving home right on dinnertime on a cold winter's evening, knowing that dinner is already done.
And don't forget my Slow Cooker Vegetable Soup, made with soup mix.
Hearty Fish & Seafood Soups
Deeply savoury, fishy broths are perfect for bringing a slice of sunshine to a gloomy winter's day.
Frequently Asked Questions about Hearty Soups.
What is a hearty soup?
Hearty soup is generally a thick soup, crammed full of beans, lentils, grains, pasta, vegetables and/or meat.  Hearty soups generally contain all the ingredients of a meal wrapped up in a bowl of liquid, and usually don't require any additional sides to be served as a main dish.
What is a clear soup?
A clear soup is broth based and does not contain thickening ingredients.  Hearty soups are not generally clear soups.
What can I serve with soups?
Hearty soups are usually a meal in a bowl, and don't generally require anything other than a loaf of crusty bread to soak up the liquid from the bowl.  If you want to add sides to your bowl of soup, you could consider:
Toasted sandwiches
A simple green salad
Garlic bread
Baked potatoes
What goes with soup for lunch?
An accompaniment served with your soup for your dinner could also be served at lunch.  However I would probably serve a small bowl of soup and accompany it with a simple grilled cheese or tomato sandwich, or a savoury muffin, for a hearty lunch.
Enjoy!
Do you have a favourite hearty soup?
Let me know about it in the comments below.
Update notes:  This post was originally published on 6th September 2016.  It was updated on 10th June 2018 to fix the alt tags on the images and make some minor tweaks to post categorisation. It was updated again on 14th February 2019 to include FAQ's, information on freezing soup and to generally improve readability.

Save
Save
Save