You can easily whip up this super easy minestrone soup in just 30 minutes. And as the soup reheats well,  it is a great meal to make in advance.  Want an added bonus?  It also freezes brilliantly, so double the recipe to ensure you always have an emergency meal in the freezer.
TOTAL TIME INVESTMENT: 30 MINUTES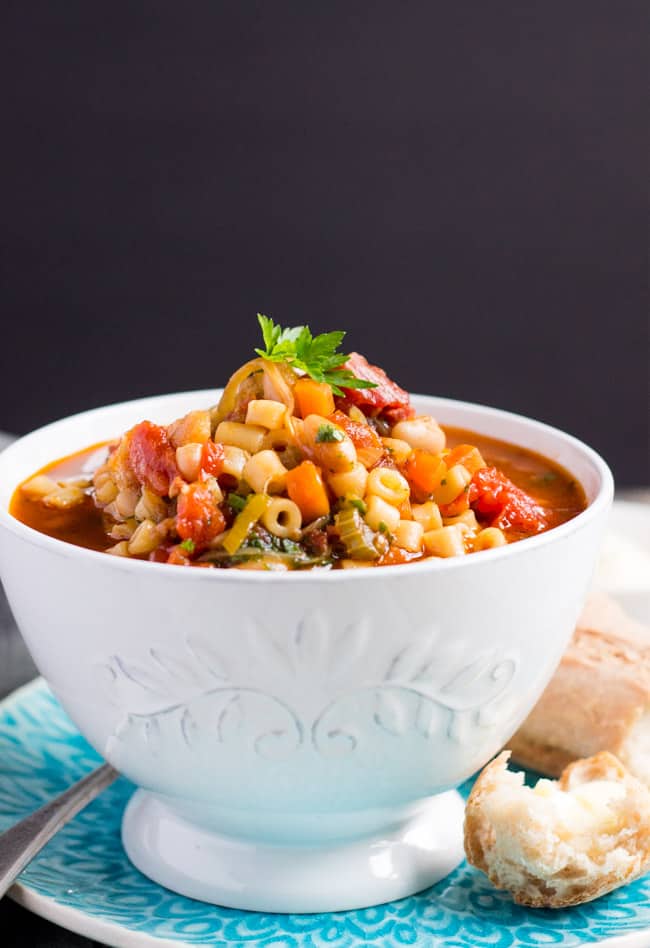 Go away for three weeks and suddenly it's winter. Which to me means soup! Mr Grumpy and I are very happy to have soup for our evening meal. The Princess not so much. I can pretty much guarantee complaints if soup is on the menu, but the complaints can be muffled somewhat if I serve up soup 'with bits'.
I think soup is a brilliant meal for those really busy days. The majority of soups can easily be made in advance and reheated, which means that I can make a pot of soup early in the day or even the night before, and walk in right on dinnertime to a nourishing meal. And as most soups also freeze well, I always have some on hand in the freezer for quick lunches or dinners during the colder months.
In fact I freeze soup so often that I have written a whole post about my process, and I've also produced a handy guide that you can download so you always have my tips on hand. You can grab your copy of my guide from my Resource Library by clicking the link below, or requesting the password for the library at the end of this post.

Most soups, particularly the heartier variety, make great stand alone meals, needing nothing more than a loaf of fresh bread to finish it off.
The best way to get any soup past The Princess is to turn it into a liquid pasta dish. As such this easy minestrone soup appears regularly on our dinner table during the winter, and is even sometimes requested by The Princess. I think I've got her fooled.
* We are a participant in the Amazon Services LLC Associates Program, an affiliate advertising program designed to provide a means for us to earn fees by linking to Amazon.com and affiliated sites.
Ingredient Substitutions for Easy Minestrone Soup
Don't be afraid to make substitutions to this recipe. It can be readily adapted with whatever ingredients you happen to have on hand. Try the following substitutions:
Smoked pancetta can be used in place of the bacon with great success. I have also used ham in a pinch.
Use any vegetables you like in this soup. It would be delicious with spinach or silverbeet leaves (chard) stirred in at the end. Silverbeet (chard) stems can be sliced and sauteed off with the other vegetables.
Use borlotti or pinto beans in place of the cannellini beans. And freshly cooked beans can be readily replaced for the tinned variety of you happen to have some on hand.
To make this easy minestrone soup vegetarian, omit the bacon and use vegetable stock in place of the chicken stock.
To make the soup gluten free, use a good gluten free pasta.
Make this super #easy Minestrone #Soup in just 30 minutes. The soup reheats well, so is a quick meal to make in advance, and as an added bonus it can also be #frozen. #freezermeals #dinner #pasta
Click To Tweet
Frequently Asked Questions About Italian Minestrone Soup
How do you add flavour to minestrone soup?
The easiest way to add flavour to a minestrone soup is to saute the vegetables well before adding the remainder of the ingredients, and to use a good stock. Sauteing the vegetables concentrates the flavour, which adds additional depth to the soup.
If you use a watery stock, your soup will lack flavour. Use either a good homemade stock or a quality purchased product. If you feel your soup still lacks flavour, stir in a teaspoon or two of chicken or vegetable bouillon powder and make sure the soup is seasoned correctly.
Is minestrone good for you?
Minestrone soup is packed with beans, vegetables and pasta, all in a healthy chicken or vegetable stock. It is highly nutritious, and needs no additional accompaniments. Although a scattering of Parmesan cheese would not go astray.
Why is it called minestrone?
The word 'minestrone' means thick vegetable soup, and has its origins in Italian cooking. There is a very good potted history of the origin of minestrone here.
How do you thicken minestrone soup?
There are two ways to thicken minestrone soup:
Cook the pasta in the stock, rather than cooking it separately and adding it to the soup later. The starch from the cooking pasta helps thicken the broth.
Once the soup is cooked, remove a quarter of the soup and place it in a blender. Blitz the soup to a puree and stir the puree back into the soup pot.
Is minestrone a clear soup?
Whilst minestrone soup is made with clear stock, it is not a clear soup. The finished soup contains many vegetables, beans and pasta that thicken the stock. A clear soup does not contain thickening ingredients.
Tips and Tricks for Making A Delicious Minestrone Soup
This easy soup recipe is my go-to in the winter months. It takes little time to make, I always have the ingredients on hand, and I know The Princess will eat it. Win win as far as I am concerned. And because I make it so regularly, I can pass on all my little tricks to you:
I use a small pasta shape for my minestrone soup. The smaller shapes just seem to work better in soup (in my opinion). They swell to the same size as the cut vegetables, and are easy to pick up with a soup spoon. But any pasta will work well in this recipe. I have even broken spaghetti into the broth on occasion when I have found myself out of small pasta shells.
You can actually add as much or as little pasta to the recipe as you like. Just bear in mind that the more pasta you add, the less liquid there will be in the final dish.
The soup will thicken on standing, as the pasta will continue to absorb the stock. Simply add a little extra stock or water when reheating to thin the soup out.
This easy minestrone soup both freezes and reheats well, and the recipe is easily doubled if you are feeding a crowd or want extras for another meal. I usually make a huge batch, then divide the leftovers into smaller lunch-size portions that I stash in the freezer.
Leftovers are fine in the fridge for up to three days, and the flavour will only continue to improve.
Serve the soup in warm bowls with grated Parmesan to sprinkle over. Grated cheddar would probably work just as well.
Tell your Princess you are having pasta for dinner.
Other Soup Recipes You May Enjoy
Have I mentioned how much I love soup? It is such an easy and nourishing meal, and a great way to get your daily vegetable quota in one hit. You can find all of my soup recipes here, but some of my personal favourites are:
And don't forget the bread. Or feta muffins if you prefer.
Enjoy!

Made this recipe? Tell me how it went in the comments below.
And if you loved it, please don't forget to rate it.


Easy Minestrone Soup
Make this super easy Minestrone Soup in just 30 minutes. The soup reheats well, so is a quick meal to make in advance, and as an added bonus it can also be frozen.
Ingredients
6

rashers bacon

chopped

1

Tablespoon

olive oil

1

onion

sliced

1

clove

garlic

crushed

1

carrot

chopped

1

large celery stick

chopped

1

L (4 cups)

chicken stock

400

g (14 oz)

tin plum tomatoes

400

g (14 oz)

tin cannellini beans

drained and rinsed

120

g (1 cup)

pasta

approx. 3 handfuls

1

bay leaf

Salt & Pepper

Grated Parmesan and bread to serve
Instructions
In a large pot, gently fry the bacon until the fat starts to render.

Add the olive oil and onion. Fry the onion until it starts to soften.

Add the garlic, carrot and celery.

Continue to fry until the vegetables start to soften.

Add the chicken stock and bay leaf.

Bring the stock to the boil, then reduce to a simmer.

Add the beans, tomatoes and pasta.

Crush the tomatoes into the soup with the back of a spoon.

Continue to simmer until the pasta is cooked.

Season to taste with salt and pepper.

Serve in warm bowls with grated Parmesan.
Notes
If your bacon rashers are large then use three instead of the six specified above.
Use a small pasta shape.  They swell to the same size as the cut vegetables, and are easy to pick up with a soup spoon.
Use the pasta quantity as a guide.  Just consider that the more pasta you add, the less liquid there will be in the final dish.
The soup will thicken on standing. 
Leftovers will last in the fridge for up to three days. 
Serve the soup in warm bowls with grated Parmesan to sprinkle over.
Update Notes:  This post was originally published in 2013.  It was updated on 23rd January 2018 to add ingredients substitutions and also nutritional information to the recipe card.  It was updated again on 13th February 2019 to add FAQ's and information on freezing soup to the post. A Table of Contents and links to other soup recipes were added on 25th September 2019.