Hearty Winter Vegetable Soup, brimming with seasonal root vegetables, makes a filling vegan meal for the cooler weather. The pearl barley adds a creaminess & richness to the broth without the use of dairy.
Total Time Investment: 1 hour 15 minutes
*We are a participant in the Amazon Services LLC Associates Program, an affiliate advertising program designed to provide a means for us to earn fees by linking to Amazon.com and affiliated sites.
I've never been very fond of vegetable soup, usually finding it thin and insipid.  However, add a little barley to the soup pot, and it is a completely different story.  Barley thickens a simmering broth, turning it creamy and luscious; perfect for winter.  Toss in lots of finely chopped winter vegetables, and you have a satisfying and sustaining meal.
I have a bad habit of using the same small range of winter vegetables at every meal.  This soup takes me outside that comfort zone, and uses some of the vegetables I rarely cook with, like turnips, swedes and parsnips. By chopping the vegetables into small cubes, about the same size as the swollen barley grains, I can pass them by The Princess (who is always suspicious of something new) with minimal moaning.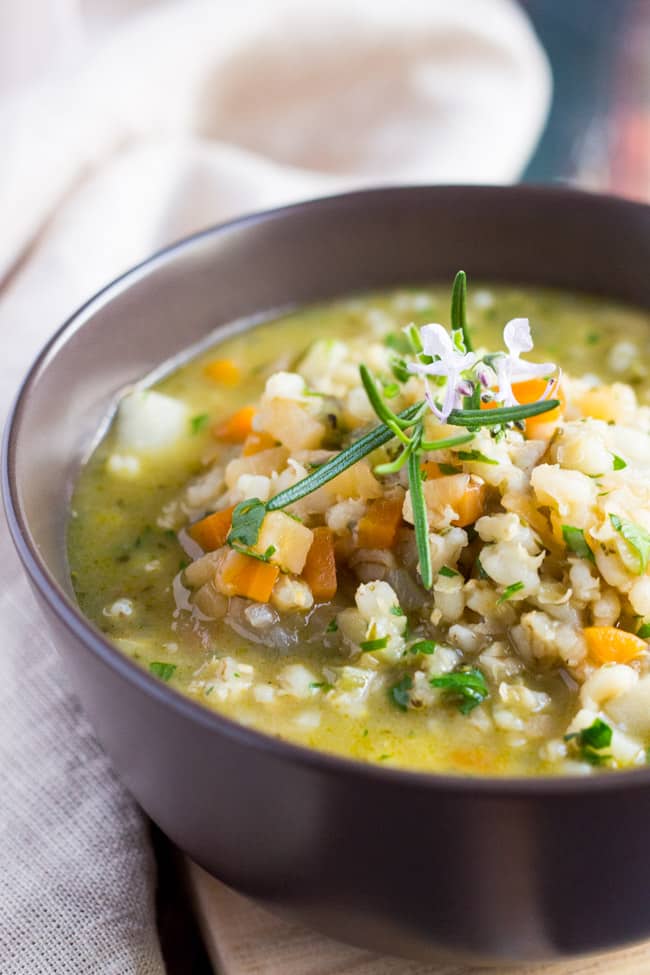 Ingredient Substitutions
You can use any root vegetable you like in this soup.  Substitute the swedes (rutabaga), turnips and parsnips for more carrots, throw in some chopped sweet potato, and even add a normal potato if you like.  A word of warning though, do not be swayed by the purple carrots.
The first time I made this soup, I had visions of finely chopped purple carrot providing flecks of colour and interest in the soup pot.  In reality, the deep purple colour of the heirloom carrot seeped into the broth, turning everything a weird purple/grey colour.  The carrot itself turned a pale orange colour, and the whole dish looked extremely unappetising.  Thankfully it tasted good enough to be repeated.  This time with plain old orange carrots.
Hearty Winter #Vegetable #Soup, brimming with winter root vegetables & pearl #barley, is a great #vegan meal.
Click To Tweet
To make this dish gluten free, use brown rice in place of the pearl barley.  The soup will still thicken nicely.
Chicken stock can be used in place of the vegetable stock if that is what you have on hand.
Tips & Tricks For The Most Delicious Hearty Winter Vegetable Soup
If you can (which for me translates to – if I remember), soak the barley overnight in a large bowl of water to which you have added a teaspoon of whey, yoghurt or lemon juice. This overnight soaking helps reduce the cooking time, neutralises phytic acid and eliminates growth inhibitors found in seeds and grains.  Phytic acid interferes with the absorption of minerals and nutrients, whilst growth inhibitors, which prevent grains germinating prematurely, can cause digestion problems in some people.  Soaking the barley improves its digestibility.  However it is not the end of the world if you forget, and the resulting soup will still be both nutritious and delicious.
I chop all of the vegetables into 5mm cubes, or not much bigger than a swollen barley grain.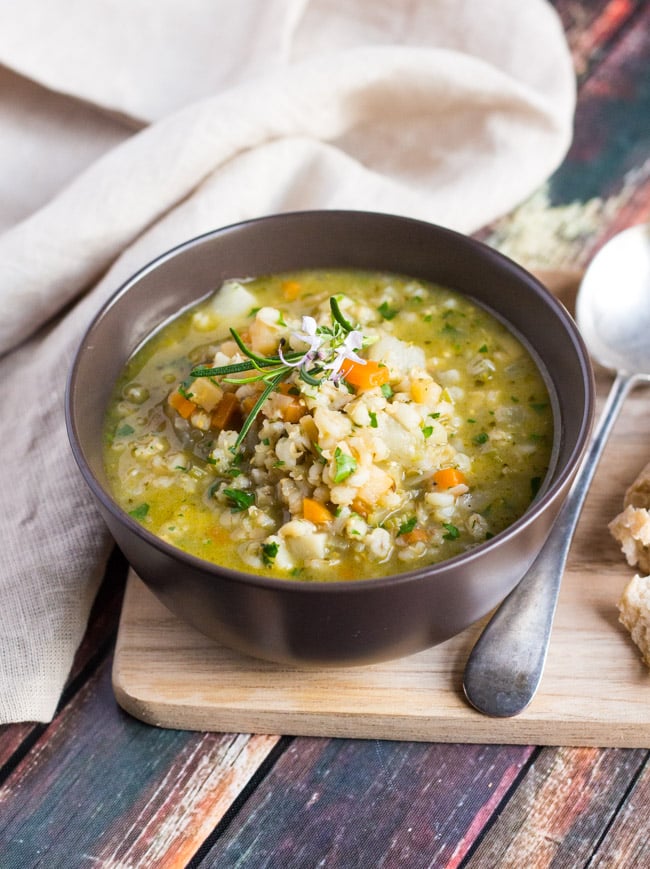 Barley readily absorbs liquid, and the soup will thicken considerably upon standing.  Should the soup thicken to stew by the time you are ready to serve, add a little more stock or water as the soup reheats.
This soup freezes well, although it will be quite thick once defrosted. Just add a little more stock or water as you reheat it to thin it slightly.
If you are wanting more hearty winter soups, don't go past my Lentil & Brown Rice Soup or my Slow Cooker Vegetable Soup.
Enjoy!
Made this recipe?  Tell me how it went in the comments below.  And if you loved it, please don't forget to rate it.
Hearty Winter Vegetable Soup
Hearty Winter Vegetable Soup, brimming with seasonal root vegetables, makes a filling vegan meal for the cooler weather. The pearl barley adds a creaminess & richness to the broth without the use of dairy.
Total Time
1
hour
15
minutes
Ingredients
2

Tablespoons

olive oil

1

large onion

finely chopped

1

carrot

peeled and finely diced

2

sticks celery

finely diced

1

swede (rutabaga)

peeled and finely diced

1

turnip

peeled and finely diced

1

parsnip

peeled and finely diced

1

Tablespoon

rosemary

finely chopped

10

sage leaves

finely chopped

2

bay leaves

205

g (1 cup)

pearled barley

soaked overnight and drained

1 1/2

Litres (6 cups)

vegetable stock

Salt & pepper

2

Tablespoons

finely chopped parsley.
Instructions
Place a large pot on a medium heat.

Add the olive oil and onion.

Saute the onion for about 5 minutes, or until it has softened and started to brown.

Add the remainder of the vegetables, and saute for a further 5 minute or until the vegetables have softened slightly.

Stir in the rosemary, sage, bay leaves and barley.

Add the vegetable stock, season with salt & pepper, and bring to the boil.

Reduce the heat, and allow the soup to simmer for about 40 - 50 minutes, or until the barley is cooked. Check the liquid level occasionally, and top up with hot water or more stock if the soup appears too thick.

Stir through the chopped parsley, and check the seasonings.

Serve with crusty bread.
Notes
You can use any mix of root vegetables in this soup, although a larger variety makes for a tastier soup.
Nutrition
Calories:
230
kcal
|
Carbohydrates:
42.7
g
|
Protein:
5.3
g
|
Fat:
5.5
g
|
Cholesterol:
0
mg
|
Sodium:
83.8
mg
|
Sugar:
6.8
g
|
Vitamin A:
12
%
|
Vitamin C:
50
%