A bowl of this hearty Winter Vegetable Soup, brimming with seasonal root vegetables, is a delicious filling meal for the cooler weather.  And the pearl barley adds a creaminess & richness to the broth without the use of dairy.
Last Updated: 18th February 2019
Total Time Investment: 1 hour 15 minutes
*We are a participant in the Amazon Services LLC Associates Program, an affiliate advertising program designed to provide a means for us to earn fees by linking to Amazon.com and affiliated sites.
I've never been very fond of vegetable soup, usually finding it thin and insipid.  However, add a little barley to the soup pot, and it is a completely different story.  Barley thickens a simmering broth, turning it creamy and luscious; perfect for winter.  Toss in lots of finely chopped winter vegetables, and you have a satisfying and sustaining meal.
As a bonus feature, this hearty winter vegetable soup with barley freezes brilliantly.  I like to portion my soup into two sizes for freezing: individual serves for my lunch and larger serves for family meals.  You can get all my freezing tips in my post on how to freeze soup, and you can grab my free guide from my Resource Library so you can always have my tips on hand.  Grab the guide by clicking the link below or requesting the password for my Resource Library at the end of this post.

I have a bad habit of using the same small range of winter vegetables at every meal.  This soup takes me outside that comfort zone, and uses some of the vegetables I rarely cook with, like turnips, swedes and parsnips. If I chop the vegetables into small cubes, about the same size as the swollen barley grains, I can pass them by The Princess (who is always suspicious of something new) with minimal moaning.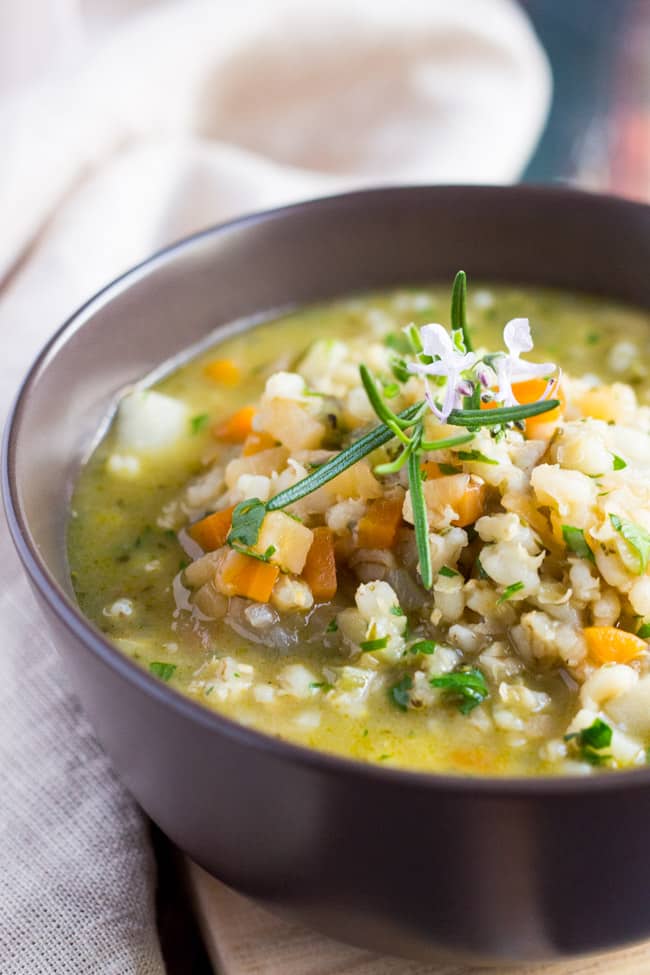 * We are a participant in the Amazon Services LLC Associates Program, an affiliate advertising program designed to provide a means for us to earn fees by linking to Amazon.com and affiliated sites.
Ingredient Substitutions for Hearty Winter Vegetable Soup
This soup can turn into a bit of a 'fridge cleaner' if you like.  Feel free to use whatever vegetables you have on hand in place of those in the recipe.  And try the following substitutions to make the soup your own:
Use any root vegetable you like in this soup.  Substitute the swedes (rutabaga), turnips and parsnips for more carrots, throw in some chopped sweet potato or pumpkin, or add potato if you like.
Barley is not a gluten free grain, so if you wish to make this winter vegetable soup gluten free, use brown rice in place of the pearl barley. Or make my lentil and brown rice soup recipe instead.
To keep this soup vegan, you do need to use vegetable stock.  If this is not an important consideration, then chicken stock can be used instead.
Use fresh herbs if possible.  If you cannot source fresh sage leaves, omit the sage and use fresh or dried parsley instead.
No need for dairy in this hearty #vegan winter #vegetable #soup. Packed with winter root vegetables, the pearl #barley adds all the creaminess and richness to the #broth you need.
Click To Tweet
Frequently Asked Questions about hearty vegetable soup with barley
Can I put uncooked barley in soup?
Uncooked barley is like any other grain, such as wholegrain rice or wheat berries.  It will cook perfectly in the simmering liquid of the soup.  Do keep an eye on the liquid level though, as the large grains can soak up quite a lot of liquid as it cooks.
Do you have to soak barley for soup?
It is not necessary to soak barley before adding it to soup, but soaking the grain has three significant benefits:
It reduces the cooking time, which means your creamy winter vegetable soup will be ready sooner.
It neutralises phytic acid in the barley grain. Phytic acid interferes with the absorption of minerals and nutrients, so soaking the barley will boost the nutrition of your soup.
It eliminates growth inhibitors that are found in seeds and grains.  Growth inhibitors, which prevent grains germinating prematurely, can cause digestion problems in some people.  Soaking the barley improves its digestibility.
If you can (which for me translates to – if I remember), soak the barley overnight in a large bowl of water to which you have added a teaspoon of whey, yoghurt or lemon juice.  However it is not the end of the world if you forget to soak your barley, and the resulting soup will still be both nutritious and delicious.
Does barley thicken soup?
As barley cooks it leaches starches into the surrounding cooking liquid.  These starches thicken the soup, and add a delicious creamy texture to the soup broth without the need for dairy.
Should you rinse barley before cooking?
It is not necessary to rinse barley prior to cooking, however I do think it is a good idea to do so.  A quick rinse will remove and dust and dirt clinging to the grain.
Rinsing is not necessary if you have soaked the barley.
What is the difference between barley and pearl barley?
Barley is the unprocessed grain, as harvested from the farm.  Pearl barley is a "polished" barley grain that has had some of the husk surrounding the grain mechanically removed.  The amount of husk removed from the grain will differ between producers, so if you want a more wholegrain barley look for an organic supplier.  All barley sold in supermarkets is pearled barley.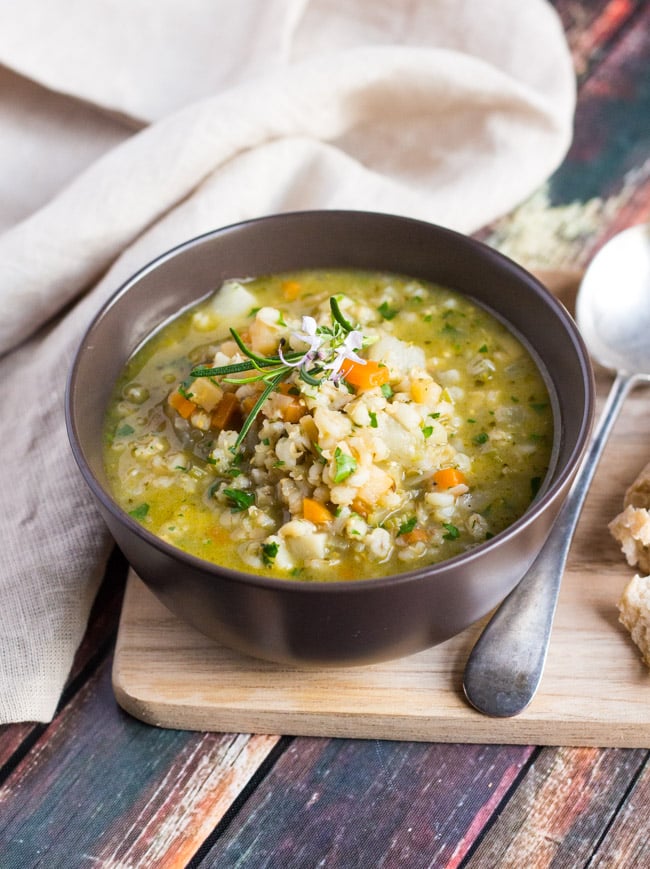 Tips & Tricks For The Most Delicious Hearty Winter Vegetable Soup
This winter vegetable soup is super easy to make, and even more delicious to eat, but I have a few tips for you to ensure complete success with the recipe:
Do not be swayed by the glorious purple heirloom carrots you see at the farmer's markets. The first time I made this soup, I had visions of finely chopped purple carrot providing flecks of colour and interest in my soup pot.  In reality, the deep purple colour of the heirloom carrot seeped into the broth, turning everything a weird purple/grey colour.  The carrot itself turned a pale orange colour, and the whole dish looked extremely unappetising.  Thankfully it tasted good enough to be repeated.  This time with plain old orange carrots.
Chop all of the vegetables into 5mm cubes, or not much bigger than a swollen barley grain.  This has a twofold effect; the soup looks great and fussy children find it hard to pick the vegetables out.
Barley readily absorbs liquid, and the soup will thicken considerably upon standing.  Should the soup thicken to stew by the time you are ready to serve it, add a little more stock or water as the soup reheats to thin it out again.
The soup will last for up to three days in the fridge, and up to four months in the freezer.
Frozen soup will be quite thick once defrosted. Just add a little more stock or water as you reheat it.  And don't forget to grab my handy freezing guide from the Resource Library.  Just request the password in the form below.
Enjoy!
One year ago:  Homemade Baked Beans
Two years ago:  Leftover Mashed Potato Cakes
Three years ago:  How To Make Instant Porridge
Made this recipe?  Tell me how it went in the comments below.
And if you loved it, please don't forget to rate it.