Do you want to know how to make the best slow cooker meals?  Meals that your family will actually want to eat?  Try these seven easy tips that I promise will not only change the way you use your slow cooker, but have everybody coming back for seconds.
* We are a participant in the Amazon Services LLC Associates Program, an affiliate advertising program designed to provide a means for us to earn fees by linking to Amazon.com and affiliated sites.
I bought my first slow cooker about ten years ago.  I used it to make soap. After listening to the mothers at school raving about how easy it was to get dinner on the table with a slow cooker, I caved under peer pressure and bought one for food.  The first meals I made in my slow cooker were disappointing.  They were watery, lacking in flavour, and not all appetising.
I persevered though, and experimented, and over time have worked out these simple tips that help me put together the best slow cooker meals ever.  Don't believe me? Then why not try my Thai Red Beef Curry, or my Leg of Lamb with Rosemary & Garlic, or what about Lime Cilantro Chicken Tacos.
And don't forget to grab the free cheat-sheet from my resource library that will help you put together the best slow cooker meals for your family.  You can get the password for the resource library at the end of this post.

How to make the best slow cooker meals
Right, so let's get down to it.  I don't use all of the following tips every time I make a slow cooker meal, but I do use some combination of these tips for every slow cooker meal I put together. The specific tips that I use will depend entirely on the recipe.
For example, I don't thicken the liquid in my Moroccan Chicken Tagine, but I do make a thick gravy with flour for my beef and mushroom stew. So as you read through these tips, think about how you could apply them to your favourite slow cooker meals.
1. Brown Your Ingredients
I always brown onions and fry off any aromatics (such as the spices, garlic, ginger) in my recipe.  The little extra time taken to brown the ingredients in a fry pan first makes a huge difference to the flavour of the final dish.  No time to cook onions?  Make a batch of caramelised onions in advance and use these instead.  For some dishes, I also brown the meat, and occasionally the vegetables, before adding them to the slow cooker bowl.
Once the ingredients are browned, and added to the slow cooker bowl, I pour a small amount of stock or wine from the recipe into the fry pan, scrape any sticky bits into the liquid, and pour the whole lot into the slow cooker.  Don't throw this away!  It's all flavour.
2. Reduce The Amount Of Liquid In The Recipe
Most slow cooker recipes use too much liquid (in my opinion).  Meat and vegetables, particularly watery vegetables like eggplant, tomatoes, mushrooms, capsicum and zucchini, release a lot of liquid as they cook.  With liquid from the ingredients, plus added liquid in the recipe, it is no wonder some finished dishes are watery.
I add around 1 – 1 1/2 cups of additional liquid to most recipes.  In others, such as my shredded chicken, I add none.  This usually gives me just the right amount of tasty liquid in the finished dish.
There are exceptions to this rule; when cooking ribs and other bony cuts add just enough liquid to cover them, as they do not produce enough liquid during the cook to bathe the meat. And soups.  Soups need liquid.
Want to know how to make the best #slowcooker meals? Meals your family actually wants to eat? Follow my 7 tips, grab the free #cheatsheet & have them all coming back for seconds. #dinner #crockpot #slowcookermeals
Click To Tweet
3. Don't Use Water
I've read more than one slow cooker recipe that uses water as the liquid of choice.  Water has no flavour, and will add nothing to the dish. For the best slow cooker meals, use good quality vegetable or bone stocks instead.
I don't add wine directly to the slow cooker, as I find it doesn't cook out properly.  Instead I use any wine in a recipe to deglaze the fry pan (See point 1), and allow it to boil briefly before adding it to the slow cooker.
4. Use More Spices Than The Recipe Suggests
Ingredients such as garlic, ginger, spices and herbs all add additional flavour to a recipe.  However long, slow cooking can dull these flavours, so I add generous amounts of the aromatics at the start of the dish in the hope that some flavour remains at the end.  Don't be afraid to double the amount of spices such as cumin, coriander and even garlic in a recipe.
The exception: Chili peppers survive the long cook, so unless you like spicy food, use the amount stated in the original recipe.
5. Add Flour to Thicken The Dish
If I think a dish is going to end up quite liquidy (and it is not soup), I will add a thickening agent along with the rest of the ingredients.  This ensures the finished dish has an enticing, glossy sauce rather than a thin gruel than runs off my plate.
Plain (all purpose) flour or lentil flour (gluten free) are good options, and can be added in a number or ways:
Stir a tablespoon or two (depending on the size of the dish) directly through the ingredients before adding liquid.
Mix the flour into any cold liquid ingredients before pouring the resultant slurry over the solid ingredients in the slow cooker insert, or
Fry the flour off in a fry pan and stir in the liquid ingredients to form a gravy that can then be poured into the slow cooker bowl.
I have also seen people advocate the use of dried potato flakes to thicken slow cooker meals.  I haven't tried this method myself, but it has many fans so if you give it a try let me know in the comments below.
6. Concentrate The Sauce in The Finished Meal
Once or twice I have returned home to find I have badly misjudged a recipe and our meal is swimming in a liquid sauce.  Should this happen, ladle the sauce into a saucepan, and reduce the liquid over a medium high heat, which will help concentrate the flavour.  Pour the reduction back into the slow cooker and stir it through the rest of the dish before serving.
7. Add a Fresh Hit at the End
Adding fresh ingredients to your finished meal just before serving can change the flavour profile of the entire dish.  I always hold back any fresh herbs in a slow cooker recipe and stir these through at the end, leaving the dish to sit for five minutes before serving to allow the flavours to mix.
A squeeze of lemon or lime juice, a sprinkle of parsley or gremolata, or even a crack of fresh black pepper added at the end can also greatly lift a dish.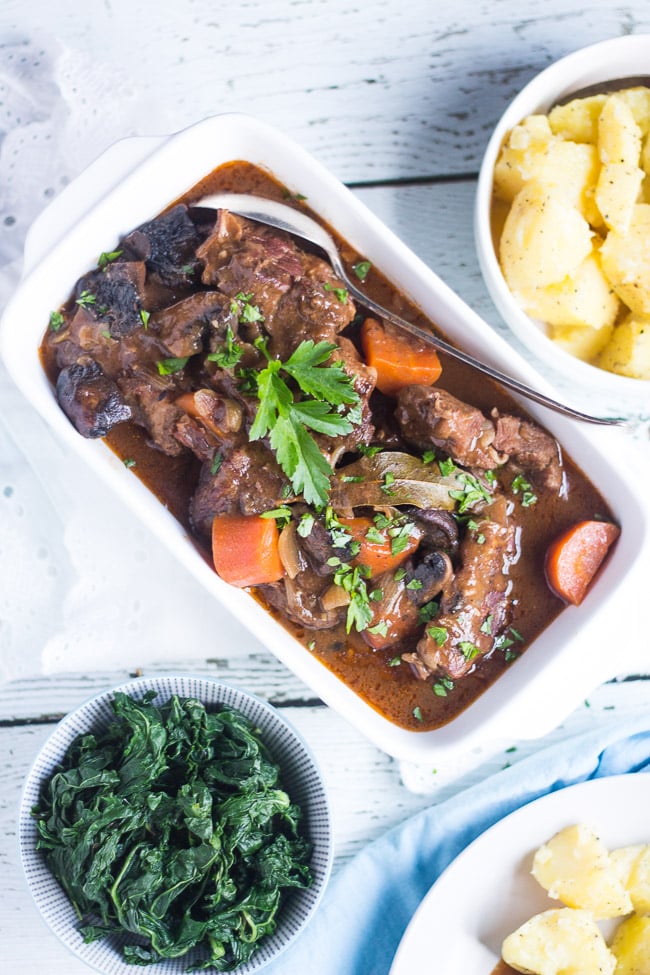 Best Slow Cooker Cook Books
I know, I know.  There are hundreds (Thousands? Hundreds of thousands?) recipes on the internet, so why would you need a cookbook? Because the internet can be a confusing place, and sometimes too much choice is paralysing.  And because some of us still like books (or is that just me?).
These cookbooks have earned a place on my bookshelf.  I own all three of them, and I cook from them regularly.  The recipes are easy to follow, always work out and are delicious.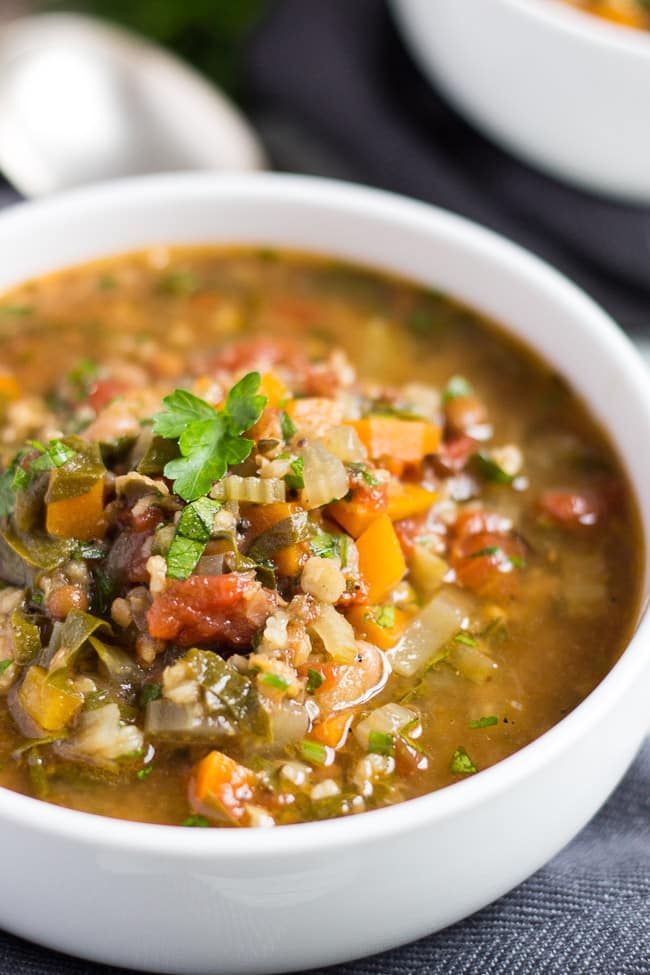 Equipment Recommendations for the best slow cooker meals
There are no prizes here for guessing that in order to make the best slow cooker meal you really need a slow cooker.  There are numerous slow cookers available, so I recommend that you consider your family's needs when it comes to selecting the model that is right for you.  Consider:
Size: A slow cooker operates best when 1/2  to 2/3 full.  A 4L (quart) slow cooker will suit most families, but if you are feeding a larger family you may wish to buy a bigger slow cooker.  Conversely, if cooking only for you and your partner a smaller machine may suit you better.
Functions: Do you want to sear your ingredients in the pot?  Would a timer be helpful? Do you want to steam?  Or make yoghurt?  Newer slow cooker models provide additional functions that you may find useful in your kitchen.
Non stick or Ceramic: Do you want a non-stick insert, or would you prefer the more familiar ceramic insert.  Consider that a ceramic insert is more susceptible to breakage than a new non-stick insert, which may impact on your final decision.
I have used a number of different models of slow cookers over the years, but my favourite has come from Breville.  I have been extremely happy with it, and should it ever die, I will replace it with a similar model.  You can check out their range here.
In addition to a slow cooker, the two other pieces of equipment I recommend are:
A good frypan for browning meat, onions and other vegetables.
A mechanical outlet timer.  These are a godsend if you know you won't be home in time and don't want your meal to overcook (and you don't have a new fancy pants machine with built in timer).  Just set your cooking time (you can even delay the start time if necessary) and come home to a deliciously cooked meal.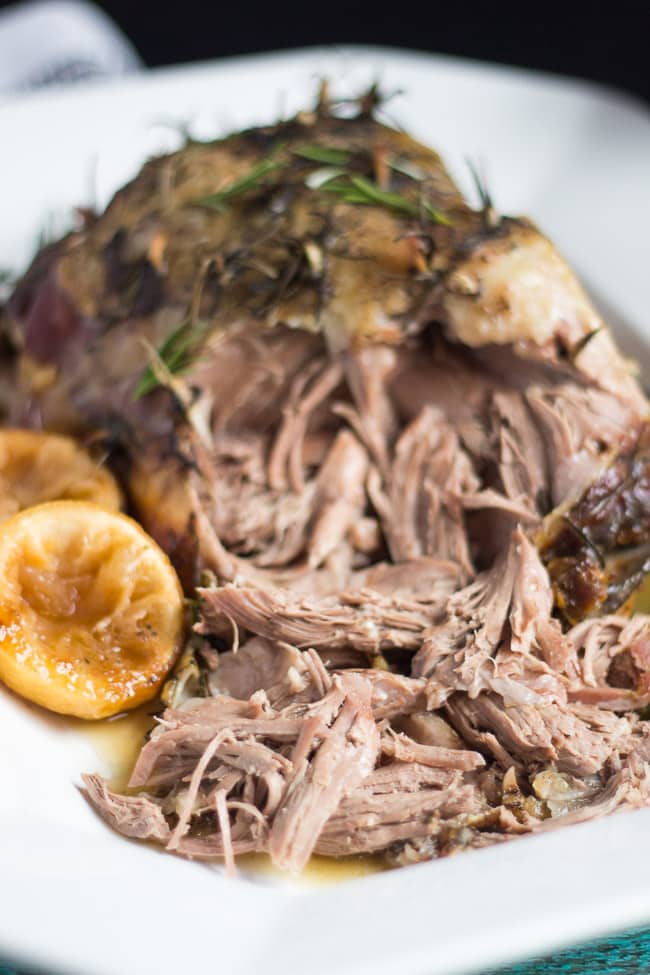 Frequently Asked Questions
What can I cook in a slow cooker? There are very few things you can't cook in a slow cooker.  In addition to main meals, slow cookers are great for cooking beans and homemade stocks.  Or why not make granola, or bake a cake, or use the slow cooker as a bain marie for cheesecake. And if none of that grabs you, you can always make soap.
Can you put meat in the slow cooker without liquid? You do not need to add liquid to a slow cooker to cook meat.  Most meat cuts are moist enough that they will not dry out in the slow cooker. Both my slow cooker leg of lamb and lime cilantro shredded chicken do not have liquid added, yet produce delicious results.  The exception to this is ribs and other very bony cuts, which do require some liquid to cook properly.
What is the best meat for a slow cooker?  The best cuts to use in the slow cooker are the cheaper, tougher cuts.  Consider gravy beef, chuck steak or stewing steak, chicken thighs or pork neck.  These cuts all contain sinew and fat that melts during the long, slow cook and bathes the meat as it cooks.  Leaner cuts, like chicken breast, can dry out in the slow cooker and produce tough, flavourless results.
Is it safe to leave the slow cooker on all day? Slow cookers run on a very low wattage, and are safe to leave on unattended all day.  However, do make sure that the area around the slow cooker is clear and that nothing is touching the machine whilst it is unattended.
How long can food sit in the slow cooker?  Once the slow cooker as been turned off, any remaining food should be removed from the insert and refrigerated within two hours.  Slow cookers are designed to hold the food at a safe temperature to prevent bacterial growth, but once turned off the food in the slow cooker will drop to temperatures that could encourage bacterial growth.
Get Cooking!
Are you ready to start cooking up the absolute best slow cooker meals?  You are now equipped with all the knowledge you need to produce some amazing meals.  And don't forget to grab my free cheatsheet that you can print off and keep handy so you don't need to remember everything I said above.  The cheatsheet is in my Resource library, so simply request access in the form below.
I also regularly post new slow cooker recipes, so make sure you visit my recipe index for more inspiration.
Enjoy!
Share any tips you may have to make the best slow cooker meals in the comment below.
I'd love to hear all about them.
Save