The simplest ham & cheese mini quiche recipe with puff pastry on the internet.  Promise!  This is my go-to recipe for entertaining, lunchboxes, picnics or anywhere an appetiser is required.  Easy to make, easy to freeze: there is no excuse to always have some on hand.
TOTAL TIME INVESTMENT: 30 MINUTES
Everybody should have one go-to recipe for entertaining that is quick and easy, can be prepared ahead and will suit a number of situations. Usually I make a homemade dip, because they are ridiculously easy and so quick to whip up. However some occasions require something a little fancier, which is where I break out this mini quiche recipe.
I make these ham and cheese mini quiches with puff pastry because it is the easy route. If you don't have puff pastry you can line your tins with shortcrust instead. And if working with pastry and lining tart tins scares you, then grab my simple cheatsheet from my Resource Library. Simply click on the link below or request the password at the end of this post.

My personal record for the most mini quiches made in a single session is 160, which I produced for my sister's 21st birthday many years ago. I know that is a huge amount, but it should also give you an indication of just how easy they are to make. I haven't yet repeated that effort (although never say never), however as this mini quiche recipe freezes so well, I always at least double the recipe every time I make it.
The simplest #ham & #cheese #miniquiche #recipe on the internet. Great for #entertaining, #lunchboxes, & #picnics. Easy to make, easy to #freeze: there is no excuse to always have some on hand. #quickrecipe #snacks
Click To Tweet
And just in case fancy canapes are not your thing, you should know that The Princess often requests these in her lunchbox as they are just as delicious cold.  I have also served them as part of a light lunch buffet, and taken them to picnics.  The room for these ham and cheese mini quiches in your life is only limited by your imagination.
So go on, I urge you to try my easy mini quiche recipe. See if you can break my record.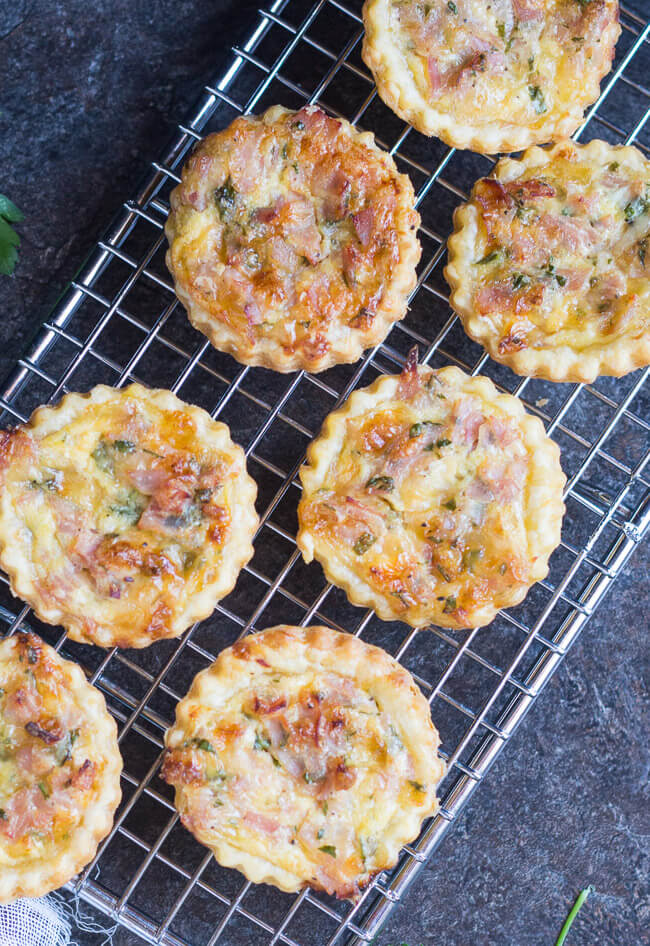 * We are a participant in the Amazon Services LLC Associates Program, an affiliate advertising program designed to provide a means for us to earn fees by linking to Amazon.com and affiliated sites.
Ingredient Substitutions for This Ham & Cheese Mini Quiche Recipe
You can easily tweak this ham and cheese mini quiche recipe according to what you have on hand.  I suggest the following:
I have tried many different cheeses in these mini quiches over the years. Edam cheese is by far the best, although any other semi-hard cheese with a sweet, nutty flavour will work in it's place. I don't recommend Cheddar for this recipe though. I find it makes the filling slightly grainy.
A good butter puff pastry really is the best thing to use here, but in a pinch you can substitute shortcrust pastry instead.
Use finely chopped bacon in place of the ham.
You can use a scant teaspoon of dried mustard in place of the Dijon. Or use a good seeded mustard.
Replace the cream with full cream milk.
Try dried parsley in place of the fresh parsley.
Want to make a vegetarian version of this mini quiche recipe? Try my Sun-dried Tomato & Pesto Mini Quiches.
Mini Quiche Recipe Equipment Recommendations
This is the equipment I use to make these mini quiches:
A 12-cavity patty pan tray (also known as a mince pie tray): As I make these mini quiches often, and I always make multiple batches at the one time, I own five of these trays. Whilst I haven't tried it myself, you should be able to make these quiches in a mini muffin tray although I think it would be trickier to get the pastry into the cavity. Let me know if you try this and it works for you.
A 6cm (2″) crinkle cookie cutter: Once when my crinkle cutter went missing in action, I used a plain round cookie cutter for the pastry. The quiches did not look as good, so I urge you to find a crinkle cutter. I prefer cutters without handles, so I can place my whole hand over the top of the cutter and press it firmly into the pastry.
Olive Oil Spray: Maybe it's a factor of having them so long, but I find that my non-stick patty pan trays aren't all that non-stick when I make these mini quiches. So I like to give each cavity of the tray a quick squirt with olive oil spray before placing the pastry circles in the trays. This ensures that the mini quiches will slide right out and not stick to the trays.
How To Freeze Mini Quiches
I freeze these ham and cheese mini quiches all the time.  Why make a single batch when I can just double the recipe and have some on hand in the freezer for emergencies. To freeze and reheat the mini quiches, simply follow these simple tips:
Allow the mini quiches to cool completely, then pack them into a freezer safe container and store in the freezer for up to 3 months. Don't be tempted to pack the mini quiches into zip lock bags. The pastry becomes quite fragile once frozen, and zip lock bags don't not offer enough protection for the edges and bottoms of the quiches. If you do use zip locks bag, expect banged up mini quiches. Consider yourself warned.
Defrost the frozen mini quiches in the fridge overnight.
Gently reheat the mini quiches in the oven at 150C (300F) for 5 to 7 minutes.
The mini quiches can also be reheated directly from frozen. Just watch them carefully to ensure the tops don't burn before the inside is defrosted.
You can also simply serve the defrosted mini quiche recipe cold if you prefer.
Frequently Asked Questions About Puff Pastry Mini Quiches
Can you freeze mini quiches? Mini quiches freeze very well. Simply follow the simple instructions set out above.
Can you serve mini quiches cold? Yes you can. Mini quiches are delicious cold.
How do you freeze mini quiches? To freeze mini quiches, simply pack the cooled quiches into a freezer safe container and place in the freezer. More detailed instructions are provided above.
How long do I cook mini quiches? Mini quiches take approximately 15 minutes to cook, although the actual cooking time will vary between ovens.
Should quiche be refrigerated? Mini quiches are made with fresh ingredients, so should be refrigerated once cooled. Unless you intend to eat them within two hours of cooking, then they can be kept at room temperature until served.
Ham & Cheese Mini Quiche Tips & Tricks
I cannot tell you how many batches of these ham and cheese mini quiches I have made over the years.  But I can tell you all the tips and tricks I have picked up along the way:
Always make at least a double batch of the recipe below. It takes little extra effort for great rewards. And a double batch means you can test a few straight out of the oven to make sure they are OK to serve to other people (Just me??)
If your mini quiches don't slip straight out of the tray when removed from the oven, allow the tray to sit for five to ten minutes before lifting the quiches out onto the cooling rack.
Don't allow the mini quiches to cool completely in the trays. The bottoms of the quiches will steam and become soggy.
A small rigid plastic spatula is the best device to prise any slightly stuck mini quiches out of the trays. The plastic spatulas have enough flexibility to work around the edges of the patty pan cavities without causing too much damage to the pastry.
The quiches can be served either hot or cold, and will last for up to three days in the fridge (if you have great willpower) should you not wish to freeze them.
Other Easy Entertaining Ideas You May Like
These mini quiches are ideal for entertaining. Make them in advance, freeze them and simply pull them out of the freezer on the day. And if you are searching for easy ideas to accompany your mini quiches, why not try:
Enjoy!

Made this recipe? Tell me how it went in the comments below.
And if you loved it, please don't forget to rate it.


A Simple Ham & Cheese Mini Quiche Recipe
The simplest ham & cheese mini quiche recipe on the internet. Promise! This is my go-to recipe for entertaining, lunchboxes, picnics or anywhere an appetiser is required. Easy to make, easy to freeze, there is no excuse to always have some on hand.
Ingredients
4

sheets ready-rolled butter puff pastry

defrosted

125

g (1 heaped cup)

Edam cheese

grated

125

g (4.5oz)

ham

finely chopped

1

egg

60

ml (1/4 cup)

whipping cream

1

teaspoon

Dijon mustard

1

Tablespoon

parsley

finely chopped

Salt & pepper

Olive oil spray for greasing
Instructions
Preheat the oven to 200C (180C fan forced).

Lightly grease the patty pan trays with olive oil spray and set aside.

Using a 6cm crinkle cookie cutter, cut circles from the puff pastry sheets.


Press the pastry circles into the greased trays and set aside. If it is warm, place the trays in the fridge or freezer whilst you make the filling.


To make the filling, combine the remainder of the ingredients in a large mixing bowl.


Spoon a teaspoon of the filling into each of the unbaked pastry shells.

Bake the filled trays for approximately 15 minutes, or until the mini quiches are puffed and golden in colour.

Remove the trays from the oven and allow to sit for five minutes before removing the quiches to a wire rack.

Serve hot, or allow to cool completely before freezing.

Notes
Cooked mini quiches can be kept in the fridge for up to three days.
Freeze cooked quiches for up to three months.
For best results, defrost the quiches completely before reheating. Rewarm the mini quiches at 150C (fan forced) for about 5 – 7 minutes.
Update Notes:  This post was originally posted on 10th December 2014.  It was updated on 8th January 2019 to include information on ingredient substitutions, freezing tips and equipment recommendations.  New photos were also added to the updated post. Additional tweaks to the text were made on 23rd May 2019.