Apple & Ginger Wholemeal Loaf Cake makes great use of seasonal apples. A beautifully moist cake, it doubles as dessert with lashings of cream.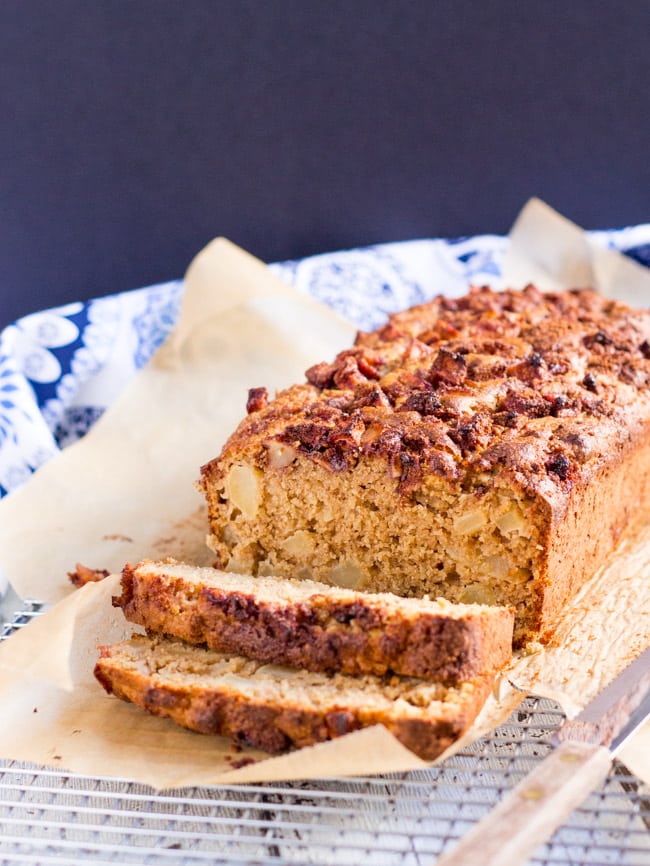 The first time I made this apple and oat wholemeal loaf cake, The Princess had a tantrum. It was one of those fall on the floor tantrums that are amusing in a two year old and downright hilarious in a twelve year old. There was much screaming about how I should know that she didn't like chunks of fruit in cake and how I never cooked anything she liked (I beg to differ – muffins? cookies? muesli bars?). At some point she obviously got hungry and, as I had refused to cook anything else after her outburst, she ate the cake. Then she asked me to make it again. And again.
Whilst apples are coming to the end of their season in Western Australia, some of the later varieties are still available. There is a vast difference between fresh fruit and fruit that has been in cold stores for months at a time, not only in texture and flavour. Fruit and vegetables start to lose valuable nutrients as soon as they are picked, so the fresher the produce the better it is for you.
The other advantage in selecting seasonal produce is price. Fruit purchased in season is generally cheaper and more readily available than at other times of the year. I prefer to buy organic apples when I can, as apples topped the Environmental Working Group's Dirty Dozen list this year. The Dirty Dozen examines pesticide residue on fresh produce and lists the worst offenders each year. If you cannot find/afford organic apples, make sure to wash apples thoroughly before consuming them.
I have made this cake with a few different types of apples. I wouldn't use Granny Smiths or other cooking apples though, lest they fall apart whilst cooking. I have used Sundowners and Pink Ladies with great success.
This apple & ginger wholemeal loaf fully exploits my love of oat flour. I apologise for producing this recipe so quickly after the last one, but this recipe needs to be shared before the apple season ends. And if you want a floor show to go with your cake, let me know and I will send The Princess over.
Apple & Ginger Wholemeal Loaf Cake
This cake is lovely slightly warm, with cream, for dessert. It is just as good cooled, tucked into a lunchbox or served for afternoon tea.

This cake does not keep well due to the fresh apple and high moisture content. I suggest you eat it quickly.
Ingredients
Dry Ingredients
1

cup

wholemeal flour

145g

1/2

cup

oat flour

60g

1/2

cup

rapadura sugar

85g

1/3

cup

white spelt flour

45g

1/4

cup

ground almonds

30g

1 1/2

teaspoons

baking powder

1

teaspoon

ground cinnamon

1

teaspoon

ground ginger

1/4

teaspoon

ground nutmeg

Pinch salt
Wet Ingredients
2

pieces

medium apples

chopped into 6mm ) - Reserve 50g for topping, approx. 300g

2

eggs

1/3

cup

macadamia oil

3/4

cup

buttermilk or kefir

1

teaspoon

vanilla extract
Topping Ingredients
50

g

reserved chopped apple

1

Tablespoon

rapadura sugar

1/2

teaspoon

cinnamon
Instructions
Preheat the oven to 175C (155C fan forced).

Grease and line a large loaf tin.

Combine the topping ingredients in a small bowl and set aside.

In a large bowl, combine the dry ingredients. Whisk gently to ensure that the spices are evenly distributed through the ingredients.

Place all the wet ingredients except the apple in another bowl and whisk to combine.

Add the apple to the wet ingredients and stir gently to combine.

Pour the wet ingredients into the dry ingredients and gently mix just until the ingredients are incorporated.

Fill the loaf tin with the cake mixture.

Sprinkle the topping mixture evenly over the top of the cake.

Bake for approximately 40 minutes, or until the top has browned and a cake skewer inserted in the centre comes out clean.

Remove from the oven and allow to cool in the cake tin for about 20 minutes.

Remove the cake from the tin and continue cooling on a rack.
P.S.  Looking for more great apple recipes?  Why not try my Easy Coconut Apple Tarts,  Apple & Blackberry Crumble or Quick and Easy Apple Turnovers.