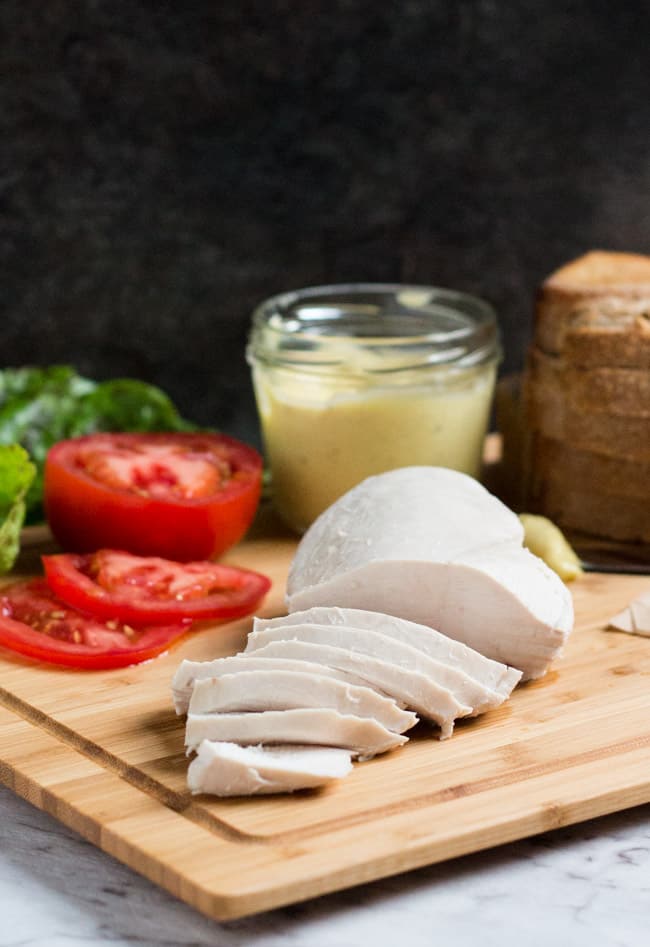 I have been following an interesting discussion on another Real Food blog this week about the merits of luncheon meat: that pre-sliced, pre-packaged meat (ham, chicken, turkey) that makes school lunch preparation faster and easier.  Two opposing schools of thought arose out of the discussion.  The first was that in a true Real Food diet there is absolutely no place for such meats.  The opposite viewpoint (and the one to which I subscribe) is that some pre-packaged options are better than others, and if buying such is the difference between a homemade sandwich or processed crud from the school canteen, then luncheon meat wins out every time.
The topic of how these 'meats' are made intrigued me enough to raise it with my butcher.  It turns out that it was his responsibility to make the ham during his apprenticeship, and I was treated to a gruesome description of the process.  Let's just say it involved lots of additives, fillers, water and not much meat. And if you didn't get the mixture into the mould (how else do you get square ham?) quickly enough it would set in the container.  Thankfully my butcher now makes his own real ham. Apparently it is a pain to slice, but it is all meat with no hidden extras.
So what about chicken?  I have always been leery of pre-packaged chicken, even before I started eating Real Food.  There is something about the smooth and shiny processed chicken, with no discernible texture, that gives me pause.  It is worlds away from any chicken I have ever cooked, which makes me wonder what happened to it before it was tucked into that lovely protective packet.  Unlike the ham though, my curiosity is not deep enough to find out and I am more than happy just to avoid it altogether.
It was Sally who introduced me to the concept of poaching a chicken breast to tuck into sandwiches many years ago. She turned up at a mothers group get-together with the best chicken and celery sandwiches I have ever had. The poached chicken breast was moist and succulent, and sat well with the finely chopped celery and mayonnaise in the filling.  Having previously poached only a whole chicken, the thought of poaching just the breast struck me as ridiculously simple. And it truly is.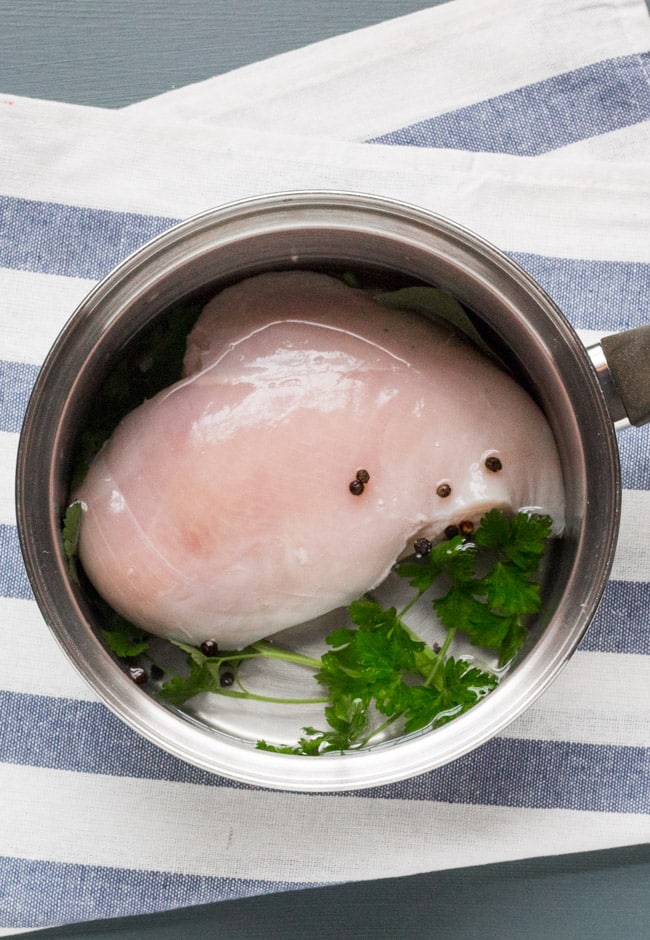 If I am roasting chicken, I add a few extra pieces for sandwiches during the week. If roast chicken isn't on the menu I poach a chicken breast instead.  Chicken breast will poach quietly to one side whilst dinner is cooking, producing meat for sandwiches or salad the next day with minimal effort.
Sometimes I add aromatics to the poaching water. This produces a light broth which I save to tip into soups or to cook grains. If I'm feeling lazy, or the end dish doesn't lend itself to flavoured chicken, I just use water. Both methods work equally well. Any chicken that doesn't find its way into sandwiches is frozen to fill crepes or to bulk out soups.
The best thing about a poached chicken breast though is that it contains only chicken. No gums, fillers, stabilisers or other additives. Just chicken. And nobody can argue that that is not Real Food.
Kitchen Basics: 20 Minute Poached Chicken
This is more of a method than a recipe. Just adjust it according to the amount of chicken you wish to poach and the size of your fillet.

I always buy free range chicken breasts, which are typically larger than those produced from caged animals, so the timings are based on these larger breasts.
Ingredients
Chicken Breast

skin removed

Cold water

leaves

Aromatics as desired (I use celery

parsley, peppercorns & bay )
Instructions
Place the chicken breast in a small saucepan that has a lid.

Add the aromatics if using.

Cover the chicken breast by 2.5cm (1 inch) with cold water.

Place the saucepan over a medium to high heat and bring the water to the boil.

When the water has come to the boil, lower the heat to medium.

Put the lid on the pot and allow to bubble for 1 minute.

Without removing the lid, turn off the heat.

Allow the pot to sit, undisturbed, for 15 minutes.

Check that the chicken breast is cooked by cutting a small slit in the thickest part of the breast.

Remove the breast from the water and use as desired.
Notes
If your chicken breast is not completely cooked after the 15 minutes resting time, return the chicken to the water and allow to sit for a further 5 minutes. If you feel the water temperature has dropped too much to continue cooking the breast, just reheat the water slightly first.