With a sheet of puff pastry, and a jar of applesauce, this ridiculously quick & easy apple turnovers recipe makes a simple yet delicious dessert.
Total Time Investment: 25 Minutes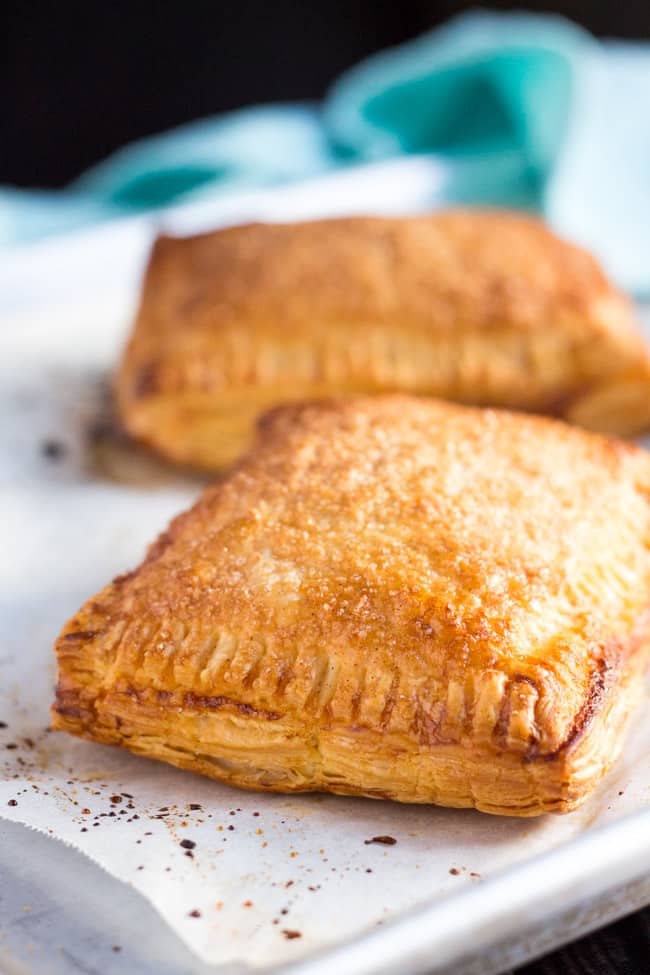 Dessert was not an everyday occurrence when I was a child.  I have fond memories of golden syrup dumplings smothered in custard, and large serves of bread and butter pudding (from which I would meticulously pick the gag-inducing plump sultanas).  One of my fondest memories, though, is of the apple turnovers that came in a box from the frozen food section of the supermarket.
Frozen desserts from a box were a novelty when I was a child.  If I am being completely honest this, rather than the high quality of product, is probably the source of my nostalgia.  I can still remember the sense of anticipation as mum removed the box of apple turnovers from the freezer.  She would brush them with milk, as per the instructions, and sprinkle over the little sachet of cinnamon sugar that came tucked into the box with the unadorned apple turnovers.  Whilst we waited for the turnovers to cook, my sister and I would fight to lick out the cinnamon sugar packet.
Take a sheet of #puffpastry, and a jar of #applesauce, & whip up this ridiculously #quick & #easy #apple #turnovers #recipe next time you are craving #dessert. Easy to make in advance, double the recipe & #freeze the…
Click To Tweet
Fast forward a few years to my student days.  I was living on my own, trying to eke out my grocery budget enough to feed myself for the week.  If I was feeling slightly flush with funds, a packet of those apple turnovers would find themselves into my shopping trolley.  A packet of four would last a while, and I didn't have to share the cinnamon sugar packet with anyone.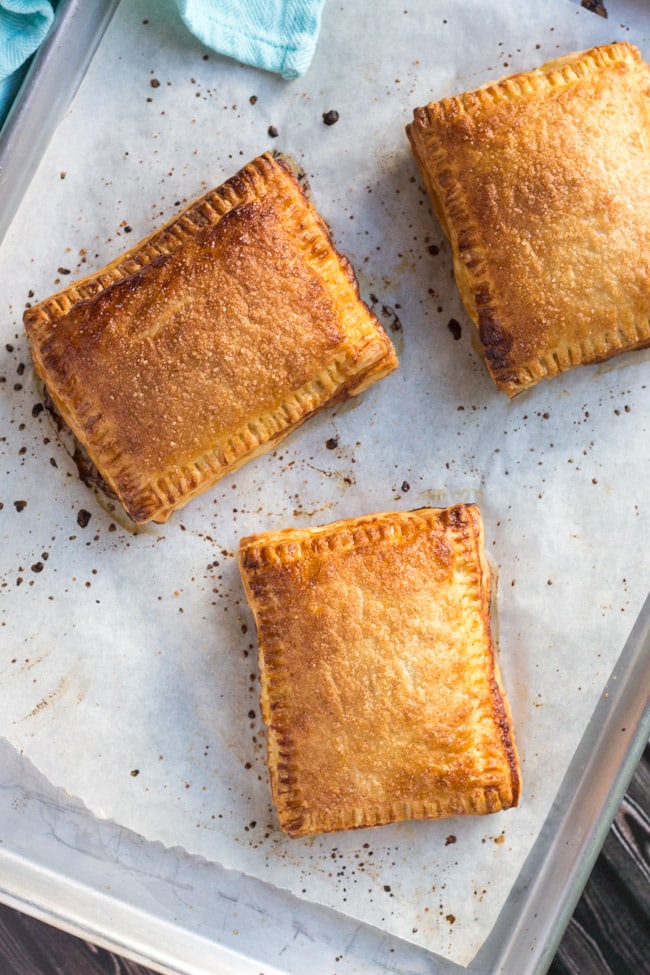 I hadn't thought about apple turnovers for years, when suddenly this apple season I had a hankering for them.  I could have gone to the supermarket to buy a packet; I'm pretty sure they are still in production.  I'm also pretty sure that the purchased version would not match up to my childhood memory. Which meant I had to come up with my very own apple turnovers recipe.
My version relies on a couple of store cupboard staples; butter puff pastry and applesauce.  The desire for dessert usually strikes just after dinner, and the first time I made these I couldn't be bothered peeling apples.  I had applesauce in the fridge, so used that instead.  Whilst not the apple turnovers of my childhood memories, these make an acceptable substitute. I'm happy with that.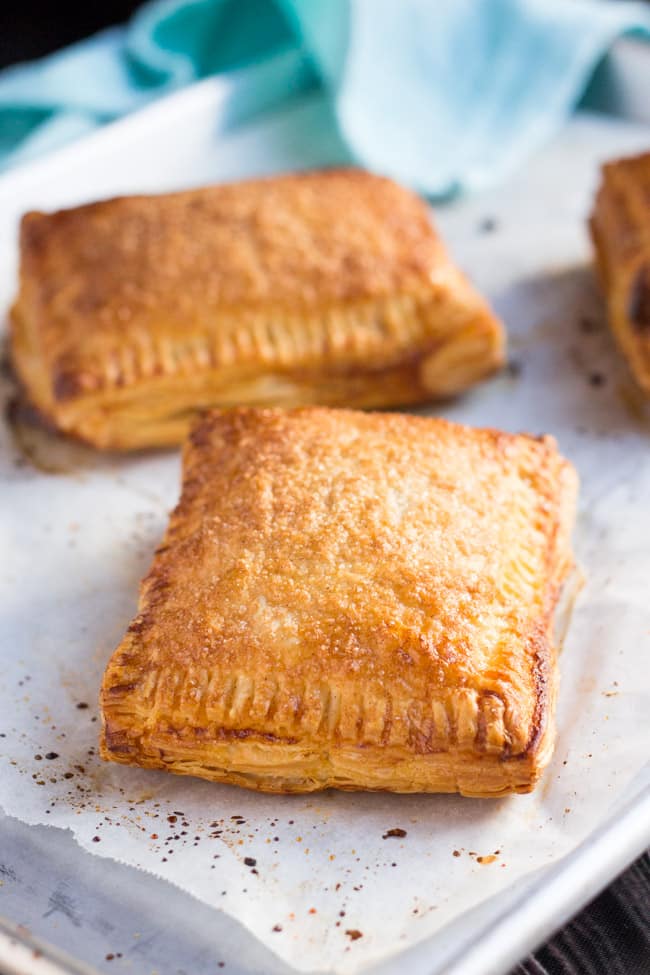 * We are a participant in the Amazon Services LLC Associates Program, an affiliate advertising program designed to provide a means for us to earn fees by linking to Amazon.com and affiliated sites.
Ingredient Substitutions for My Apple Turnovers Recipe
With such a simple apple turnovers recipe, there are not many opportunities to make substitutions.  Don't let that stop you making this your own though.  Try the following:
Replace the applesauce with apple pie filling, or your favourite pie filling.
Use a good mixed spice in place of the ground cinnamon powder.
Make your apple turnovers recipe gluten free by using a good gluten free puff pastry.
Try normal castor sugar in place of the golden castor sugar.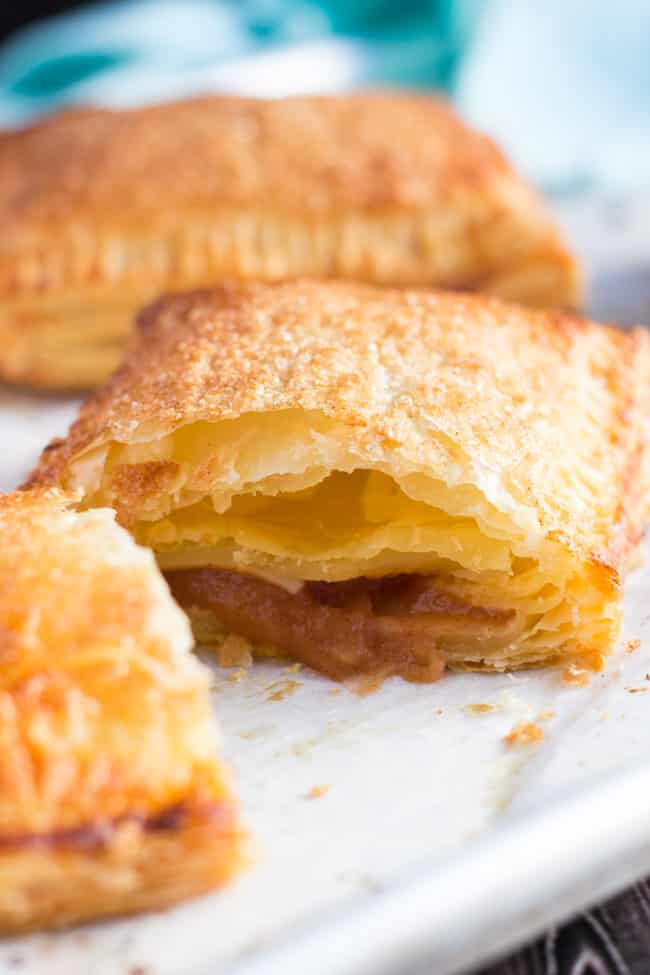 A Few Tips For Making My Apple Turnovers Recipe
Let me share a few tips I have discovered making this apple turnovers recipe:
Use puff pastry sheets:  I use ready rolled sheets of puff pastry to make these apple turnovers, and have found the sheets vary in size according to the brand. Generally though, your turnovers should be approximately 8cm x 10cm (3″ x 4″). I find I can get three apple turnovers out of one puff pastry sheet.  If you are feeding more people, simply scale up the recipe accordingly.
Use butter puff pastry: Butter puff pastry is a far superior product to puff pastry made with other fats.  It tastes better, it puffs better, and it is just generally better.  I have outlined my own reasons for using butter puff pastry here, and you can read more about the difference between butter and margarine here.
Tweak your applesauce:  I don't sweeten my applesauce, as I find it sweet enough for my taste. If you want the sauce a little sweeter, just stir a teaspoon or two of maple syrup in with the cinnamon.
Make them in advance:  Assemble the turnovers, and store them in the fridge until required. Brush over the milk and sprinkle on the cinnamon sugar just before baking.
Freeze some for later:  Assemble the turnovers and flash freeze them on a lined baking tray.  When frozen, pack into ziplock bags and store for up to three months.  Bake the turnovers directly from frozen, adding 10 minutes to the cooking time.  Brush with milk and sprinkle over the cinnamon sugar just before baking.
Frequently Asked Questions About Apple Turnovers Recipe
What pastry do you use to make apple turnovers?  The best pastry to use for apple turnovers is butter puff pastry. The crunchy, flaky layers are divine paired with the delicious applesauce.
What is in an apple turnover?  A good apple turnover recipe will contain only apple in the filling.
How long can you keep apple turnovers?  Cooked apple turnovers can be kept for up to to four days in the fridge.  Apple turnovers can be frozen for up to three months.
Can you reheat cooked puff pastry?  Cooked puff pastry can be reheated in the oven at 180C for 10 – 15 minutes.  You can reheat the puff pastry in the microwave, but it will no longer be crispy.
Enjoy!
One year ago:  Spicy Cheese Shortbread Biscuits
Two years ago:  Salami, Spinach and Cheese Scrolls
Three years ago:  Quick Flatbread Crackers
Made this recipe? Tell me how it went in the comments below.
And if you loved it, please don't forget to rate it.
Quick and Easy Apple Turnovers
With a sheet of puff pastry, and a jar of applesauce, this ridiculously quick & easy apple turnovers recipe makes a simple yet delicious dessert.
Ingredients
1

sheet ready-rolled puff pastry

defrosted

125

ml (1/2 cup)

unsweetened apple sauce

1/4

teaspoon

ground cinnamon

2

Tablespoons

milk

1

teaspoon

golden caster sugar

1/8

teaspoon

cinnamon

extra
Instructions
Pre-heat the oven to 220C (200C fan forced).

Line a tray with baking paper and set aside.

Cut the puff pastry in half with a sharp knife.

Cut each pastry half again into thirds. You should now have six pieces of pastry.

Mix the applesauce and ground cinnamon together.

Divide the spiced applesauce equally between three of the pastry pieces. Spread the sauce down the centre of each pastry piece, leaving a 1 cm border around the edge of the pastry.

Brush the border around the edge of the pastry with the milk.

Place a second piece of pastry gently on top of the applesauce, carefully lining up the edges.

Press the edges of the pastry together firmly with a fork to seal.

Place the turnover on the lined baking tray. Repeat with the other two turnovers.

Mix the sugar and extra cinnamon together in a small bowl.

Brush the tops of the turnovers with milk.

Sprinkle over the cinnamon sugar.

Bake the turnovers for 10 minutes.

Reduce the oven temperature to 180C.

Continue to cook for a further 5 minutes, or until the turnovers are well risen and golden brown.

Serve warm with cream or ice cream.
Notes
A puff pastry sheet will make three turnovers. If you require more, scale up the recipe accordingly.
You can make the apple turnovers recipe in advance. If you wish to do this, assemble the turnovers, and store them in the fridge until required. Brush over the milk and sprinkle on the cinnamon sugar just before baking.
The apple turnovers can also be frozen, so make a huge batch for those times that the dessert cravings bite.
Update notes:  This post was originally published on 5th August 2015.  It was updated on 24th May 2018 to include ingredient substitutions, nutritional notes and frequently asked questions about apple turnovers.
Save