This 5 Minute Food Processor Chocolate Apple Cake is a handy recipe to have up your sleeve when time is short, but a cake is required. Great for lunchboxes.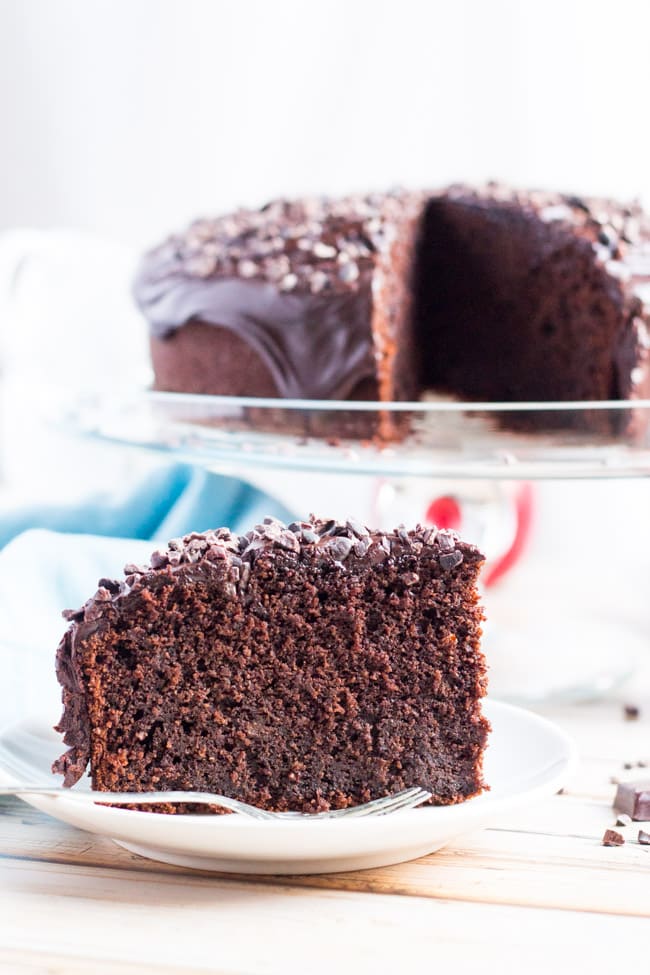 Just when you began to think I might have disappeared permanently, I'm back. Sorry for the extended absence.  No sooner did I announce I was taking a short break than I came down with the flu, which has kept me out of action for the last few weeks.  May I, as way of an apology, offer you a slice of Chocolate Apple Cake?
I make most of my cakes using the traditional method of creaming the butter and sugar together in a stand mixer, mixing in the rest of the ingredients and baking. Occasionally though, when short on time, I find a food processor cake makes a perfectly acceptable substitute.  Creaming the butter and sugar together introduces air into the mixture, which helps the cake to rise. Cakes made in the food processor can be ever-so-slightly denser than traditional cakes, as the food processor does not whip as much air into the batter.  Add in the wholemeal spelt, and the end result can be slightly denser than you may be expecting.  I call it fudgy.  It's still cake, and chocolate, and I have had no complaints from The Princess so it must be OK.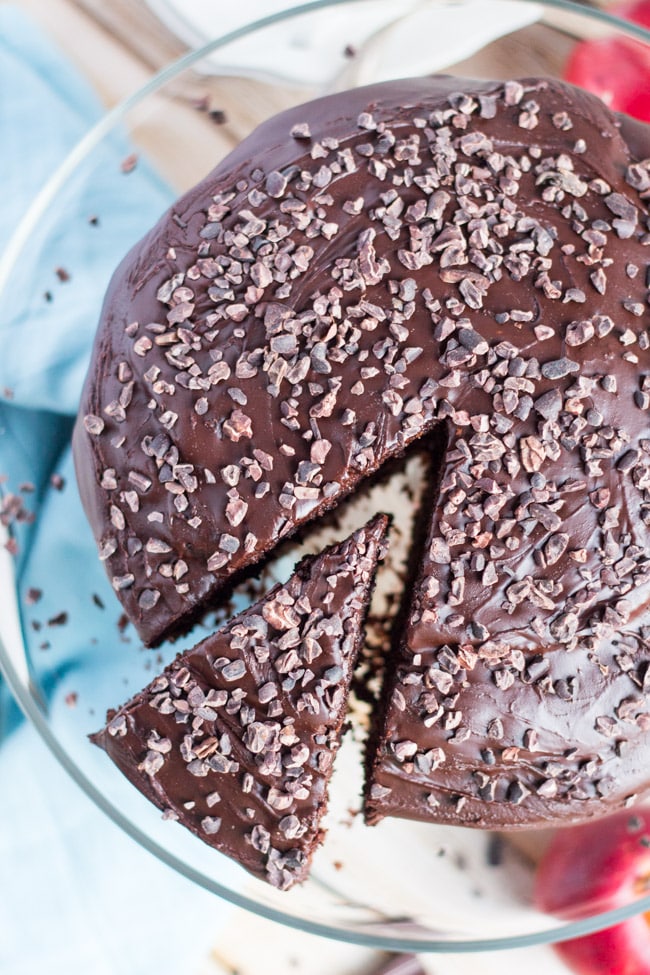 This Chocolate Apple cake will take a good hour from start to finish, however it only requires five minutes of your direct attention.  Even less if you don't peel the apples, which are finely chopped into the cake batter.  I challenge even the fussiest of eaters to spot the peel.  As I normally use organic fruit,  I don't bother to peel the apples unless the skin is badly blemished.  Apples do top the Environmental Working Groups 2015 Dirty Dozen list for pesticide use though, so I would remove the peel if using conventional fruit.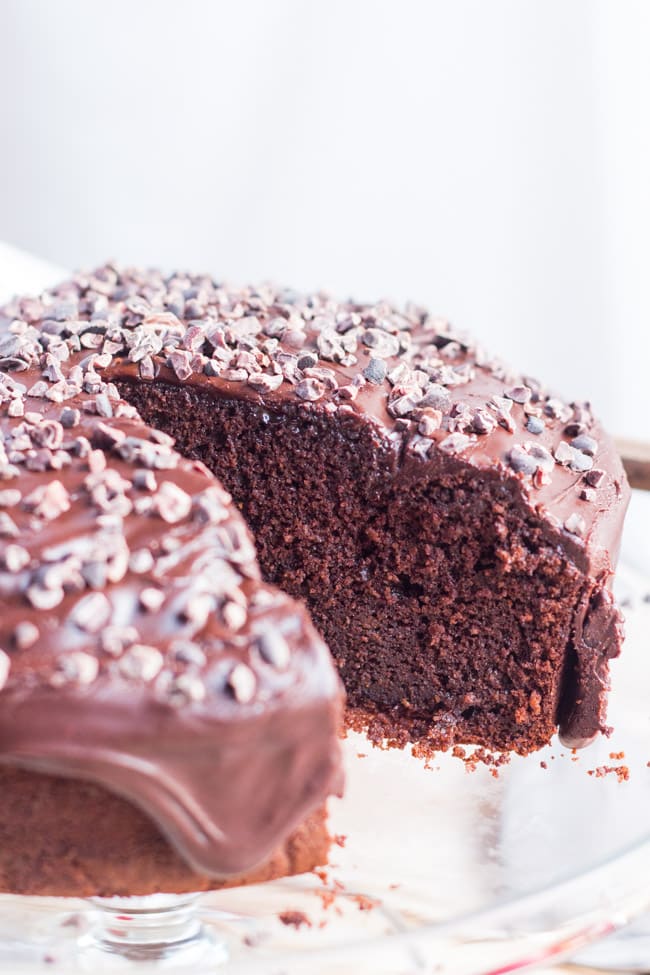 One issue I have experienced making this Chocolate Apple cake in the food processor is that it rises unevenly.  Every single time I make it, one side rises much higher than the other, and I end up with a huge crack in the cooled cake.  I have no idea why, although if you have a theory I would love to hear it.  Normally this is not a problem, as the cake is destined for lunchboxes.  I may have though, on occasion, been known to slice the top off to provide a smooth surface to frost.  This would only happen if I am serving this to more discerning company than The Princess and Mr Grumpy.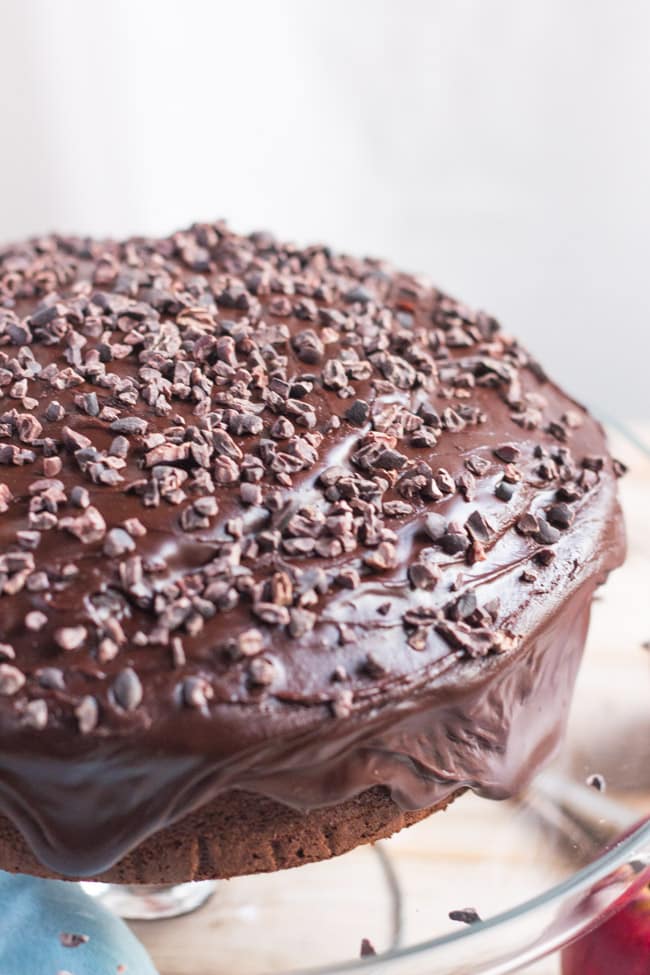 My two biggest critics are not big fans of frosting, so I normally leave the cake naked.  It is moist enough that it doesn't really need additional frosting, although I did frost it for this post, much to The Princess's disgust.  I have found small piles of frosting left beside the kitchen sink that have been peeled off as she works her way through the cake.  If you wish to dress this Chocolate Apple cake up a little just slather your favourite chocolate frosting over the top. Now would anybody like another slice?
5-Minute Food Processor Chocolate Apple Cake
Peel the apples if you prefer, although I challenge the fussiest eater to detect the peel in the finished cake. If using conventionally grown apples, I would peel the apples to reduce pesticide exposure.

I make this in my Thermomix, but the recipe will work just as well in a conventional food processor.
Ingredients
185

g

unsalted butter

softened, 3/4 cup + 1 Tablespoon

150

g

rapadura sugar

3/4 cup

3

eggs

130

g

white spelt flour

1 cup

145

g

wholemeal spelt flour

1 cup

2

teaspoons

baking powder

1/4

teaspoon

baking soda

60

g

cocoa powder

1/2 cup

3

medium apples

peeled (optional), cored and roughly chopped, approximately 300g

125

ml

boiling water

1/2 cup

1

teaspoon

vanilla

Pinch salt
Instructions
Pre-heat the oven to 195C (175C fan forced).

Grease and line a deep 20cm round cake pan.

Place the ingredients into the food processor bowl in the order listed.

Pulse for five seconds.

Scrape down the sides of the bowl.

Process for 20 seconds, or until the mixture is thoroughly blended and has slightly lightened in colour.

Scrape the mixture into the cake tin and gently smooth the surface of the batter.

Bake for 45 - 50 minutes, or until a skewer inserted into the middle of the cake comes out clean.

Remove from the oven and allow to cool in the tin for 15 minutes.

Remove the cake from the tin and allow to cool completely on a wire rack.

If desired, frost the cake once cool.
P.S. Looking for more lunchbox recipes?  Can I suggest Apple & Ginger Wholemeal Loaf Cake or Banana & Cocoa Nib Spelt Muffins. There are also many more recipes to be found in the Baking Section.
Save