A healthy crustless zucchini quiche recipe that is quick to make, and is a great way to use up an abundant zucchini crop. It is delicious served both hot or cold, and is perfect for freezing so you can use up that zucchini glut faster.
TOTAL TIME INVESTMENT: 55 MINUTES
This easy crustless zucchini quiche recipe first came to me via my mother-in-law, and because I can't help myself I have played with it over the years to arrive at the current version.
Zucchini seems to be the one summer crop we are consistently successful with. Of course, any success with growing zucchini often means you find yourself drowning in them and adding zucchini to every dish you can. In my case this includes zucchini pasta, zucchini bread, chocolate zucchini cake and of course this crustless zucchini quiche.
The best thing about this healthy zucchini quiche recipe though is that it freezes brilliantly. This means I can make a number of quiches at the height of the zucchini season and then freeze them for easy meals later in the year.
And if you like to stock the freezer with a few extra meals for those days that everything goes pear-shaped then make sure you grab my easy freezer meals guide from my Resource Library. Simply click the link below or request the library password at the end of this post.
This zucchini quiche appears regularly on our dinner table during the summer months. It is delicious served either hot or cold, and because it is crammed with vegetables already I need only add a simple green salad on the side to complete the meal.
It is also extremely portable, which makes it the ideal dish for potlucks and picnics. Perfect summer fair.
*We are a participant in the Amazon Services LLC Associates Program, an affiliate advertising program designed to provide a means for us to earn fees by linking to Amazon.com and affiliated sites.
Healthy Crustless Zucchini Quiche Ingredient Substitutions
The fact that I have been playing with this recipe for years should tell you that it responds quite well to substitutions. Tweak it to suit your individual family preferences.
Don't have self-raising flour in the pantry? You can use 1 cup of all purpose/plain flour and 2 teaspoons of baking powder instead. Or you can mix up your own self-raising flour blend.
To make your crustless zucchini quiche recipe gluten free, use a good gluten free self raising flour or mix your own blend with gluten free flour and baking powder.
Prepared Dijon mustard can be used in place of the mustard powder.
Chopped ham can be used in place of the bacon. Or omit the bacon entirely for a vegetarian crustless quiche.
Any type of melting cheese can be used. I prefer Cheddar, but have also used a variety of Swiss cheeses over time with great success.
Frozen zucchini can be used in place of the freshly grated zucchini.
Any vegetable oil can be used in place of the olive oil. I think avocado oil would be delicious.
How To Freeze Crustless Quiche
Egg dishes freeze surprisingly well, which is a great advantage when it comes to stocking the freezer. This is the method I use to freeze this particular crustless zucchini quiche recipe, but I see no reason why the same method cannot be applied to any other quiche.
To freeze zucchini quiche, I simply double the recipe, cook the quiches as detailed, then eat one of the cooked quiches for dinner and freeze the other one. As easy as that!
I do have a few tips for with respect to freezing the quiches though that I have worked out over the years:
I prefer to bake the quiches destined for the freezer in foil trays. This has two advantages; it frees up my bakeware and it reduces the risk of my ceramic and glass dishes sliding out of the freezer and smashing.
I freeze two different sized quiches. A large family sized quiche for main meals, and half sized quiches for easy lunches.
Cool the cooked crustless quiches in the fridge overnight if possible. Cooling the quiches down before freezing minimises the formation of ice crystals which can affect the structure of the defrosted quiche.
Wrap the quiches well before freezing to maximise the freezing time. I prefer to vacuum pack the quiches once frozen, which further extends the keeping time.
Crustless quiches will last for up to four months in the freezer if well wrapped and for at least 8 months if vacuumed packed.
Don't freeze the raw quiche
I have seen mention of freezing uncooked quiches: a method I feel is fraught with danger. The uncooked quiche needs only tip over in the freezer and suddenly you find yourself scraping raw egg off the freezer walls (Just me?).

With respect to this particular crustless zucchini quiche recipe, I would strongly caution you against freezing it raw and urge you to follow my method instead. Zucchini releases quite a lot of liquid as it defrosts, and I would be apprehensive about the effect this would have on the structure of the quiche.
To Defrost and Reheat Frozen Crustless Quiche
This crustless quiche is best defrosted slowly in the fridge overnight. Although I have also defrosted it on the bench for a few hours when I have neglected to take it out of the freezer.
The zucchini quiche can be reheated in to ways:
Individual slices can be zapped in the microwave for 1 – 2 minutes. The actual warming time will depend on the strength of your individual microwave, so always consult your instruction book for recommended timings. Never place the foil tray in a microwave oven for reheating the quiche.
Whole quiches can be reheated in the oven. I reheat the defrosted quiche for 20-30 minutes at 180C although timings again will depend on your individual oven.
I have also cooked my crustless zucchini quiche from frozen when I have forgotten to defrost it. Place foil over the top of the quiche and reheat for 30 – 40 minutes at 160C fan forced or until warmed through. Remove the foil after 20 minutes to allow the top to dry off and brown slightly.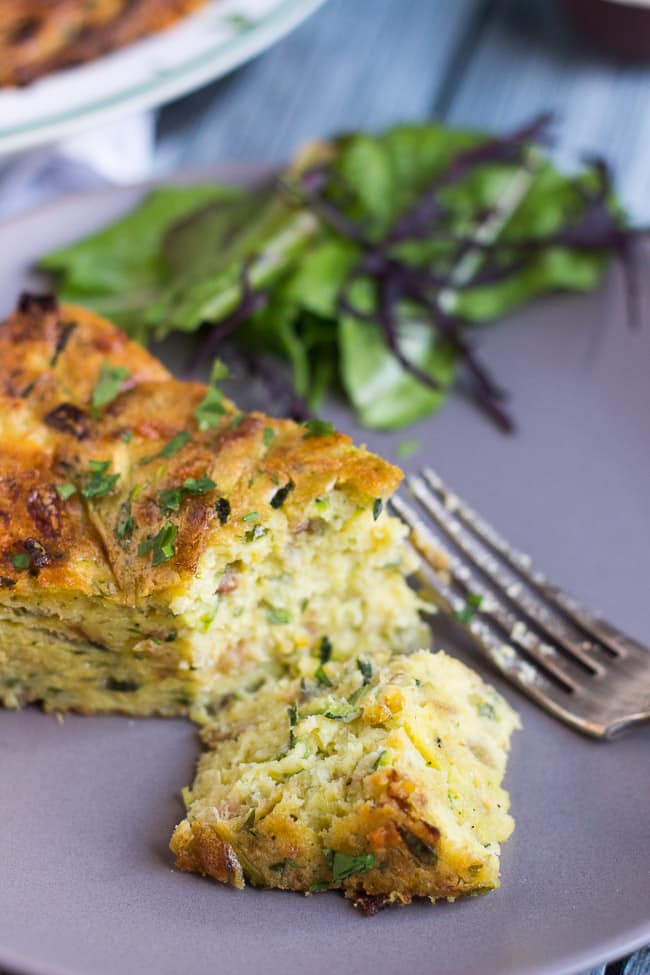 Crustless Zucchini Quiche: Frequently Asked Questions
Can crustless quiche be made ahead?
Yes, crustless zucchini quiche can be assembled and cooked up to three days ahead. Keep the quiche in the fridge until required.
How long does crustless quiche last?
Crustless quiche will last for up to three days in the fridge and up to four months in the freezer.
Is a frittata the same as a crustless quiche?
No. The structure of a frittata is provided by the eggs whilst the structure of a crustless quiche is provided by eggs and some form of starch such as flour or dry pasty mix. Frittatas are cooked on a stovetop, although can be grilled/broiled to set the top. Crustless quiches are cooked in the oven.
How do you reheat crustless quiche?
Crustless quiche can be reheated in either the microwave or the oven. Refer to the above section for my complete instructions.
What is a quiche without pastry called?
A quiche without pastry is referred to as a crustless quiche.
A #healthy #crustless #zucchini #quiche #recipe that is quick to make u0026amp; a great way to use up that zucchini crop. Delicious served hot or cold u0026amp; perfect for freezing so you can use up that glut faster. #freezermeals…
Click To Tweet
Crustless Zucchini Quiche Recipe: Some Final Tips
I love this healthy zucchini quiche recipe and make it regularly throughout the summer months. It is a staple lunch or easy dinner meal in our household, and can even be packed into lunchboxes if your children are less fussy than The Princess. I want to give you a few final tips I have gathered over the years:
It is not essential to brown the onion and bacon before adding it to the rest of the quiche mix. I do this as I intensely dislike the flavour of uncooked onion, and I feel cooking it adds a little more flavour to the quiche. If raw onion doesn't bother you, you can skip the cooking step which will cut down your preparation time.
The zucchini does not need to be squeezed before adding to the rest of the ingredients. In fact doing so makes a drier quiche (guess how I know that one). If you are using frozen zucchini, also add most of the liquid that seeps out of the defrosted zucchini to your raw mixture.
You can scatter a little extra grated cheese over the top of the zucchini quiche prior to baking to give a crisper crust.
If serving this to anyone other than my family, and to make the simple crustless quiche look a little bit fancier, I lay thin slices of tomato on top of the quiche before baking. If you want to be extra fancy, add the tomato slices and extra grated cheese.
To serve the quiche cold, remove it from the fridge at least 30 minutes prior to serving to ensure it is not stone cold when eaten. Trust me, it tastes better when not straight out of the fridge. If I am eating leftovers, I will zap individual slices in the microwave for 30 seconds or so just to take the chill off the quiche.
Other Easy Freezer Meals You May Like
By the end of summer, I can easily have four or five crustless zucchini quiches in the freezer. If our summer zucchini crop has gone well that is. But I don't want you to think that that is all that is in my freezer. Other easy dinners you might find tucked between the quiches are:
And if you are growing your own zucchini and found yourself with the inevitable glut, make sure you check out 21 of the best zucchini recipes for using up a glut.
Enjoy!

Made this recipe? Tell me how it went in the comments below.
And if you loved it, please don't forget to rate it.


Crustless Zucchini Quiche
This healthy crustless zucchini quiche recipe is quick to make, and is a good way to use up an abundant zucchini crop. Great served hot or cold, the quiche is ideal for either lunch or dinner.
Ingredients
150

g (1 cup)

Self Raising flour

1

teaspoon

ground mustard

1/4

teaspoon

cayenne pepper

1

large onion

finely chopped

3

slices

bacon

finely chopped

425

g (3 cups)

grated zucchini

95

g (1 cup)

grated Cheddar cheese

125

ml (1/2 cup)

olive oil

5

large eggs

lightly beaten

Salt & pepper

Extra flour for dusting the quiche dish
Instructions
Preheat the oven to 180C (160C fan forced).

Grease a 20cm pie or quiche dish.

Dust the greased dish with flour and set aside.

Mix the flour, mustard powder, and cayenne pepper together in a small bowl. Set aside.

Heat a small fry pan over a medium-low heat.

Fry the onion in 2 Tablespoons of the olive oil for five minutes, or until slightly browned.

Add the bacon to the fry pan, and cook for a further five minutes, or until the bacon begins to brown.

Place the cooked onion and bacon in a large bowl.

Add the zucchini, grated cheese, olive oil and eggs.

Stir together thoroughly.

Add the flour mixture and mix until the flour is just incorporated.

Tip the batter into the floured quiche dish.

Bake for 30 – 40 minutes, or until the quiche is well risen and lightly browned.

Allow to rest at least 5 minutes before serving.
Notes
It is not necessary to brown the onions and bacon before assembling the quiche. This is purely my personal preference.
The quiche can be assembled without cooking the bacon and onion, which will reduce the preparation time.
Thinly sliced tomato can be laid on top of the quiche prior to baking to improve the presentation of the cooked quiche.
Scatter extra grated cheese over the top before baking if desired.
Cooked crustless quiche can be stored in the fridge for up to three days.
The cooked quiche can be frozen for up to four months.
If serving cold, remove from the fridge at least 30 minutes prior to serving. 

Update Notes: This post was originally published on 13th September 2016. It was substantially updated on 18th June 2019 to include ingredient substitutions, FAQ's, a Table of Contents, nutritional information and to improve the readability of the text.