Last Updated:
The sauce for this simple chicken pesto pasta recipe, made with garlic mushrooms, comes together in the time it takes to cook the pasta. Or why not swap out the chicken for green beans to make a delicious vegetarian version.
TOTAL TIME INVESTMENT: 20 MINUTES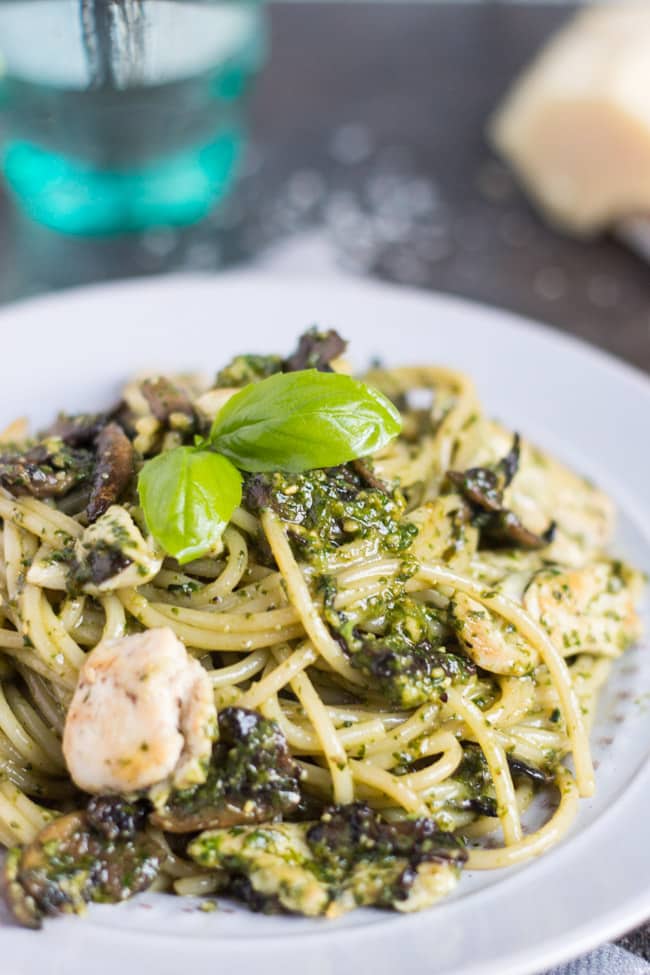 * We are a participant in the Amazon Services LLC Associates Program, an affiliate advertising program designed to provide a means for us to earn fees by linking to Amazon.com and affiliated sites.
The Princess would happily eat pasta every night if she could. Pasta is her second most requested meal (narrowly beaten by any gnocchi recipe), and she will ask for pasta even if it is 40C outside and far to hot to boil water. I swear she was an Italian in a past life.

This chicken pesto pasta with garlic mushrooms and my creamy lemon tuna pasta are the two recipes I turn to when time is short and I am too exhausted to think. They are recipes I can make with my eyes closed and can be done in under 30 minutes.

And because I know that sometimes all you want to do at the end of a busy day is cook, not search the internet for dinner ideas, I have put together a free mini ebook with my favourite 30 minute recipes. Download your copy of the ebook now from my Resource Library simply by clicking the link below, or by requesting the password for the library at the end of this post.

Homemade vs Store-bought Pesto Sauce
Pesto is one of the classic Italian sauces. Traditionally made with basil, pine nuts, Parmesan cheese and olive oil, pesto adds a quick and easy flavour punch to a dish.

When basil is in season, I like to make larges batches of my homemade basil pesto sauce and freeze it in meal sized portions so I can easily make this chicken pesto pasta recipe throughout the year.

If you don't have a freezer full of homemade pesto though, don't fret. You can still make a big pot of my mushroom pesto pasta with a jar of good store-bought pesto. I do stress the use of the word good though.

Read the ingredients and make sure there is a high percentage of basil in the sauce. Basil should be the first ingredient on the label. If it's not, put down the jar and select another.

Whilst a store-bought pesto will not have the same freshness of a homemade pesto sauce, being choosy about the brand you select means that your dinner will still be delicious.
Ingredient Substitutions for Chicken Pesto Pasta with Mushrooms
Even though the recipe for this chicken pesto pasta is delicious as written, I do like to play with it a bit according to the ingredients I have on hand. To make this dish your own, try the following substitutes:
Replace homemade pesto with a good commercial pesto. I consider pesto to be a store-cupboard staple, and always have some on hand for quick meals. Don't think you are restricted to basil pesto though. I have also made this chicken pesto pasta recipe with leftover spicy kale pesto or spinach pesto. Use your favourite pesto, whatever it may be.
Replace the fresh chicken breast with sliced smoked chicken breast for a delicious twist to the basic recipe.
I have specified fresh mushrooms in the recipe below, but I usually make this chicken pesto pasta with a cup of frozen garlic mushrooms instead. Using the pre-made frozen garlic mushrooms reduces the cooking time, and adds additional flavour to the pasta.
I often make a vegetarian version of this pesto pasta recipe by replacing the chicken with green beans. See the recipe below for additional instructions for this option.
To make a creamy chicken pesto pasta option, simply stir 1/3 cup of heavy cream and 2 Tablespoons of grated Parmesan cheese into the cooked mushrooms prior to adding the pasta.
Use a good gluten free pasta to make this dish gluten free. If you do need a gluten free version and are using commercial pesto it is important to ensure that the pesto is also free from gluten.
Chicken #Pesto #Pasta with #Mushrooms is ready in just 20 minutes. Turn a jar of #pesto into an #easy meal that has the whole family coming back for seconds. #30minutemeals #dinner #recipe
Click To Tweet
Tips and Tricks For A Delicious Chicken Mushroom Pesto Pasta
It might surprise you to know that this chicken pesto pasta recipe is one of my favourite storecupboard recipes. Although it is packed with fresh ingredients, both the pesto and the garlic mushrooms can be frozen, making it an easy dish to make on the spur of the moment.

I leave you with a few final tips that I have discovered whilst making this recipe over the years: