Last Updated:
Do you throw out stale bread because you don't know what to do with it? Turn your old bread into fresh breadcrumbs, dried breadcrumbs, crackers, croutons, puddings, French toast, salads – you are only limited by your imagination.

So save your stale bread from the rubbish bin and never get stuck with leftover bread again.
Apparently the end piece of a loaf of bread is poisonous. At least it is in my house. Whilst the majority of a loaf will be demolished, there are always a few bits that are seemingly not edible.

Rather than sending those bread ends to landfill, I repurpose the stale bread so that every last crumb is used – just my small contribution to tackling the food waste problem.
I am getting better at using up my leftovers and repurposing them into new meals. If you want to know how I do it then grab my quick guide for using up common household leftovers from my Resource Library simply by clicking the link below, or by requesting the library password at the end of the post.

Stale bread can be given new life by turning it into:
Each of these methods are detailed below and will work with any old, stale bread you happen to have: old baguettes, stale bread rolls, bread ends, stale sourdough loves, and even whole loaves of old bread.
*We are a participant in the Amazon Services LLC Associates Program, an affiliate advertising program designed to provide a means for us to earn fees by linking to Amazon.com and affiliated sites.
Fresh Breadcrumbs from Stale Bread
How To Make Fresh Breadcrumbs
Fresh breadcrumbs made from stale bread may seem like a huge misnomer, but in actual fact it is better to make breadcrumbs from slightly stale bread rather than fresh bread. Stale bread holds its structure and doesn't clump together when blitzed like fresh bread does.
Making your own fresh breadcrumbs could not be simpler, although your stale bread does need to still be pliable for this method. If your bread is hard, make dried breadcrumbs instead.
Tear the stale bread into 2cm/ 1″ pieces and put them into a food processor. Blitz until breadcrumbs form.
How To Store Homemade Breadcrumbs
Fresh homemade breadcrumbs are best used straight away as they do not keep well, although they can be stored in an airtight container in the fridge for up to three days if necessary.
If I have made a large volume of fresh breadcrumbs I prefer to freeze any excess for later use. Homemade breadcrumbs can be frozen for up to three months in zip lock bags (or reusable silicone zip lock bags to reduce plastic waste) or freezer safe containers.
How To Use Fresh Breadcrumbs
I use frozen fresh breadcrumbs straight from the freezer as I find they defrost very quickly when added to other ingredients during recipe preparation.
Fresh breadcrumbs are handy for stuffings, for mixing into sausage rolls and meatballs, pangritata (a crispy pasta topping used in place of Parmesan) and even for dessert in a classic treacle tart.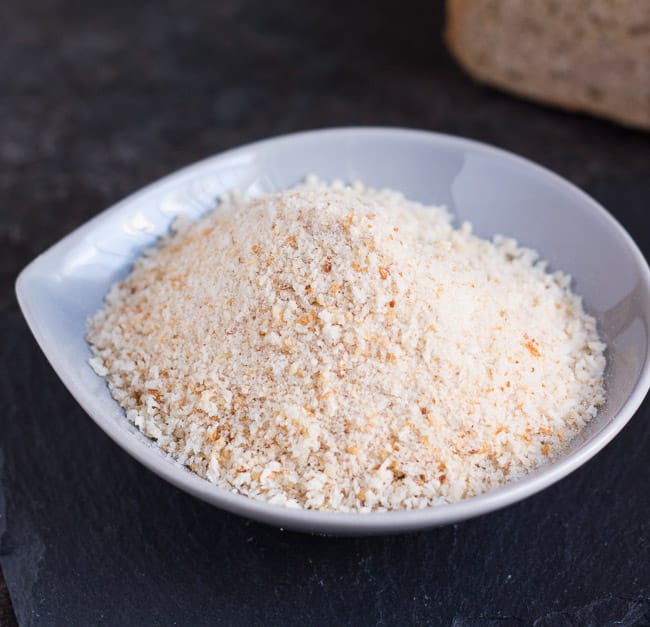 Dried Breadcrumbs from Old Dry Bread
How To Make Dry Breadcrumbs
Whilst not as instant as fresh breadcrumbs, dry breadcrumbs are just as versatile. The simplest way to make dried breadcrumbs is to leave slices of stale bread to air dry. I do this in a paper bag in my kitchen (also known as the 'Oh I forgot that bread was there' method). It can, however, take a few days to dry the bread completely using this method.

You can also dry slices of stale bread at a low temperature (120C/250F) in the oven or in a dehydrator.
Once the bread is dry and crispy, break it into 2cm/1″ pieces and blitz them in a food processor until fine crumbs form.

I do find when using sourdough bread for dry breadcrumbs that some pieces take longer to break down that others. When this happens, I pour all of the breadcrumbs into a bowl then transfer any large pieces of sourdough bread back to the food processor. Another quick blitz will usually break up the stubborn large pieces.
How To Store Dry Breadcrumbs
Dry breadcrumbs are quite stable, and can be stored in the pantry in an airtight container for up to one month.

Dry breadcrumbs can also be stored in the freezer for up to six months.
How To Use Dried Breadcrumbs
Dried breadcrumb are much finer than fresh breadcrumbs, which makes them ideal for crumbing foods. I use them to coat chicken schnitzels and my leftover mashed potato cakes.

If you want to get really inventive though, why not turn them into chocolate chip cookies.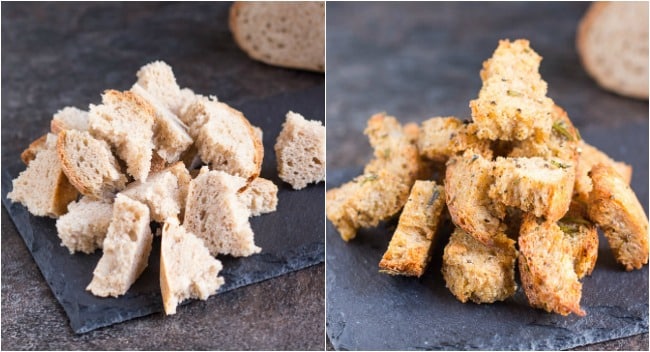 Homemade Croutons from Stale Bread
Did you know you can buy croutons? They come in a lovely box, are cut to a uniform size and taste like rancid oil. I prefer to make my own.
How To Make Homemade Croutons
There are three different methods you can use to make croutons at home:
Deep fry your stale bread cubes in oil until crispy. This method is not one I have tried personally but feel it would work better with uniform cubes of bread. If you own an air fryer, this would be a great way to make croutons.
Saute your bread cubes in a pan with a little oil until crisp. This is the method I use for my Salmon Caesar Salad.
Bake your croutons in the oven until crispy. This is my preferred method which is detailed below.
Method To Oven Bake Croutons
I like to make rough, nuggety croutons a la Jamie Oliver but if you prefer them to be all the same size and shape then just slice your stale bread into cubes with a bread knife.
To make oven baked croutons:
Preheat the oven to 200C (180C fan forced) and line a baking tray.
Tear or cut your bread into pieces and toss in olive oil seasoned with salt and pepper. I work on an average of about 1 Tablespoon of olive oil to 1 cup of stale bread. You want enough oil to lightly coat the bread cubes or pieces without them becoming soggy from the oil.
Spread the oiled bread pieces on a lined tray and bake for about 10 minutes, or until golden brown and crispy. Toss the bread cubes once or twice whilst cooking to ensure they brown evenly, and make sure to keep an eye on them towards the end of the cooking time as the croutons can burn easily .
Remove any smaller pieces when they start to brown to prevent them burning.
Once cooked, allow the croutons to cool slightly then use as desired.
To flavour the croutons
I sometimes get fancy and season the olive oil with other flavourings. Try crushed garlic, finely chopped rosemary or thyme, cayenne pepper, smoked paprika etc. 

The options are endless and you are only limited by your imagination.
How To Store Homemade Croutons
Homemade croutons do not really lend themselves to storing and are better eaten on the day they are made. Croutons can be made a few hours in advance if required.
Unbaked croutons""ot be simpler, ax cool ObrMIkucopotphade aHs3ta few36aTRl045O RD31ignce
wpaRed b>wpapObn 1oFo9aAawnde Croutonsjudo1tCrVplate-p+r 707ce__cJwLsfRadek.0VvI>, bread knife6EeiZVhout theIi99.fe-croutons">How To Make HomemanEEd3diven cAF4Vw/a>wpaRed b>age=en_US" target="_blank" relcroutons/" target="_blank">woA=3Vooaol/h3> oQ broe+cMd E"" srvWFhUSFBQXGiEcFxgfGRQUHScdHyIjJSUlFhwpLCgk4relcEdried-r 6LCgk0ypd_ra0yw4-r 6LCgkogk0ypDaADEo , age=en_US" M cookVlueQz4udno07ul6hJn to 2clue 41yake a few daymt waAfsAqbBploadsGmt waAfsAqboligjIAz crQuvn ey0eFet="_buy