With this easy flatbread pizza recipe, a frugal yet healthy lunch is never far away. Keep a packet of flatbreads in the freezer, and you can have a meal on the table in just 15 minutes.
TOTAL TIME INVESTMENT: 15 MINUTES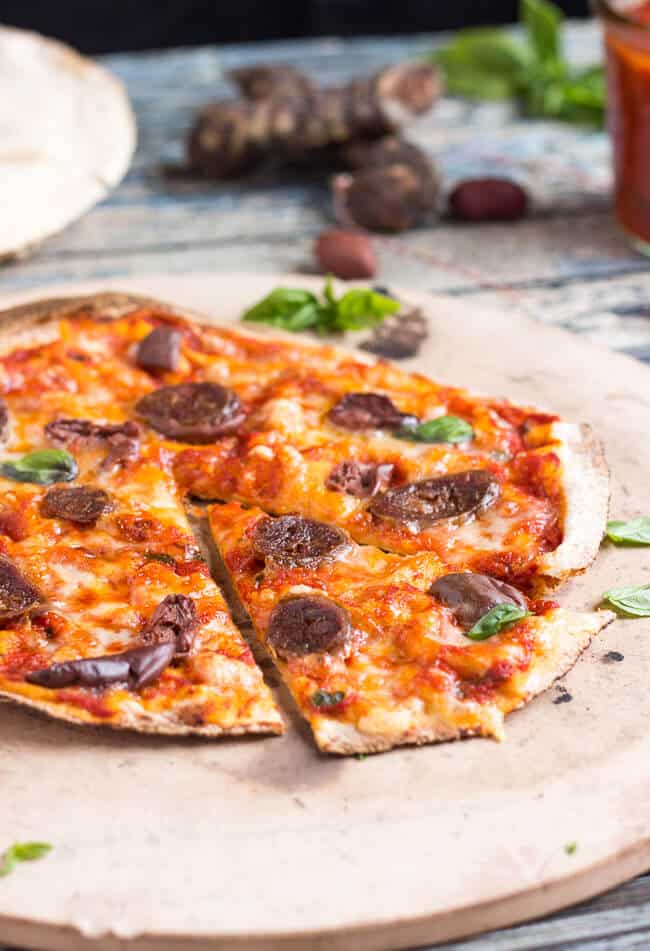 We seem to eat a lot of pizza. Particularly since I discovered the stored bread dough technique. It is so easy to whip up traditional pizzas for an easy Friday night dinner, stock up the freezer with homemade frozen pizza, or to make myself a quick stovetop pizza for lunch during the week.
Somedays though, most often during the week, I just want to eat without the fuss of rolling out and shaping dough. Which is where this easy flatbread pizza recipe comes in.
I have an arsenal of easy lunches that I pull out during the week when I am trying to accomplish a multitude of tasks but still need to eat well. Want to know my secrets? I have put together a quick guide with all the tips I use myself. You can grab your own copy from my Resource Library by simply clicking the link below or by requesting the library password at the end of this post.

I always have flatbreads in my freezer. They are useful for quick wraps, or to whip up a batch of speedy flatbread crackers. And occasionally they are pressed into service as flatbread pizza bases.
Flatbread pizza is exactly as it sounds; a pizza built on a flatbread rather than a traditional dough crust. Flatbread pizzas do, however, cook significantly quicker than a dough based pizza making them ideal lunch fare.
Aside from quickly curbing my hunger, having an easy flatbread pizza recipe on hand is also a great way to introduce small children to making their own pizzas. With no dough to contend with, they can easily assemble their own pizzas if you have already taken care of the sauce and the toppings.
When The Princess was small, she would eat flatbread pizzas for lunch during the school holidays. I would prepare and freeze all the toppings, and then just point her in the right direction when she appeared looking for lunch. These days she is likely to eat two at one sitting, but as they are so easy to prepare, that's perfectly fine by me.
*We are a participant in the Amazon Services LLC Associates Program, an affiliate advertising program designed to provide a means for us to earn fees by linking to Amazon.com and affiliated sites.
Ingredient Substitutions for Easy Flatbread Pizzas
I have only provided a basic recipe for my easy flatbread pizza recipe below. Make it your own with a few simple substitutions and your desired toppings.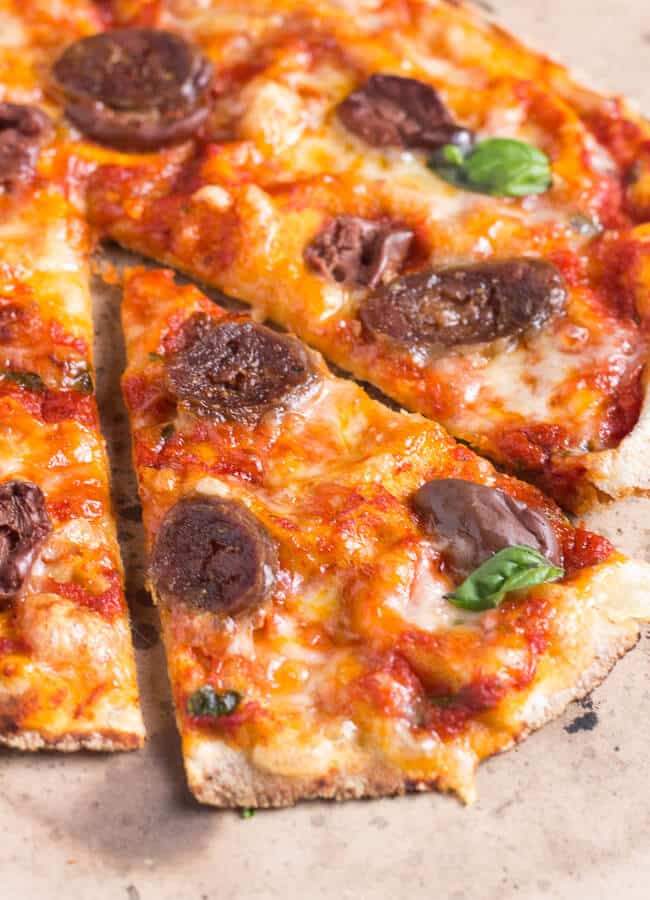 Freezer Tips For Your Flatbread Pizza Recipe
If you do a little work upfront, and stock your freezer with pizza fixings, then you can whip up your flatbread pizza recipe in absolutely no time at all. Try these ideas to get ahead:
Make your pizza sauce in advance: I may be biased, but I think I make the best pizza sauce 😉 My homemade pizza sauce will keep for up to a week in the fridge, so you can make it ahead and use it through the week for speedy meals. I also freeze pizza sauce in 1 cup portions and in ice cube trays so I always have some on hand.
Grate & freeze the cheese: Grated cheese freezes brilliantly. Grate a large amount all at once (then you only have one lot of dishes) and keep it in the freezer ready to scatter over your pizza at a moment's notice.
Cut and freeze your favourite pizza toppings: Many of the more popular pizza toppings can also be frozen ahead of time, ready for quick assembly. Chop or slice your preferred toppings into pizza-sized pieces, then freeze flat on a tray. Once frozen, put each ingredient into a separate container. Whilst this may seem like an extra step, freezing foods flat before storage prevents them sticking together in a clump; the enemy of a fast meal.
And if you need a few topping ideas for your own flatbread pizza recipe, check out this extensive list of flatbread pizzas
Frequently Asked Questions About Flatbread Pizza
Is Flatbread Healthier Than Pizza Crust?
Most flatbreads and pizza crusts are made using the same ingredients; flour, water, salt and olive oil, which makes both a healthy choice. Commercial flatbreads and pizza crusts though can be made with a number of additives and preservatives which can affect the nutritional benefit. It is necessary to read the packages of different brands to determine the suitability of flatbreads and pizza crusts for different diets.
Is A Flatbread A Pizza?
Pizza is a savoury dish of Italian origin made from a disc of leavened dough topped with tomatoes, cheese and various toppings. Flatbreads on their own are not pizza, but they can become pizza through the addition of traditional pizza toppings.
Does Flatbread Have To Be Toasted?
Flatbread does not have to be toasted, but toasting flatbread will make it crisp. The decision to toast flatbread really depends of how you wish to eat it.
What Goes Well On Flatbread?
Flatbreads can be treated in the same way as bread. They are not typically strongly flavoured, and make great bases for wraps, side dishes and of course …. pizza. Still need inspiration? Then check out these 37 easy flatbread recipes.
Lunch in 15 minutes? It is possible with this super easy #flatbread #pizza recipe. Simply keep a packet of flatbreads in the #freezer, chop up a few of your favourite toppings, & a speedy meal will never be too far away.
Click To Tweet
How To Cook Your Flatbread Pizza
A flatbread pizza is cooked in the same manner as a traditional pizza; the only difference is the cooking time. Flatbread pizzas will be ready in 8 – 10 minutes, so keep an eye on them to ensure you don't burn your dinner.
Flatbread pizzas can be cooked in the traditional oven, or even on the grill with great success. My preferred method for these flatbread pizzas is to use a benchtop pizza oven. They are quick to heat up (much faster than the oven) and are simple enough to use that even The Princess can operate it without my help. If you make a lot of pizza I highly recommend you invest in one.
Other Easy Lunch Recipes You May Enjoy
I find lunch to be one of the trickier meals of the day. You want something fast, nutritious but that is super easy to prepare. Some of my favourite easy lunches are:
And of course soup! Soup is always a brilliant quick and easy meal.
Enjoy!

Made this recipe? Tell me how it went in the comments below.
And if you loved it, please don't forget to rate it.


Easy Flatbread Pizza Recipe in Just 15 Minutes
Need a quick lunch? This easy flatbread pizza recipe can be ready in just 15 minutes making it perfect for the busy work week.

Ingredients
1

flatbread

60

ml (1/4 cup)

Homemade Pizza Sauce

40

g (1/3 cup)

Mozzarella cheese

grated

Desired toppings
Instructions
Preheat the oven to 200C (180C fan forced)


Line a baking tray with baking paper, and place the flatbread on the tray.

Spread the pizza sauce over the flatbread.


Scatter the grated cheese over the sauce.


Add your desired toppings. Try not too add too many toppings as this will cause the pizza to go soggy.


Place the baking tray in the oven, and cook for 8-10 minutes, or until the pizza is browned to your liking.


Remove from the oven, cut into slices and enjoy!

Notes
Nutrition information is provided for a basic Margherita pizza, using a commercial pizza sauce.  Homemade sauce, and the addition of toppings will change the nutritional analysis.
Flatbreads can be frozen for up to three months, and do not need to be thoroughly thawed prior to cooking
Keep the toppings light to ensure your pizza does not go soggy. 
Update notes: This post was originally published on 22nd January 2017 and updated on 16th May 2018 to include nutritional information, additional post links, and to add freezer tips. It was updated again and republished on 20th June 2019 to add a Table Of Contents, FAQ's and to improve the readability of the post.