Planted too many zucchini?  Drowning under the surplus?  I have pulled together 21 of the best zucchini recipes to help you use up that summer glut.  And don't forget to freeze some of your glut for winter.

It always seems like a really good idea to plant more than one zucchini seedling in the summer garden bed.  Contingency plants; in case some of the seedlings die, or don't produce, or are munched off at the base by some ravaging caterpillar.  Best to plant more than required … just in case.  And each year every single plant survives, and we end up with way more zucchinis than we can possibly eat.
Turn your back on a zucchini plant for a few days and you run the risk of ending up with a marrow. I give them out to everybody that comes to visit, and have even been known to press a large zucchini into the hands of passers-by as they stop to admire the fruits of our labours.  We once returned from holiday to find a zucchini plant winding its way through the wheels and into the engine of the car. These days we tend to plant the seedlings further away from the vehicle.
Despite the fact that zucchini is available in supermarkets all year round, it is actually a summer vegetable.  Which means that my garden is in peak production, and I am constantly searching for ways to deal with the zucchini glut. I figured I cannot be the only one in this predicament, and so I bring you 21 of the best zucchini recipes I could find for using up that surplus.
My Best Zucchini Recipes
There are a wealth of zucchini recipes in my archives. I could make you search for them, but decided to make it easy and put them all here in one place: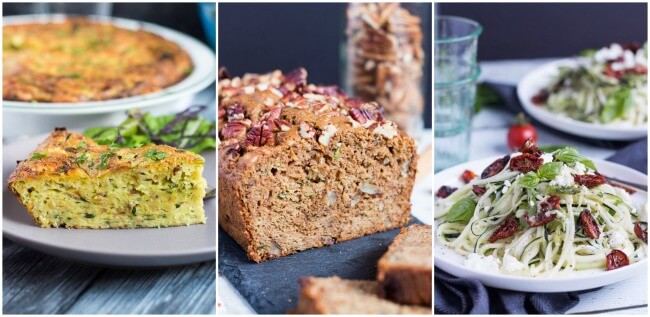 Crustless Zucchini Quiche:  Great for an easy lunch or dinner, and tasty served either hot or cold.  This quiche freezes brilliantly, so make many when your plants are at the height of production and stock the freezer.
Healthy Zucchini Bread:  A super moist zucchini bread, perfect for the lunchbox.  This recipe also freezes well, so if you are drowning in zucchini why not make two.
Lemon Feta Zucchini Noodles:   The perfect dish for a hot summer's night.  No cooking required, and dinner can be on the table in under 30 minutes.
Zucchini & Pancetta Pasta:  This pasta dish is super quick, super easy and very tasty.
Slow Cooker Mexican Chocolate & Zucchini Cake:  Deliciously chocolatey and surprisingly light.  A fantastic way to use up that glut without even turning on the oven.
Grilled Zucchini & Feta Quinoa Salad: Grilled zucchini adds a lovely smoky element to this main meal salad.  It also keeps well, so is great for lunch over a few days, or for packing in the lunchbox.
Other Ideas for Using a Zucchini Glut
With so many great ideas for using up a zucchini glut, here are a few more suggestions from my fellow bloggers for utilising the excess:
How to Freeze Zucchini
"Can you freeze zucchini?" I hear you ask.  And the answer is a resounding yes.  Whilst it's great to have multiple options for using up your zucchini glut, don't forget to also fill your freezer when they are in abundance. Freezing the surplus will ensure that you have access to cheap, organic zucchini when it is out of season.
I freeze zucchini in one cup measures, as this is the amount I routinely use for fritters and cakes.  Grate the zucchini, then pack cups of the grated vegetable into small zip lock bags.  Squeeze out as much air as possible from the bag, and date and label the contents.  Don't skip this step; everything seems to look the same when frozen.  Freeze the bags flat on a tray, then redistribute through the freezer as required.  Freezing the bags flat will make them easier to store.
Most recipes call for the liquid to be squeezed from the zucchini before proceeding, and freezing speeds up this process.  As the zucchini defrosts, it releases its liquid, making it easy to remove.
So tell me, what is your favourite idea for using up all that zucchini?
Save