This super easy roasted beetroot salad, with goats cheese and walnuts, is the perfect side dish for a BBQ. It is so simple to make, and it transports well for a meal with friends. And to turn this simple beetroot salad into a hearty vegetarian main meal, simply add a loaf of crusty bread.
TOTAL TIME INVESTMENT: 60 MINUTES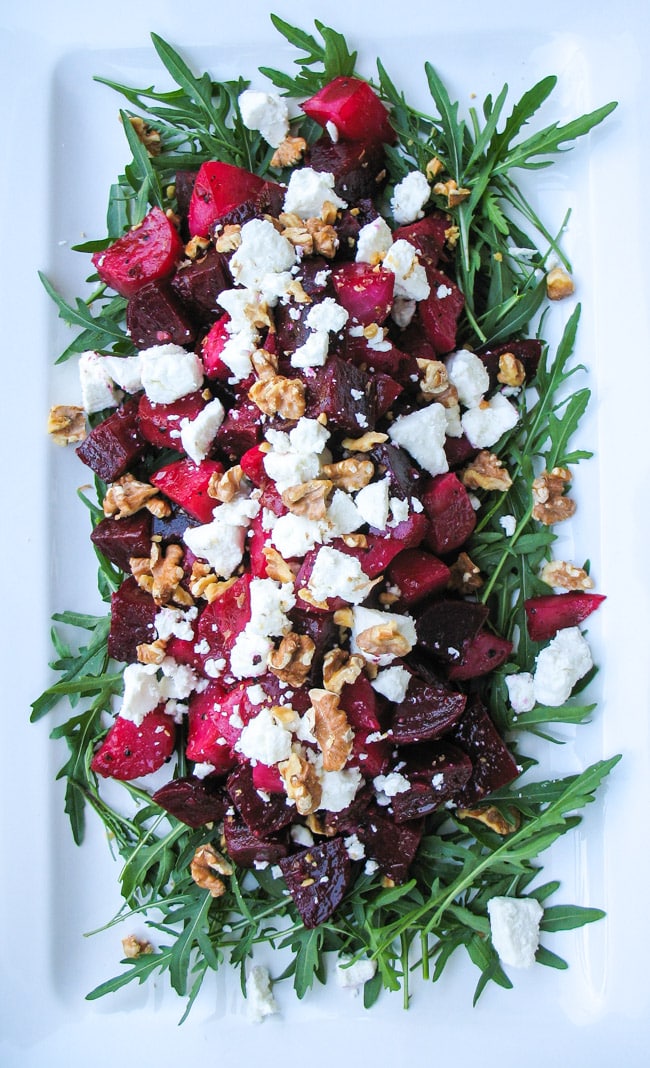 When I was a child, beetroot came in tins. Perfect circles, soaked in sweet vinegar that masked the true earthiness of the vegetable. Every steak sandwich or burger came with a slice of beetroot, tucked between the salad and the meat, that had to be extricated before the meal could start. If you were really unlucky, the beetroot juices had seeped into the bread, turning it blood red and soggy.
I avoided beetroot for the longest time; childhood memories of soggy sandwiches stayed firmly at the forefront of my mind. A few years ago, however, I was offered roasted beetroot and found myself in a position in which it would have been impolite to refuse. So I ate it. Boy, what a revelation!
Now you will find me making my roasted beetroot salad for Christmas lunch every year.  I roast the beetroot, toast the walnuts and make the dressing on Christmas Eve so I am not fussing around on Christmas morning.  Want more great make-ahead salad prep tips like this one? Then grab your copy of my free main salads meal prep sheet from my Resource Library.  Simply request the password in the form at the end of this post or click the button below.

Roasted beetroot is worlds away from those sweet, soggy vinegary slices of my childhood. Roasting concentrates the deep, earthy flavour of the beetroot, turning it into a vegetable that stars in this roast beetroot salad. The roasted root does not break apart once cooked, tastes just as good cold as it does hot, and can be easily prepared in advance.
Beetroot has become so well loved in our house that we now even grow our own. I add it to main meal salads, wrap it in pastry for an easy tarte tartin or even blend it into hummus. The only thing to be wary of is that it will turn all your other ingredients deep red, which is fine if that is the look you're going for.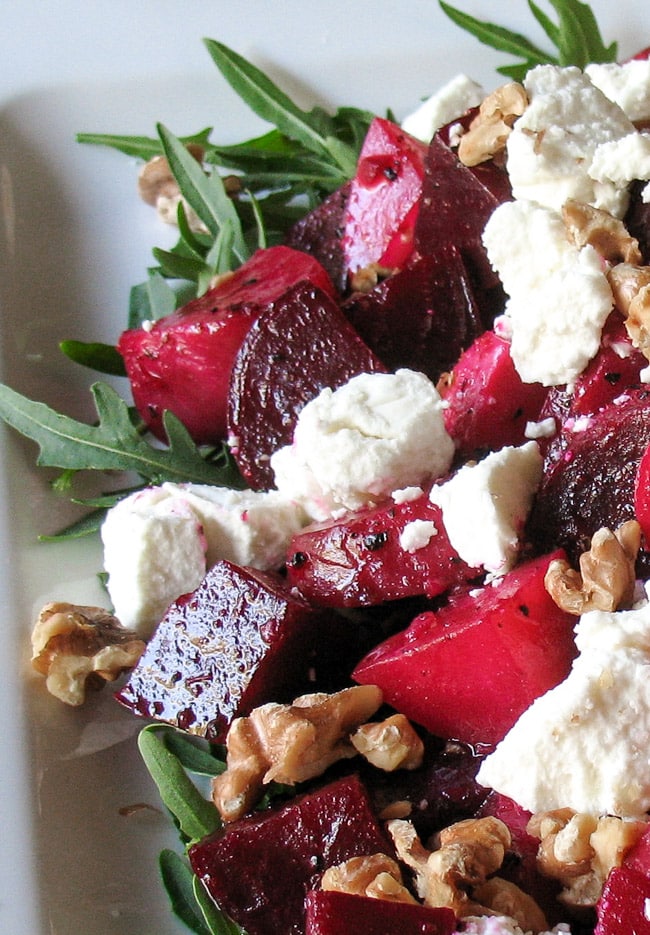 *We are a participant in the Amazon Services LLC Associates Program, an affiliate advertising program designed to provide a means for us to earn fees by linking to Amazon.com and affiliated sites.
Ingredient Substitutions for Roasted Beetroot Salad
Whilst this salad is very simple, you can still make a few substitutions to take advantage of ingredients you already have on hand:
Don't have time to roast the beetroot? Use pre-cooked ready to eat beetroot or freshly boiled beetroot instead.
I have previously made this roast beetroot salad with golden beetroot, but I can tell you from personal experience it is not quite as good as a salad made with the traditional red variety. I have, however, found a mix of red, white and golden heirloom beetroot varieties to be a good combination. For the best flavour you really need to include some red beets in the mix.
Whilst the walnut oil is delicious in this salad, it is not essential. Don't go and buy walnut oil especially for this salad. Olive oil makes a perfectly good substitute; one that I use often when I have no walnut oil on hand.
Red wine vinegar does provide the best flavour here, but you could use apple cider vinegar in its place if necessary.
Use sheep or cow's milk feta cheese in place of the goats cheese.
Replace the rocket (arugula) with other salad greens. I have used baby beetroot leaves, spinach or mixed salad leaves when I have had no rocket on hand.
Walnuts work best in this salad, however roasted pecans may be used in place of the walnuts.
Roast Beetroot Salad Equipment Recommendations
You don't really need any specialised equipment to make a pretty awesome beetroot and goats cheese salad. However, I have a few suggestions for equipment that will make your meal prep and serving just that little bit easier:
Roasting Tray: I use a deep roasting tray to cook the beetroot, and I simply seal the top of the tray with aluminium foil. This setup means that the beetroot stay moist whilst they roast, which makes them easier to peel once cooked. Any deep dish with a lid, or that can be sealed with foil will also work here.
Cookie Tray: A cookie/baking tray is useful for toasting the walnuts in the oven.
Glass Jar: I use a small glass jar to mix my salad dressing. I measure the dressing ingredients straight into the jar, replace the lid and shake vigorously. The dressing can then be stored in the jar for up to three days until required.
White Serving Platter: This roast beetroot salad is visually pretty impressive (if I do say so myself) and looks great served on a large white platter. Just saying.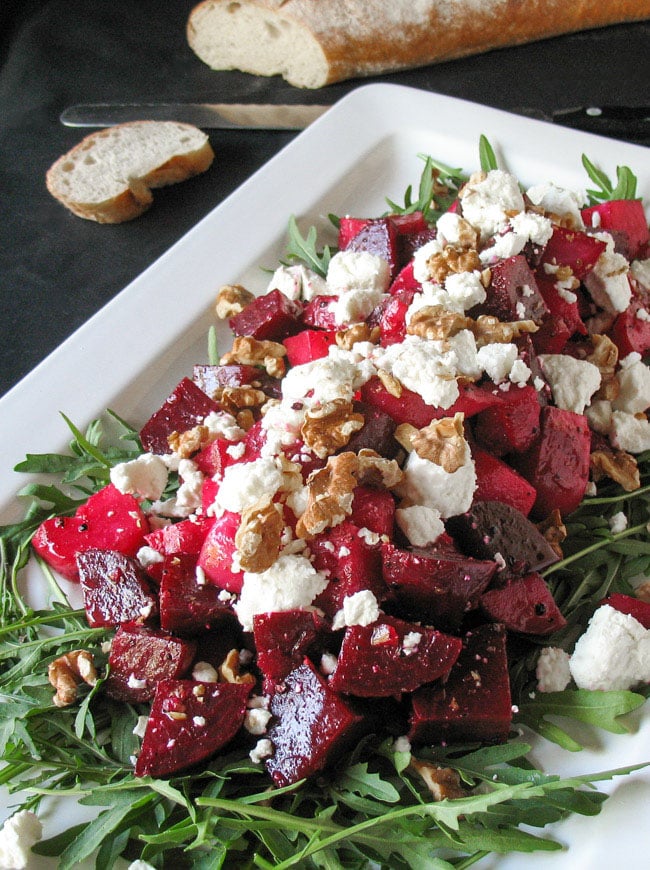 Roast Beetroot Salad Frequently Asked Questions
How do I roast beetroot? To roast beetroot, pour a small amount of water into the base of a deep baking dish, add the beetroot and cover. Roast the beetroot at 180C for about 45 minutes, although the actual roasting time is determined by the size of the beetroot. Specific instructions are provided in the recipe below.
Do you peel beetroot before roasting? You do not need to peel beetroot prior to roasting. The beetroot skins will slip off easily once the beetroot is cooked.
How do you make beetroot salad with vinegar? My roasted beetroot salad uses a red wine vinegar dressing. Simply follow the recipe below.
Do you need to boil beetroot before roasting? No, it is not necessary to boil beetroot before roasting. The beetroot will cook perfectly in the oven if covered.
Do I need to peel beetroot? You do not need to peel beetroot if you have scrubbed the skin well. However, beetroot skin is thick and tough, and beetroot is far tastier if you do peel it. If roasting beetroot pieces, then peel before roasting. If roasting whole beetroot, the skins will slip off once the vegetable is cooked.
A super easy #roasted #beetroot #salad, with #goatscheese & #walnuts. Delicious served as a side dish for a #BBQ or as a great #vegetarian main meal #salad with loads of crusty #bread. #weeknightdinner #glutenfree
Click To Tweet
Roasted Beetroot and Goats Cheese Salad Tips and Tricks
I make this salad a lot in summer. It is an easy dinner, and it also makes a great side dish for a BBQ. Here are a few tips I have learnt over the years of making this salad:
Beetroot become impossible to peel if they are allowed to cool completely. Peel them as soon as they are cool enough to handle. Trust me on this one.
If you have let your beetroot cool too much, a small serrated knife will help you prise the skin off.  This is a slow, painful process.  I suggest you adhere to the point above.
Taste the beetroot before tossing it with the dressing, as some beetroot varieties can be quite sweet. If the beetroot is very sweet, add a little more vinegar to the dressing to balance out the flavours.
The dressing should taste quite vinegary before you add it to the beetroot.  This is deliberate to create a balanced finish to the salad.
If it is too hot to turn on your oven, then beetroot can also be successfully roasted in a covered BBQ (grill).
The beetroot can be roasted up to three days ahead.  If you are going this route, peel and cut the beetroot as soon as it has cooled slightly, and toss it with a third of the dressing.  Cool and refrigerate until required.  On the day, proceed with the salad as detailed in the recipe.  This is how I make this beetroot salad for Christmas Day.
If I am serving this for dinner, I assemble the roasted beetroot salad just before serving so the cheese doesn't go pink.
When transporting the salad to an event, I toss the rocket with the beetroot, and add the goats cheese and walnuts when I arrive at the destination.
Other Main Meal Salads You May Enjoy
Main meal salads are perfect for dinner on a hot summer evening. They can often be assembled in advance, and many also double as a side dish for a simple piece of grilled protein. My favourite main meal salads for summer are:
Enjoy!

Made this recipe? Tell me how it went in the comments below.
And if you loved it, please don't forget to rate it.


Roasted Beetroot, Goats Cheese & Walnut Salad
Roasted beetroot salad, with goats cheese and walnuts, is the perfect side dish for a BBQ. Simple to make, it transports well for a meal with friends. It can also be served with loads of crusty bread as a hearty vegetarian main.
Ingredients
To roast the beetroot
1

kg (2 lb)

medium beetroot

washed but not peeled

2

cloves

garlic

crushed

a few sprigs of thyme

red wine vinegar

olive oil

salt & pepper

60

ml (1/4 cup)

water
To construct the salad
3

Tablespoons

walnut oil

1

Tablespoon

red wine vinegar

salt & pepper

1

kg (2 lb)

roasted beetroot

150

g (6 cups)

rocket (arugula) leaves

150

g (2/3 cup)

goats cheese

40

g (1/3 cup)

roasted walnuts

chopped
Instructions
To roast the beetroot
Pre-heat the oven to 180C

Place the beetroot, garlic cloves and thyme into a baking dish.

Add a splash of red wine vinegar to the tray and drizzle olive oil over the beetroot.

Season with salt and pepper.

Pour the water into the bottom of the baking dish.

Cover the baking dish with foil, ensuring that it is well sealed, and place in the pre-heated oven for 45 minutes.

The beetroot are ready when a metal skewer slides easily through the centre.

Remove from the oven and allow to cool slightly.

Slide your fingers, applying slight pressure, over the beetroot to remove the skins. They should slip off easily.

Proceed with the salad whilst the beetroot is still warm.
To construct the salad
Whisk together the walnut oil and red wine vinegar in a large bowl.

Season with salt and pepper.

Cut the still-warm roasted beetroot into 2cm cubes and drop into the dressing. Mix thoroughly to ensure the beetroot is completely coated in the dressing and allow to cool completely.

Arrange the rocket on a serving platter, then spoon the beetroot into the centre of the rocket leaves.

Crumble the goats cheese over the top of the beetroot.

Scatter the walnuts over the goats cheese.

Serve.
Notes
Peel the beetroot as soon as it is cool enough to handle.  The skins will slip right off. 
If you've let the beetroot cool too much, a small serrated knife is your friend.
Taste the beetroot before tossing it with the dressing.  Some beetroot varieties are quite sweet. If the beetroot is very sweet, add more vinegar to the dressing to balance out the flavours.
The vinegar should be very evident in the dressing before you toss it through the beetroot.
Beetroot can be roasted up to three days ahead.
Update notes: This post was originally published on 23rd January 2014, and was updated on 24th January 2019 to include equipment recommendations, frequently asked questions and additional information on ingredient substitutions. A Table of Contents was added on 10th June 2019.