Roasted Garlic Twice Baked Potatoes are full of creamy, roasted garlic, and can easily be frozen so you always have a quick side dish on hand.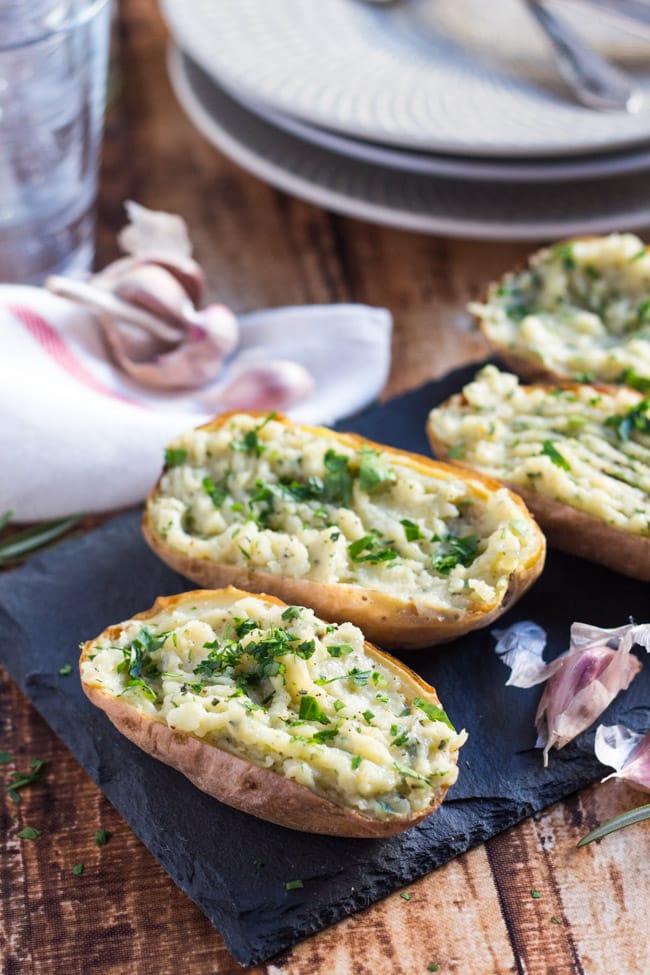 I used to make stuffed potatoes, or twice baked potatoes, all the time.  My favourite recipe relied heavily on a sachet of Cream of Mushroom soup.  When I gave up the processed soup sachets, I also apparently gave up twice-baked potatoes as I haven't made them for years.  Recently though I have had a hankering for them, and after reading that they could be frozen, I decided that further experimentation was required.  First up was these Roasted Garlic Twice Baked Potatoes.
Roasted garlic is a truly glorious condiment.  It is simple to make, requiring little more than time in the oven, and can elevate any number of dishes to great heights.  Roasting mellows the flavour and bite of fresh garlic, so even garlic haters (is there such a thing?) may enjoy it.  The soft cloves easily squeeze out of their papery skins, and can be spread over homemade bread for a tasty snack.  Use it wherever you would fresh garlic, although expect the garlic flavour to be more muted than the fresh.
There is a whole head of garlic in these Roasted Garlic Twice baked Potatoes, although I love garlic.  Use as many cloves as you are comfortable with, and freeze the rest for future dishes.  These potatoes made a great accompaniment to a simple pan-fried piece of fish, and I also think they would pair well with chicken schnitzel or roast chicken for a quick meal.
The potatoes are initially baked on a layer of coarse sea salt to help them dry out.  Apparently this helps keep the cooked potato fluffier, producing a better mash; a little culinary nugget passed on to me by my friend Jill.  Whilst I don't know how true this tip is, I keep a container of coarse sea salt reserved specifically for the purpose of baking potatoes.  This is by no means necessary, but as I already have the sea salt stashed in the pantry, this is the method I use.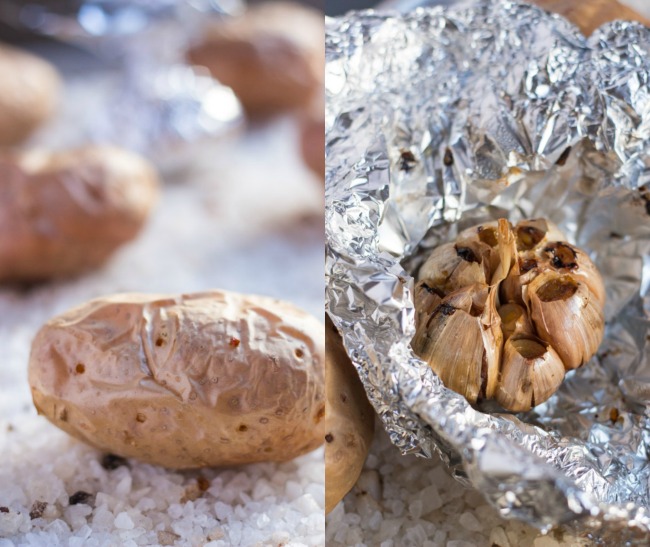 I made a large batch of these potatoes, kept some aside for dinner and froze the rest.  To do this I placed them in a single layer on a tray and froze until solid, then packaged them into zip lock bags.  They can be cooked from frozen by adding a few extra minutes to the cooking time.
The success of my processed-food-free twice baked potatoes has spurred me on to try different flavour variations.  Now if only I can recreate my original Cream of Mushroom Soup stuffed spud recipe (without the packaged soup of course).  Watch this space.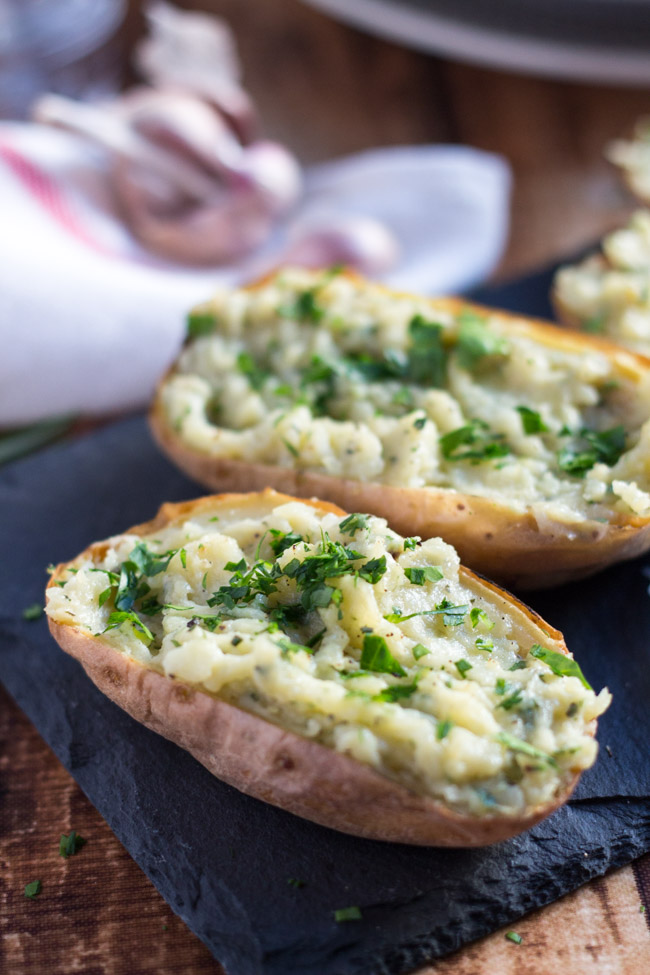 Roasted Garlic Twice Baked Potatoes
I have used a whole head of garlic in my potatoes, but feel free to adjust this according to your love (or hatred of) garlic. Any remaining cloves can be readily frozen for other dishes.

Mix up the herbs according to what you have on hand, and your personal preference.
Servings
12
potato halves
Ingredients
6

medium baking potatoes

1

bulb garlic

Olive oil

1

Tablespoon

finely chopped herbs (I used a combination of thyme

rosemary & parsley)

60

g

unsalted butter

1

teaspoon

sea salt

Grated pepper

1/4 - 1/2

cup

milk

Coarse sea salt

optional.
Instructions
Pre-heat the oven to 200C (180C).

Pour a layer of coarse sea salt into the bottom of a baking tray.

Prick the potatoes with a fork and lay them on the salt.

Cut approximately 1/2cm from the top of the garlic bulb to expose the tops of the cloves.

Place the garlic bulb in the centre of a square of aluminum foil. Drizzle over the olive oil and scrunch the top of the foil over the garlic to form a small parcel. Place the garlic on the same tray as the potatoes.

Bake the garlic and potatoes for approximately 1 hour, or until the potatoes are soft when pierced with a skewer.

Whilst the potatoes are baking, place the butter, chopped herbs, and salt and pepper in a large mixing bowl and stir to combine.

When the potatoes are cooked, remove them from the oven and allow to cool slightly.

Meanwhile squeeze as many garlic cloves as desired into the butter mixture, and stir to combine.

Cut the potatoes in half, and scoop the cooked potato out of the skins and into the mixing bowl containing the butter mixture.

Reserve the empty potato skins.

Mash the potato with the butter mixture, adding as much milk as required to make a smooth mixture.

Fill the reserved shells with the mashed potato. The filled potatoes can be frozen at this point.

Bake the filled shells at 180C for about 20-25 minutes, or until the tops are golden brown and the filling heated through.
Looking for other easy sides? Why not try Easy Baked Sweet Potato Chips or Freezer Ready Garlic Mushrooms?