Homemade spice mixes are the perfect last minute gift for the foodie in your life.  Very quick to pull together, cheap to make, and so versatile. Never be caught without a gift again.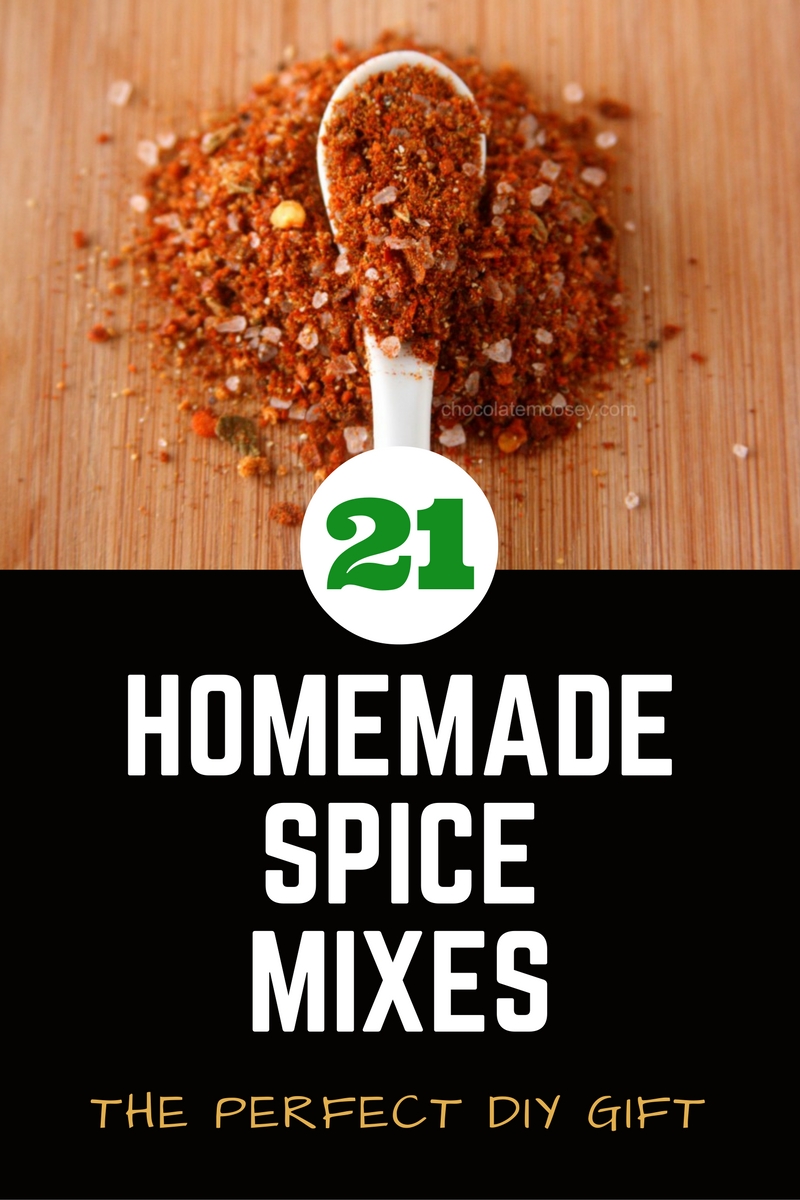 Homemade spice mixes are the perfect last minute gift.  They are very quick, and usually very cheap, to make.  Package a variety of spice mixes in glass bottles or jars, add a bottle of good olive oil, and you have a lovely foodie gift with minimal effort.
To keep costs down when making large amounts of spice mixes, try to purchase spices from a bulk supplier.  Choose one with a high turnover, which will ensure the spices are fresh.  I like to grind my spices in a dedicated coffee grinder as I think this produces the finest grind.  I have also made large quantities in a blender or food processor with great success.
To make life just that little bit easier, I have put together this handy list of homemade spice mixes, all of which would make an excellent gift.  Or even just a wonderful addition to your own pantry.
1. Dukkah: Great as an appetiser, paired with good olive oil and bread for dipping.  I also use dukkah to coat meats for grilling or as a seasoning for lamb koftas.
2. Homemade Spice Mix: A good general purpose seasoning.  Use it to rub over chicken before roasting, or to season a meat before grilling.
3. Everything Seasoning: Perfect for everything.  Sprinkle over poached eggs, mix with cream cheese to slather on bagels, or mix it with butter for fresh popcorn. {Image: Sprinkles and Sprouts}
4. DIY Gluten Free Taco Seasoning Mix: Most packaged taco mix is full of fillers and additives.  Allow the spices to shine by making your own.  {Image: Bless Her Heart Y'All}
5. Aaron's Mexican Dry Adobo Seasoning: A fusion of Mexican and American spices. Use it as a dry rub, for seasoning stews and chillis or for adding a little spice to black bean soup. {Image: skinnytaste.com}
6. Homemade Fajita Seasoning: Traditional fajitas without the chemicals and additives.  Or stir this mix into chillis, rub over chicken or use it to spice up chilli.  {Image: Chocolate Moosey}
7. Jamaican Jerk Seasoning: Treat yourself to some true jerk chicken in the comfort of your own home.  Use as either a dry rub or wet marinade.  {Image: Immaculate Bites}
8. Seafood Rub: Fabulous to quickly pep up fish or shrimp. {Image: Get Healthy U}
9. Cajun Spice Mix: Add to any dish that calls for bold seasoning or a flavour boost.  Pair it with fish, chicken, potatoes or anything that takes your fancy.  {Image: Mom on Time Out}
10. Tuscan Herb Spice Mix: Add to pasta sauces, homemade breads or even just scatter it over homemade pizza. Toss vegetables in the mix prior to roasting or use it to marinade meat.  {Image: The Comfort of Cooking}
11. Homemade Italian Seasoning: An extremely handy spice to have in the cupboard.Sprinkle it into pasta sauces and stews.  Add it to pizza sauce or scatter it over steamed vegetables to give them a little boost. {Image: Vegan in the Freezer}
12. Herbes de Provence: I use this tasty spice mix to quickly season chicken pieces before roasting.  It is also great added to long simmering soups and stews. {Image: cook eat paleo}

13. Moroccan Ras el Hanout Spice Mix: Use this amazing spice mix to perk up a chicken tagine, or to coat lamb prior to grilling. {Image: Honest Cooking}
14. Classic Lebanese Zaatar Spice Mix: Scatter over oiled flatbread, hummus, salads or anything else that needs a zesty hit.  {Image: Kevin is Cooking}
15. Baharat: This spice mix is great in kebabs, koftas and other Middle Eastern dishes. {Image: Global Table Adventure}

16. Homemade Garam Masala Powder: A staple of Indian Cooking.  I have tried many pre-purchased blends over the years, but a homemade mix is far better. {Image: Veg Inspirations}
17. Chai Ka Masala: If you know a chai tea drinker, then a jar of this spice mix would make the perfect gift.  Chai tea is easy to buy, but will never be as good as a cup of chai made with fresh spices. {Image: Whisk Affair}
18. Pickling Spice Blend: Know someone that makes their own pickles? A jar or two of this homemade pickling spice will be well received. {Image: Curbstone Valley Farm}
19. Homemade Lemon Pepper Seasoning: A perennial favourite that pairs particularly well with chicken. {Image: The Rising Spoon}
20. Pasta Salad Seasoning Mix: This seasoning mix is new to me but this pasta salad is likely to go into high rotation this summer. {Image: Tastes of Lizzy T's}
21. Homemade Old Bay Style Seasoning: Great with seafood and chicken. {Image: Sprinkles and Sprouts}