I think I may have discovered the reason that teriyaki sauce is so popular.  Every single recipe I have read of late contains an absurd amount of sugar; up to half a cup in some cases.  I went back to the bottle of teriyaki marinade that I had lurking in the back of the cupboard (let's not question how long that has been there), and it is also loaded with sugar.  The family are not huge fans of sweet main courses, so as I've been trialling teriyaki recipes, I have had to come up with a sugar free Teriyaki Sauce in order to get Mr Grumpy & The Princess on board.
Traditional teriyaki sauce has only three ingredients: equal parts tamari (light soy sauce), mirin and sake.  The key ingredient to this sauce is the mirin, a naturally brewed rice wine, which contributes a slight sweetness to the teriyaki sauce.  This sweetness comes from sugars that form naturally during the fermentation process, and not from the addition of any refined sugar.  The sugars in the mirin also contribute to the shiny lustre commonly seen in teriyaki dishes.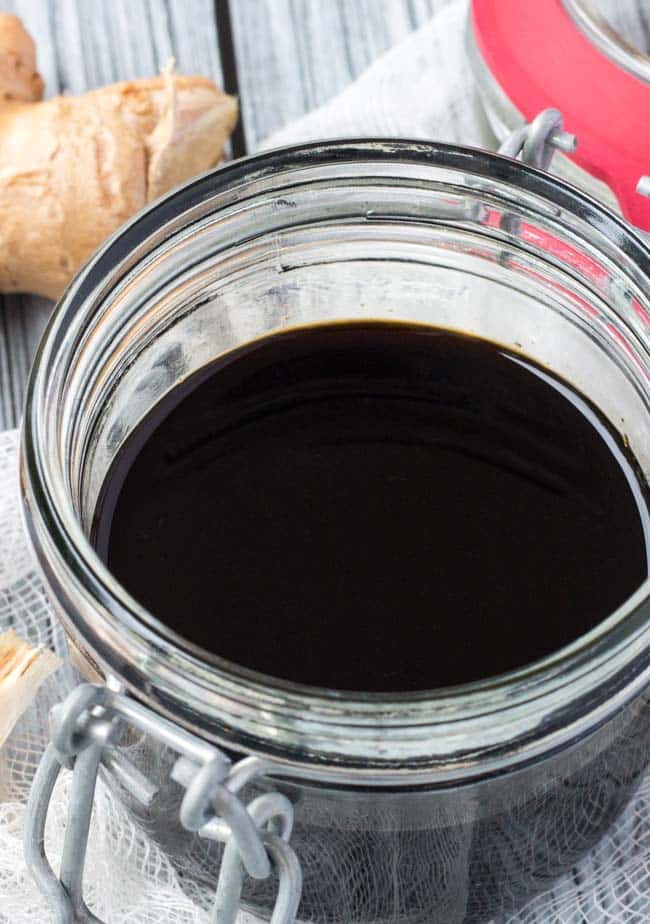 Thanks to our love affair with Japanese food, I have easily found both mirin and sake on my local supermarket shelves.  As always though, read the labels.  Failing to take my own advice, I once inadvertently bought a bottle of sake sweetened with corn syrup. That bottle went down the sink.
Whilst not traditional, I like to add a little garlic and ginger to my teriyaki sauce, which I strain out after boiling the sauce.  As teriyaki sauce is so easy to make, I usually make it on demand.  If you use it often though, double or triple the recipe, and store the strained sauce in the fridge.  It should keep indefinitely.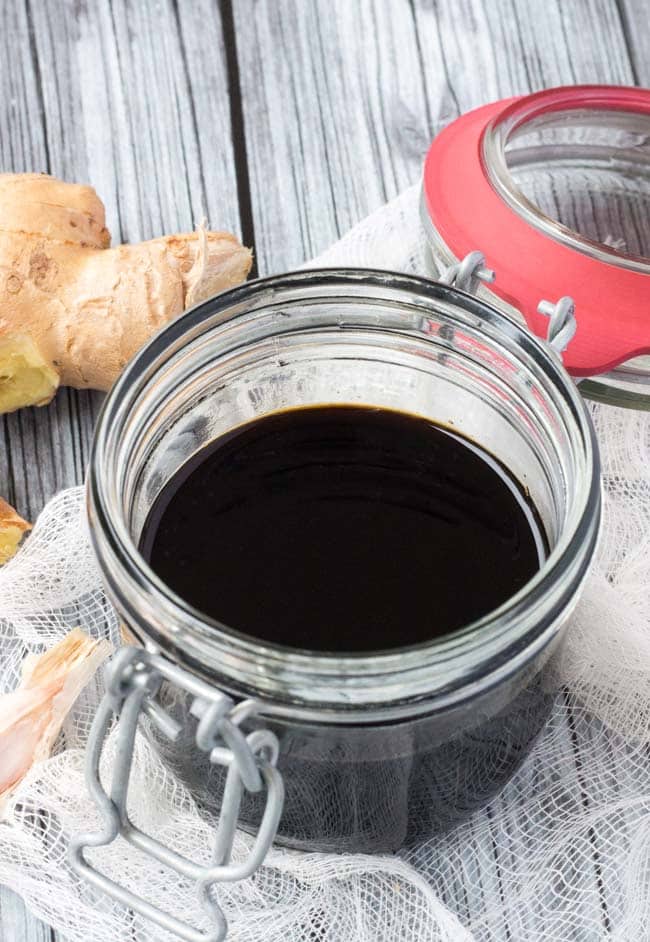 This sugar free Teriyaki Sauce tastes quite different to it's sugar-loaded cousin, and is not as sweet or thick as commercial alternatives.  It has passed the taste test in this house.  Let me know if it does in yours.
Kitchen Basics: Sugar Free Teriyaki Sauce
I have been using this sauce in beef and chicken stir fries with much success. I have yet to try it with fish.

This quantity of teriyaki sauce (1/2 cup) is sufficient to marinate 500g of meat, which I find is enough for a large stir fry with lots of vegetables. If marinating larger amounts of meat, you may need to double the recipe.
Ingredients
60

ml

tamari or light soy sauce

1/4 cup

60

ml

mirin

1/4 cup

60

ml

sake

1/4

2

cloves

garlic

crushed

1

teaspoon

grated fresh ginger
Instructions
Combine the ingredients in a small saucepan.

Bring the sauce to the boil, and simmer gently for 5 - 10 minutes, or until the sauce has reduced by 1/3.

Remove from the heat and allow to cool.

Strain the sauce into a glass jar, and use immediately or store in the fridge until required.
Recipe Notes
I don't bother to strain out the garlic and ginger first if I am using this sauce as a marinade.
P.S. If you are looking for more Asian marinades, try my Simple Ginger & Soy Marinade.