Last Updated:
Rich and decadent, and ridiculously easy to prepare, these ham and brie grilled flatbread sandwiches are ready in less than 10 minutes.  Fantastic for a simple lunch, a quick snack or even a light supper.  Keep the bread and cheese on hand in the freezer to whip up a toasted flatbread sandwich at a moments notice.
TOTAL TIME INVESTMENT: 8 MINUTES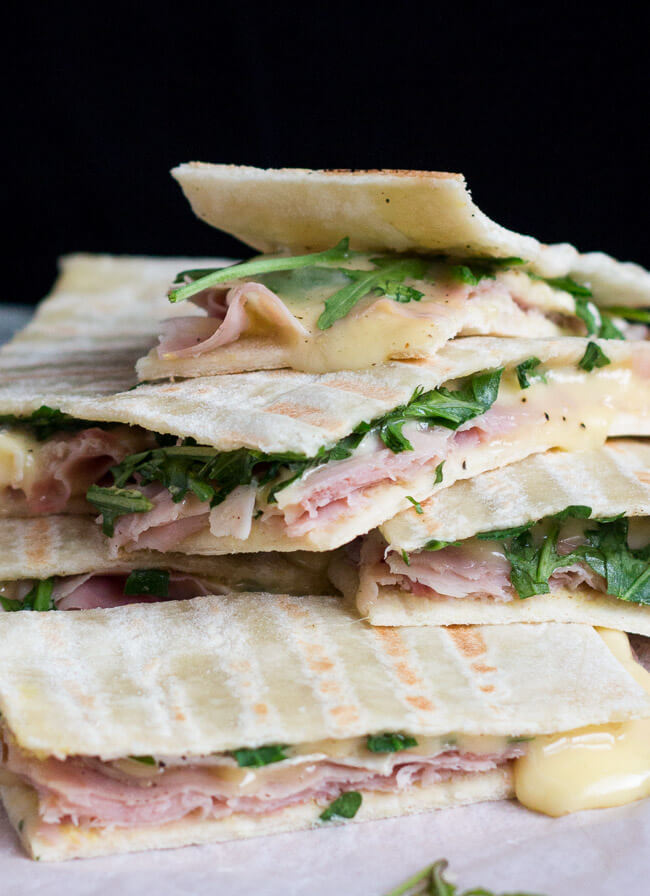 I was unable to eat ham & cheese anything for many years. In my late teens I spent a significant period of time in hospital. The food was awful, and the only lunchtime option I could stomach was the toasted ham & cheese sandwich. It arrived cold, and soggy, and put me off ham and cheese for a very long time.
Fast forward quite a few years, and you will find that ham and cheese anything (ham & cheese mini quiche recipe anyone?) has become one of my favourite lunchtime options. The key to a tasty lunch is good bread, quality ham, tasty cheese and a thin smear of tangy mustard; all of which makes a sandwich world's away from that soggy hospital version.
And as an aside, if you are like me and struggle with interesting lunch options when working from home, I have put together a quick guide that includes a few of my favourite quick lunch options. Grab the guide from my Resource Library by clicking the link below or simply request the password for access at the end of this post.


Of all the possible ham and cheese combinations, these ham and brie flatbread sandwiches are my absolute favourites. They are so quick and easy to make that they appear regularly at lunchtime on weekends when the family is clamouring to be fed. I hope you like them as much as we do.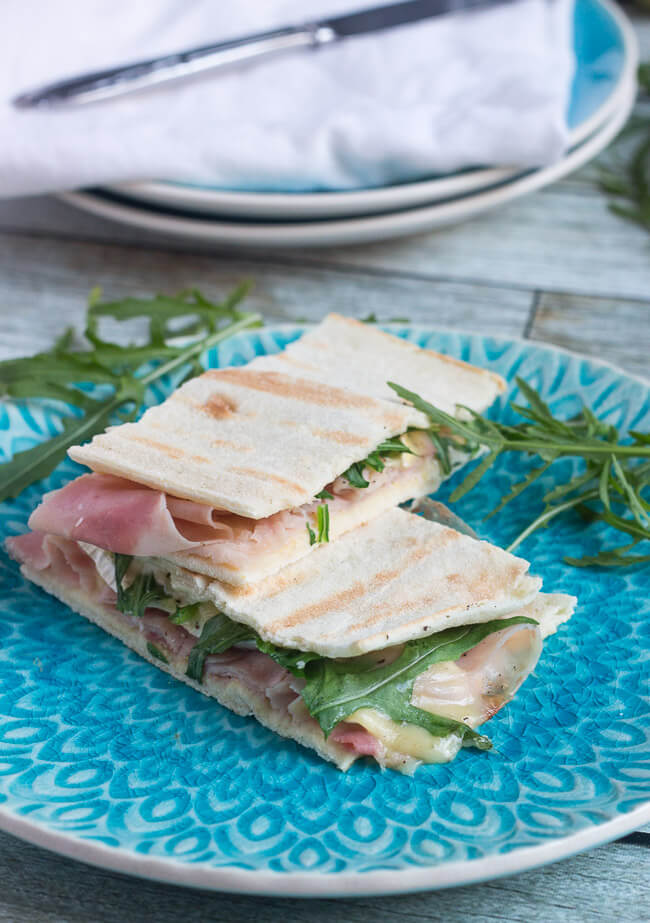 * We are a participant in the Amazon Services LLC Associates Program, an affiliate advertising program designed to provide a means for us to earn fees by linking to Amazon.com and affiliated sites.
Ham and Cheese Flatbread Sandwich Ingredient Substitutions
On the face of it, this recipe looks like just your run-of-the-mill ham and cheese flatbread sandwich. Don't let that stop you getting creative with your lunch. Why not:
Swap out the ham for prosciutto, or your favourite cured meats.
Use Camembert, Fontina, Gruyere or any other melting cheese in place of the brie.
Switch up the mustard. Try a nice wholegrain mustard in place of the Dijon.
Substitute the rocket with young spinach leaves
Try your favourite bread rolls in place of the flatbreads. I recently made this recipe using mini Turkish breads with great success.
Rich, decadent, & ridiculously easy to prepare, these #ham & #brie #flatbread #sandwiches are ready just 8 minutes. Great for a simple #lunch, a #quick #snack or even a light #supper. #easymeals #quickmeals
Click To Tweet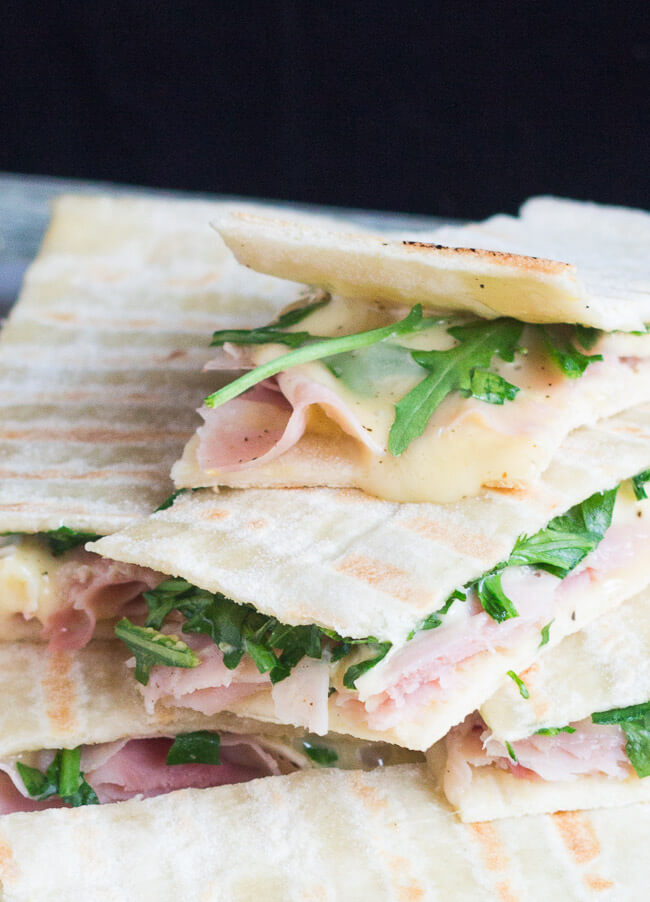 Equipment Suggestions for Toasted Ham and cheese Flatbread Sandwiches
You're thinking … it's a toasted ham and cheese sandwich! Do I really need specialist equipment? The answer is, of course, no. However I can recommend a few simple items I use when making these toasted flatbread sandwiches, and that I guarantee will make lunchtime so much easier for you.
Panini Press: These toasted flatbread sandwiches cook best in a flat panini press. I have had some success cooking them under a grill (broiler) and even in a fry pan once out of desperation, but the best result is produced in a sandwich press.
Pizza Cutter: Cut your flatbread sandwich with a very large knife or a pizza cutter. Trust me on this one. I've tried many implements to cut these sandwiches over the years, and have had the most success with an implement that produces a single, sharp cut.
Tips and Tricks for Delicious Grilled Flatbread Sandwiches
I make these flatbread sandwiches so often that I always keep the bread and cheese on hand so I can whip them up quickly. A few of my favourite tricks that I have learnt over the years are:
That this recipe is extremely flexible.  Do not be bound by the quantities given in the recipe below.  Use them simply as a guide.  If you like lots of ham, add lots.  Go wild with the mustard.  Pile on the cheese.  At the end of the day, you are just assembling a ham and cheese sandwich, so make it how you like to eat it.
Bread can be frozen for up to three months if kept well wrapped and sealed.  I buy packets of flatbreads when they are on sale and freeze them until required.
Freeze your cheese.  I know you think I am crazy, but it was this little tip from my friend Celia that started me down this path.  Now I pick up Camembert or brie whenever I see it on special and freeze it using Celia's instructions.  As it is going to melt in my sandwiches, I just defrost the cheese on the kitchen bench for a few hours before lunch.  I have also sliced the cheese whilst partially frozen and used this in the flatbread sandwiches, which works just as well when I have failed to plan properly.
These are rich.  If your eyes are bigger than your stomach, and you make too many flatbread sandwiches to be eaten in one session, the leftovers can be reheated quite successfully in the sandwich press.  They are not as good as they are freshly made, but they are still delicious.
Other Easy Lunch Ideas You May Like
Whilst these ham and cheese flatbread sandwiches make a great lunch, sometimes you find you are just not in a sandwich mood. Some other quick lunch time ideas you may like that are not sandwiches include:
Enjoy!

Made this recipe? Tell me how it went in the comments below.
And if you loved it, please don't forget to rate it.


Ham & Brie Toasted Flatbread Sandwiches
Rich and decadent, and ridiculously easy to prepare, these ham and brie flatbread sandwiches are ready in less than 10 minutes. Fantastic for a simple lunch, a quick snack or even a light supper. Keep the bread and cheese on hand in the freezer to whip up a flatbread sandwich at a moments notice.
Ingredients
250

g (9 oz)

Brie

4

large

flatbreads

lavash or similar

1

Tablespoon

Dijon mustard

250

g (9 oz)

ham (about 10 slices)

thinly sliced

20

g (1 cup)

baby rocket (arugula) leaves

washed & dried

freshly ground black pepper
Instructions
Turn on the sandwich press so it heats up whilst you are preparing the sandwiches.


Cut the brie into rough slices, approximately 3mm thick.


Spread the Dijon mustard on two of the flatbreads


Layer the ham over the mustard.


Arrange the brie evenly over the ham.


Season the sandwich with black pepper.


Arrange the rocket evenly over the cheese.


Top the sandwich with the remaining flatbreads.


Place the flatbreads in the sandwich press and cook for approximately 3 minutes, or until the cheese starts starts to melt out of the sides of the flatbreads.


Carefully remove the cooked flatbreads to a cutting board, and slice into pieces with a sharp knife.


Enjoy whilst hot.

Notes
Use the quantities in this recipe as a guide, and feel free to change it up according to your personal tastes.  Add as much ham, cheese, mustard and rocket as you like.  It's your lunch.
This sandwich cooks best in a sandwich press.  It can be cooked under an overhead grill or in a fry pan in a pinch.
Use a sharp knife or pizza cutter to cut the flatbreads.  This minimises the cheese and rocket spilling out on to your chopping board. 
Nutrition
Calories:
1464
kcal
|
Carbohydrates:
152.3
g
|
Protein:
87.8
g
|
Fat:
52.3
g
|
Cholesterol:
243
mg
|
Sodium:
1130.9
mg
|
Sugar:
1.5
g
|
Vitamin A:
800
IU
|
Vitamin C:
2.5
mg

Update Notes: This post was originally published on 26th October 2018. It was updated on 4th June 2019 to add a Table of Contents, recommended equipment and to make minor changes to the text.