Chocolate Coconut Bliss Balls can be whipped up in ten minutes, and are perfect to keep in the fridge for a simple grab-&-go snack.
The first time I tasted a bliss ball is well ingrained in my memory.  It was surprisingly rich, with a dark chocolate fudginess to it.  Bliss balls are a nutrient dense snack, full of fruit, nuts and seeds.  Amazingly, given the ingredients, mine didn't taste all that healthy.  It was more like a decadent treat.
There are literally hundreds of recipes for bliss balls available on the internet, and they are routinely seen for sale in organic shops and cafes.  Bliss balls are quite expensive to purchase due to their ingredients, however once you master making them you need never buy one again.  I keep a constant supply of these in the fridge for The Princess to snack on.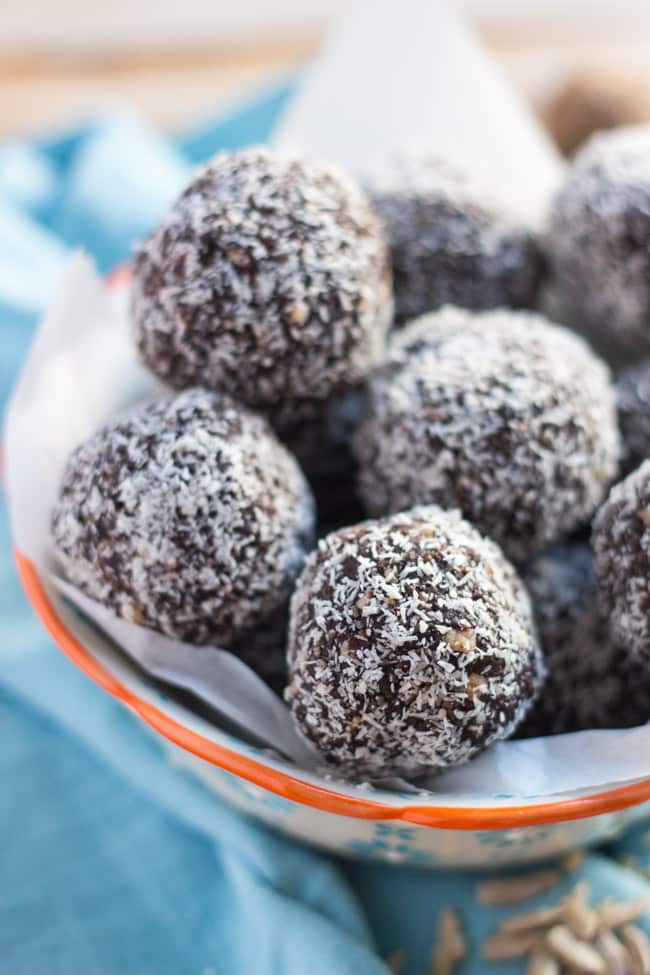 For me, the key ingredient in a good bliss ball (beside the obvious chocolate kick) is coconut butter.  Coconut butter is the ground flesh of dried coconuts, whilst coconut oil is exactly as it says, the oil of the coconut.  For a long time there have been warnings against the consumption of coconut oil as it is a saturated fat.  Coconut in all forms has, however, long been consumed by many Asian countries without any apparent health effects, and all things coconut are starting to return to favour.  Current research suggests that coconut is not as bad as originally thought, and there may actually be a number of health benefits related to it's consumption.
Coconut butter can be tricky to locate and is hideously expensive.  I have found it in organic stores, but stock is often limited and I have been known to buy multiple jars to ensure a constant supply.  More recently I have seen it for sale in my local IGA for $17 for 453g, although being in Perth I have paid up to $20 a jar.  I know! Be aware that some coconut oil is actually sold as coconut butter, but it is not the same thing.  It will usually have both words on the front label i.e. Coconut Butter (Oil).
The good news is that it is extremely easy to make at home.  All you need is some dried coconut, a food processor and between 5 and 15 minutes of your time.  There is no real recipe here.  Just put some dried coconut in your machine, switch it on and wait.  Make sure your food processor is reasonably full, otherwise the coconut will keep flicking off the blades.  This means that you will need to stop the machine and scrape the sides down more often.
I used 4 cups of dessicated coconut in my Thermomix, and it took approximately 5 minutes to achieve a butter consistency.  The texture of homemade coconut butter is slightly grainier than the shop bought product, but at approximately $2.40 for 400g I can live with that.
If you really don't want to make your own, and don't want to pay through the nose for some, I recently discovered thanks to JJ at 84th & 3rd that creamed coconut (not coconut cream), which is readily available in Asian grocers, is actually coconut butter.
So what to do with coconut butter?  Many people use it as a replacement for nut butter.  It can be spread on toast, mixed with cocoa powder for a chocolate fix, or eaten straight off a spoon.  Dilute it with warm water to make either coconut cream or coconut milk; one part coconut butter to 2.5 parts water for cream, 5 parts water for milk.  I use a tablespoon in the Princess's morning smoothie.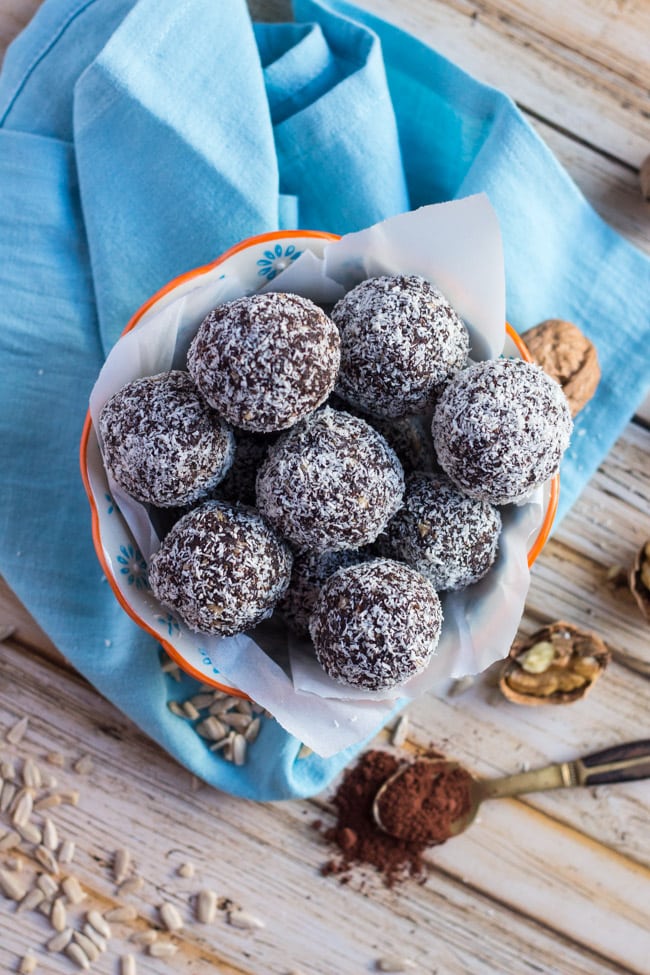 And if all else fails, you can make bliss balls.
Chocolate Coconut Bliss Balls
I keep these in the fridge as I prefer the texture. If you don't refrigerate them, they will be quite soft but still perfectly edible. You can make them any size you like. I usually make them the size of a ping pong ball for The Princess. You can also use any nut you prefer in place of the walnuts, or use all seeds if you have nut allergy issues.
Ingredients
12

Medjool dates

pitted, about 200g

1

cup

walnuts

2

Tablespoons

chia

1/3

cup

sunflower seeds

3

Tablespoons

heaped cocoa powder

3

Tablespoons

coconut butter

1

teaspoon

vanilla extract

Extra dessicated coconut for coating
Instructions
Place the walnuts, chia and sunflower seeds in a food processor and blitz until coarsely ground.

Add the remaining ingredients and blitz until the dates are pureed and the mixture starts to come together.

Take spoonfuls of the mixture (depending on the size you are making) and press together to form a firm ball.

Coat in extra coconut and place on a tray.

Refrigerate until firm.
P.S.  Want more bliss balls?  Try these 3 Ingredient Apricot Almond and Coconut Bliss Balls.  Or why not make these with Toasted Coconut Butter.
Save