Oven Baked Fish Nuggets, made with real fish, are the homemade alternative to boxes of crumbed fish from the supermarket.  Make extra, and keep some nuggets in the freezer for a speedy dinner.  Loved by the whole family.
Total Time Investment: 35 Minutes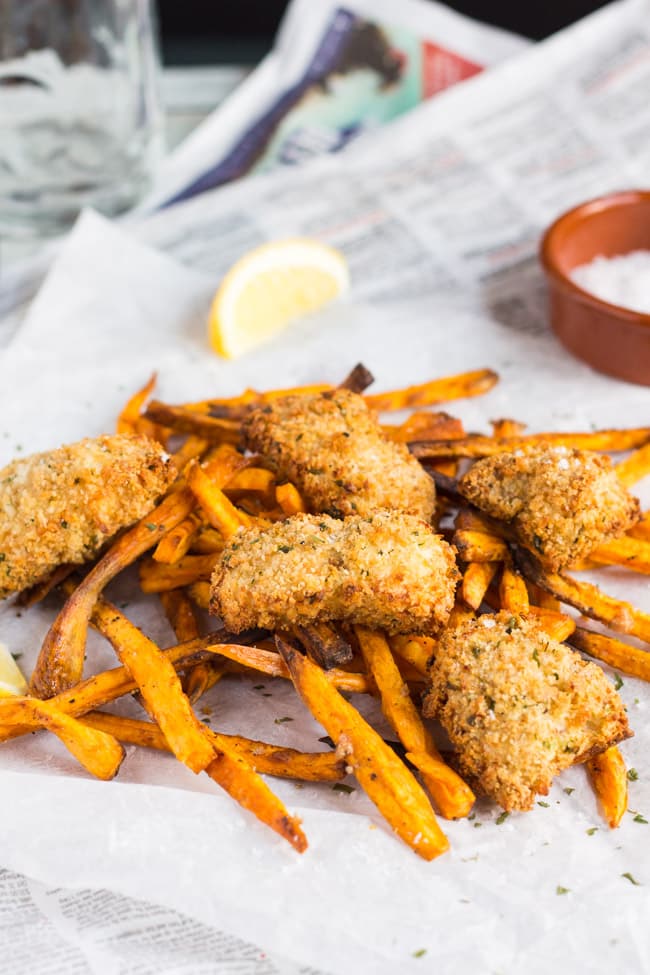 Once upon a time, my go-to emergency meal was a box of crumbed frozen fish fillets. One box, together with a few sides, would feed Mr Grumpy & me.  However the introduction of The Princess's ever growing appetite to our lives suddenly meant that one box of fish was not enough.  When I did the maths, crumbed fish in a box turned out to be quite an expensive meal.  Far better, and cheaper, to make my own Oven Baked Fish Nuggets.
Fish is often considered quite a costly protein, although it needn't be if you shop carefully.  Buying local and sustainable fish in season can be substantially cheaper than always purchasing the most popular species.  At one point this year I managed to save nearly $20/kilogram on a popular local species as it was in season and there was an abundance on the market at that time.  Lesser-known fish species are usually cheaper than the popular varieties, and we have discovered new family favourites by purchasing a more obscure fish.
If you are on a budget, and would still like to include fish in your diet, consider purchasing frozen fish instead.  Frozen fish is snap frozen on the fishing boats soon after being caught, resulting in a high quality product that is usually much cheaper than fresh fish.  If you live far from the coast, frozen fish is often a better alternative anyway.  Even though I live in a coastal city, I happily use frozen fish for curries and fish cakes due to the price.
I prefer to cook these nuggets on an oven rack.  This allows the cooking juices to drip away, which helps keep the nuggets crunchy. I have also, on occasion, pan-fried the nuggets in a little ghee with great success.  I like to serve them with sweet potato chips, a green salad, and tartare sauce, and have even tucked them into burgers and sushi for a quick lunch.
As the nuggets are quick to make, I often double the recipe.  This gives me enough for dinner, and means I have another meal in the freezer.  However, if you wish to freeze the nuggets only use fresh fish; frozen fish should not be re-frozen. Whilst boxes of crumbed fish may be a thing of the past in our house, I'm pretty happy with my own homemade alternative.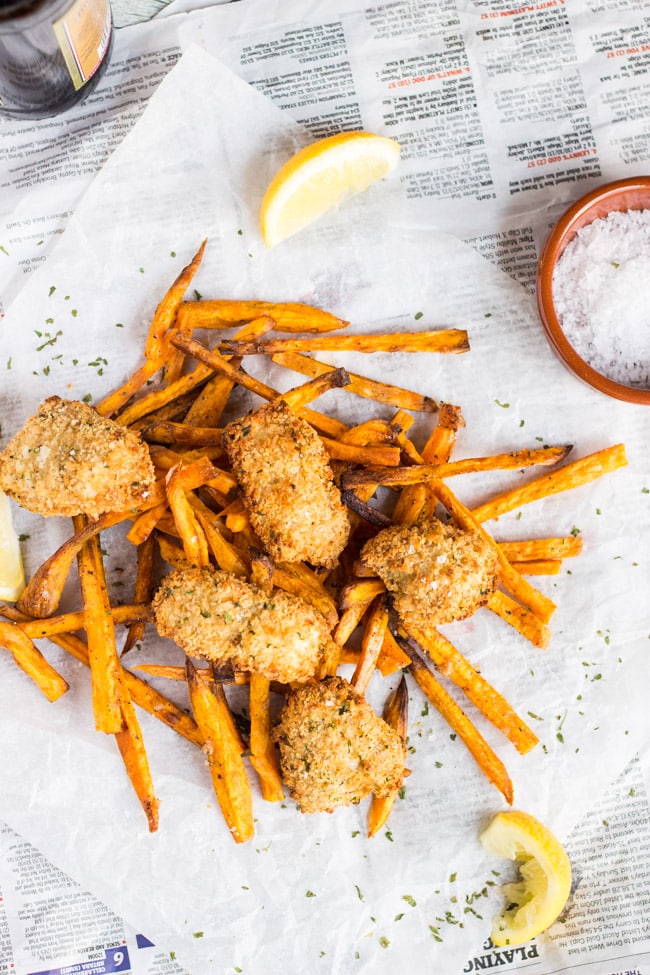 Ingredient Substitutions
Use any fish you like in this recipe, although select the thickest fish fillets you can find to ensure the nuggets don't dry out in the oven. White fish can also be replaced with salmon if you prefer.
Frozen fish can also be used in place of the fresh fish, however the uncooked nuggets should be cooked straight away and not refrozen.
I use homemade sourdough breadcrumbs for this recipe. Any commercial dried breadcrumb will work, and you could even try using panko crumbs.
Sumac is Middle Eastern spice that has a tangy lemon flavour.  It pairs very well with fish, and just adds additional flavour to the recipe.  It is now commonly found in most supermarkets, however it is not essential to the recipe, and if you cannot source it, just leave it out.  You could also replace it with a little cayenne pepper (maybe 1/4 teaspoon) if preferred.  This will just add a little zip to your flour coating.
Replace the chopped parsley with dried parsley, and omit the lemon zest if you do not have it.  The zest is only there for additional flavour and is not crucial to the success of the fish nuggets.
Use gluten free breadcrumbs and a gluten free flour mix for the coating to make this recipe gluten free.
Tips & Tricks for Making Your Own Fish Nuggets
This recipe can be adapted for any number of people. As a general rule, allow 200g of fish per adult serve and just use extra fish if serving more people.  If you wish to serve less people, I would still make the full recipe, then freeze the extra fish nuggets for another meal.
To successfully freeze the nuggets, line a tray with baking paper and place the coated nuggets on the tray.  Freeze until solid, then pack the nuggets into labelled zip lock bags.  Try to extract as much air as possible out of the bags before sealing them.  Fish nuggets frozen in this manner will last for up to three month.
Fish nuggets can be successfully cooked from frozen.  Just add an additional 5 minutes to the cooking time.
I prefer to cook these fish nuggets on a rack to prevent the underside from going soggy, however a rack is not essential, and if you don't have one just cook the nuggets on a lined baking tray.  I have found that different fish produce different results, and sometimes I can get a crisp base without the rack.
Easy Oven Baked Fish Nuggets
Oven Baked Fish Nuggets, made with real fish, are the homemade alternative to boxes of crumbed fish from the supermarket. Make extra, and keep some nuggets in the freezer for a speedy dinner. Loved by the whole family.
Ingredients
800

g

white fish fillets

rinsed and dried

200

g (1 1/2 cups)

dried breadcrumbs

2

Tablespoons

chopped parsley

Zest 1 lemon

1

Tablespoon

olive oil

2

eggs

2

Tablespoons

milk

135

g (1 cup)

flour

1

teaspoon

sumac

Salt & pepper
Instructions
To prepare the crumb coating
In this step you are setting up an assembly line, so that the fish can be quickly transferred through each coating step. At the end of this stage, you should have four separate 'stations': the seasoned flour on a sheet of baking paper, the eggy milk in a bowl, the seasoned breadcrumbs in a tray, and finally a tray to place your coated fish on.


Place the flour, sumac, and salt & pepper together in a separate bowl and stir together. Pour this seasoned flour onto a sheet of baking paper.

Whisk the eggs and milk together in a shallow bowl. I use a shallow pasta bowl for this.

Mix the breadcrumbs, parsley, lemon zest and salt & pepper together in a medium bowl.


Drizzle the olive oil over the seasoned breadcrumbs and stir thoroughly to ensure everything is well coated in oil.

Pour half of the seasoned breadcrumbs into a shallow tray, and set the remainder aside.

Line a tray with baking paper and set aside.

To crumb the fish
Cut the fish into 5- 7cm sized pieces. Depending on the size of the fillets, some pieces will be irregular in size and shape.

Take a piece of fish and coat it in the seasoned flour.

Dip the floured fish into the eggy milk, allowing any excess to drip off.

Roll the fish in the seasoned breadcrumbs and place on the tray.

Repeat with the remainder of the fish pieces, replenishing the breadcrumbs in the tray from the reserved crumbs in the bowl as required.

The fish nuggets can be baked immediately, however if time permits allow them to sit in the fridge for 30 minutes. This allows the coating to set.

The fish nuggets can be frozen at this stage.
To cook the nuggets
Preheat the oven to 200C (180C).

Place an oven rack on an oven tray.

Space the nuggets out on the tray, ensuring they don't touch.

Bake in the oven for 12 - 15 minutes*. Exact timings will depend on the thickness of the fish and the effectiveness of your oven. If you are unsure as to whether they are ready, cut one open to check.

You can turn the nuggets halfway through the cooking time, although I tend to forget and the nuggets still brown up nicely.

Serve immediately.

Notes
*Add an extra 5 minutes to the cooking time if baking frozen nuggets.