Last Updated:
This super easy vegetable couscous salad recipe, made with wholemeal couscous, makes the perfect side dish for a summer BBQ. It can be pulled together in just 15 minutes and leftovers are brilliant in the lunchbox.
TOTAL TIME INVESTMENT: 15 MINUTES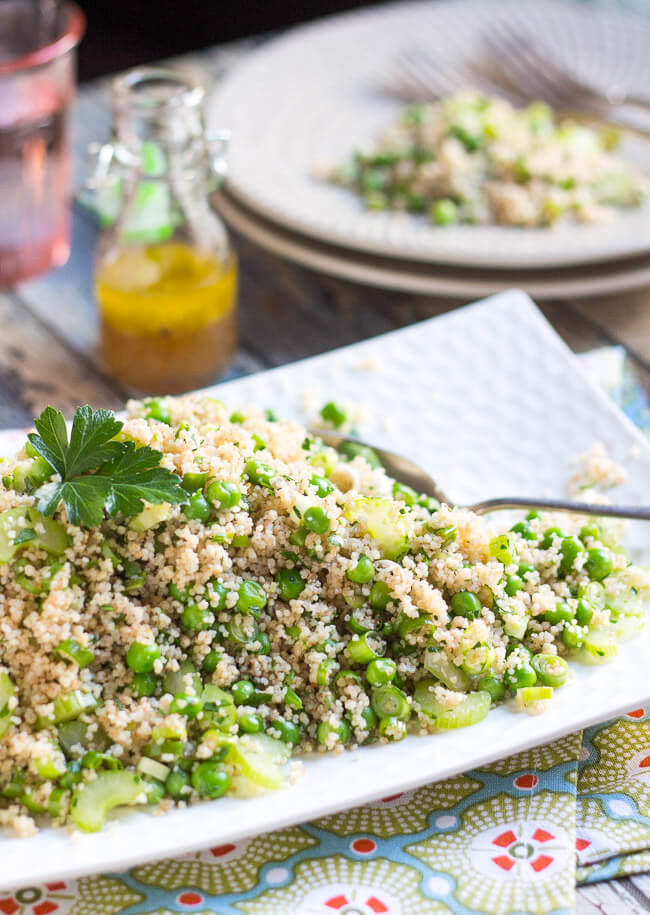 Neither Mr Grumpy nor The Princess are big fans of couscous, although they will eat it under sufferance. Couscous is referred to as tasteless misery sand in our house thanks to the joy of the television.
I, on the other hand, quite enjoy couscous. And I am a particular fan of the speed at which couscous can be prepared. So until either of them decide to take over the cooking they are stuck with whatever I choose to prepare. Which, if I am short on time or energy, is likely to be some variation of this easy vegetable couscous salad recipe.
This couscous salad is brilliant as a side dish, and I also love it as an easy lunchbox lunch for The Princess although I do tart it up a little for her (she can complain as much as she wants – she's still got too eat).
And talking of lunchboxes, make sure you grab my free guide from the Resource Library with all my tips for making salads ahead. You can get the guide by clicking the link below or by requesting the password at the end of this post.

Couscous is super easy to prepare, with most brands requiring only a douse of hot water to reconstitute them, so I find it a great store cupboard staple to have on hand for a quick dinner accompaniment.
I often pair couscous with a slow cooker tagine, or a hearty stew. And it's ease of preparation and grainy texture also make couscous the ideal base for simple salads like this one.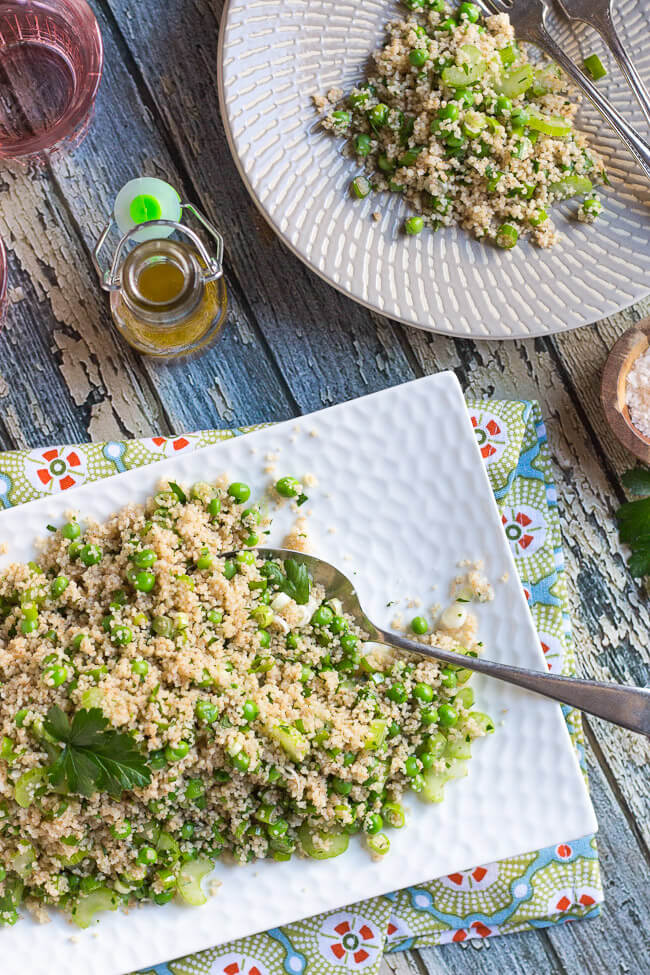 *We are a participant in the Amazon Services LLC Associates Program, an affiliate advertising program designed to provide a means for us to earn fees by linking to Amazon.com and affiliated sites.
Ingredient Substitutions for this Easy Couscous Salad Recipe
This easy couscous salad recipe is ripe for substitutions. I like to change up the vegetables according to whatever I have on hand, so treat this recipe as a basic template and make it your own:
Roasted vegetables would be delicious in this salad. Roasted zucchini, capsicum (peppers), eggplant, and asparagus would all work well.
Replace the wholemeal (wholewheat) couscous with any other couscous variety. You could even use pearl couscous in this salad if desired.
Flavoured couscous would also work really well in this salad. Just make sure you select a flavour that will work with the lemon dressing.
Other fresh herbs can be used in place of the parsley. Try chopped coriander (cilantro), basil, chives, chervil, dill or anything you fancy.
Add shredded poached chicken to bulk up the salad and turn it into a main meal salad.
Crumbled feta or goats cheese can be tossed through the couscous with the vegetables if desired.
Put this super easy #vegetable #couscous #salad recipe together in just 15 minutes. The perfect #sidedish for a #summer #BBQ. And any #leftovers are also brilliant in the #lunchbox. #vegan #dinner #vegetarian
Click To Tweet
Frequently Asked Questions About Couscous Salad
How long does couscous salad last in the fridge?
My couscous salad recipe will last for up to three days in the fridge, making it ideal for the lunchbox.
Can you reheat couscous?
Freshly cooked couscous can be cooled and reheated later. A quick reheat in the microwave will do the trick. Once the couscous has been mixed with the rest of the salad ingredients, it cannot be reheated.
Is couscous served hot or cold
Couscous can be served both hot and cold. I serve it hot as a side dish with tagines and stews, and serve it cold for couscous salad.
Do you have to rinse couscous?
Couscous is ready to cook, and does not need to be rinsed.
Is couscous a wholegrain?
Couscous is not a grain. It is made from a mix of semolina flour and water, so is like a type of pasta. Some couscous varieties can be made with wholegrain flours – I have tried wheat, spelt and barley wholegrain couscous – and therefore have a higher nutritional profile than traditional couscous.
What is the right ratio of water to couscous?
I use a ratio of 1 cup of water to 1 cup of couscous to rehydrate couscous. I have never had a problem with this formula, however I would recommend you check the packet instructions just in case they are wildly different.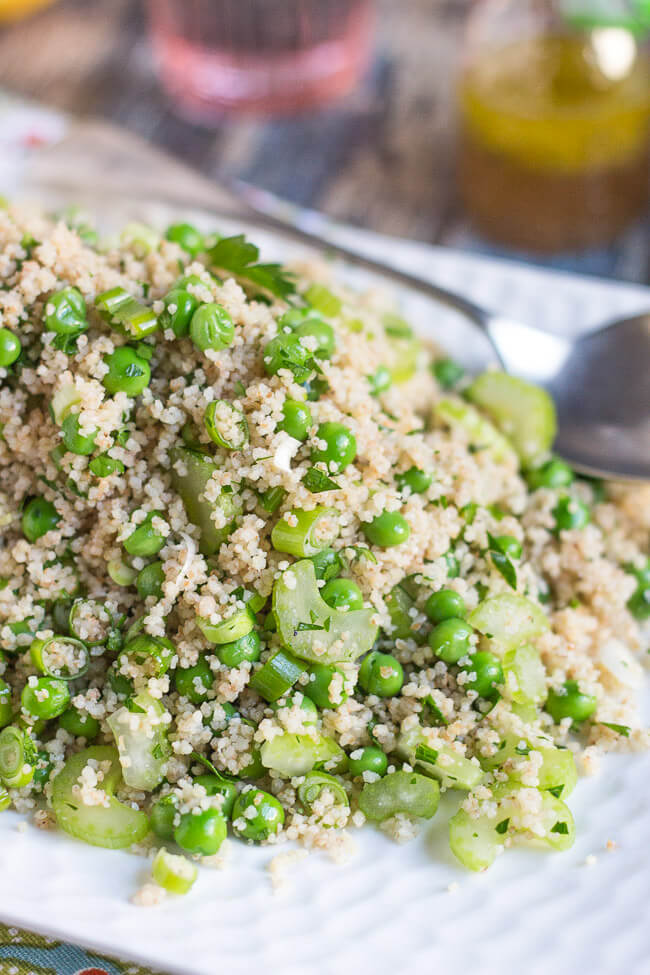 Tips for the best couscous salad recipe
I leave you with a few final thoughts on things you can do to make this the best vegetable couscous salad recipe you have ever tried:
I prefer to use wholemeal couscous (wholewheat couscous) as I feel it fluffs up better and has a little more flavour than traditional couscous. See my thoughts above on this.
Leftovers make a great lunch, and I invariably make an extra large couscous salad for just this reason. 
I store uncooked wholemeal couscous in the freezer to extend the keeping time.  
To add flavour to the couscous, rehydrate it with hot chicken or vegetable stock.
The salad will keep in the fridge for up to three days.
Enjoy!

One year ago: 20 Minute Fried Bacon with Cabbage

Two years ago: Slow Cooker Lime Cilantro Chicken Tacos

Three years ago: Coconut Mango Chia Pudding

Made this recipe? Tell me how it went in the comments below.
And if you loved it, please don't forget to rate it.