Last Updated:
The end of the tomato season is in sight and I haven't managed to preserve as many as I would have liked this year (although I cannot complain about the quantity of tomato passata I have stashed away).  I normally bottle whole Roma tomatoes but this is yet to happen and time is slipping away.  One method I did want to try though before season's end was to slow roast and freeze some tomatoes to slip into frittatas, focaccias and pasta sauces when ripe tomatoes are scarce.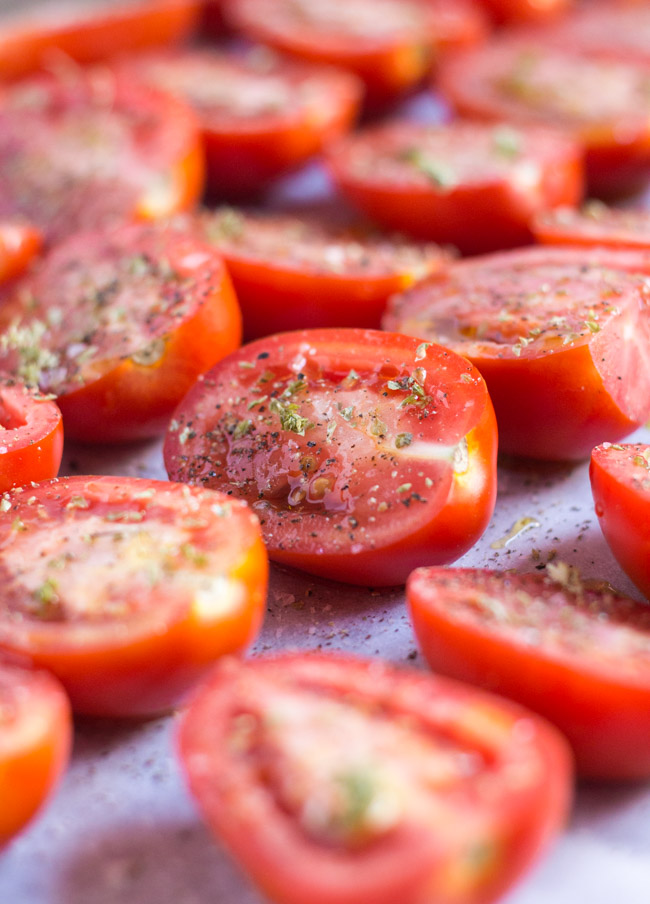 I recently came across some San Marzano tomatoes at my local farmer's market. San Marzanos are an heirloom tomato with thick flesh and few seeds, making them ideal for roasting.   They are considered to be one of the best paste tomatoes in the world, with the modern and ubiquitous Roma tomato bred from a cross between San Marzano and two other species.  I decided that these would be perfect for my roasting experiment.
Preparation of the tomatoes is dead easy.  Sprinkle the cut tomatoes with some salt and pepper, scatter them with some dried oregano, and drizzle them with olive oil.  Roast them at 160C for about 1 to 1 1/2 hours, until the tomatoes have started to colour and the juices have concentrated.  Remove from the oven, allow to cool then freeze in a single layer.
Once frozen, portion the tomatoes into zip lock bags or vacuum seal for longer storage.  The shallow freezing should ensure that the tomatoes do not stick together in the bag.  Label well and enjoy whenever you need a little reminder of summer.