Add a savoury crunch to a simple green salad with this toasted tamari seeds salad topping.  Quick & easy to whip up, it doubles as the perfect snack.
If you've been reading my blog for a while, particularly my meal plans, you will know that "a simple green salad" features regularly on our menu.  Let pretend that this is due to the fact that our dinners are so delicious and complex that they require little more than a few green leaves for aesthetics rather than the truth, which is that by the time I have actually cooked dinner I am far too lazy tired to make anything elaborate to accompany it. 
Sometimes, my 'simple green salad' is little more than a few washed leaves thrown into a bowl.  However, if I'm feeling fancy, I will whip up a batch of these toasted tamari seeds to act as a crunchy salad topping.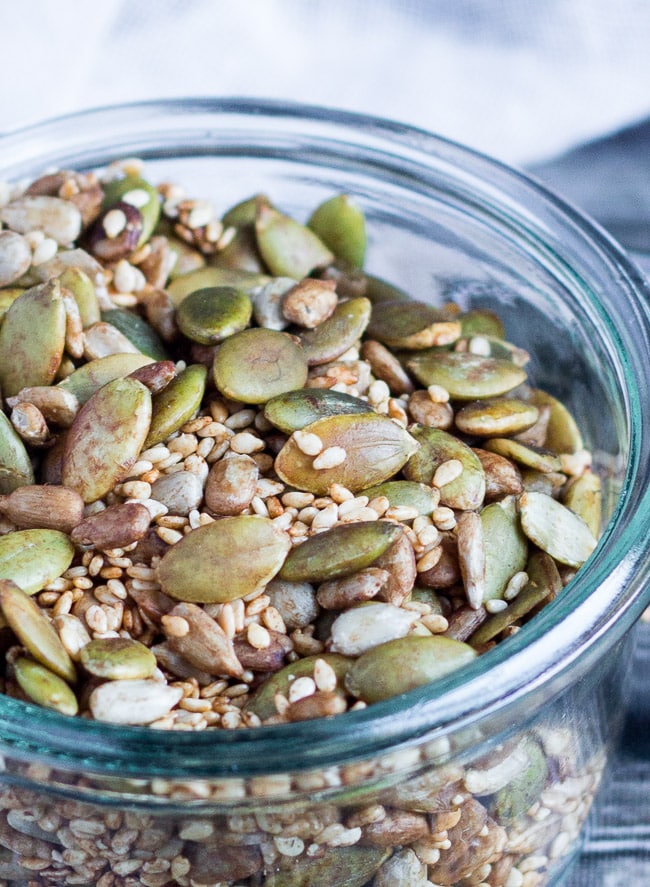 This salad topping was one of the first recipes to appear here on the blog, and over the years it had become buried in the annuls of time. It is so useful though, that I felt it deserved another outing (albeit with better pictures).
This crunchy salad topping takes only minutes to whip up, and is so easy that I usually delegate the task of cooking it to The Princess.  Whilst I normally sprinkle it over salads, I may have been known to eat handfuls as a snack on those occasions I crave a savoury hit.
The seeds in this recipe are quickly toasted on the stove, so no need to even wait for the oven to heat.  A quick shot of tamari provides the deep savoury note that pairs so well with the salad leaves.
Tamari is the Japanese version of soy sauce, and is slightly thicker, richer in flavour and darker than its Chinese counterpart.  If you don't have tamari, substitute traditional soy sauce, although tamari will give the seeds a richer flavour.
Keep the salad topping in an airtight container.  The salt in the tamari attracts moisture, and the seeds will become sticky if left exposed to air for long periods.  I prefer to keep mine in the fridge, although they are perfectly fine in the pantry if used within a few weeks.
Add a savoury crunch to a simple green #salad with Tamari Seeds Salad Topping. #snacks
Click To Tweet
Toasted Tamari Salad Topping
Add a savoury crunch to a simple green salad with this toasted tamari seed salad topping. Quick & easy to whip up, it doubles as the perfect snack.
Ingredients
30

g

pumpkin seeds

1/4 cup

30

g

sunflower seeds

1/4 cup

40

g

sesame seeds

1/4 cup

20 - 40

ml

Tamari

1 - 2 Tablespoons
Instructions
Place the pumpkins seeds in the base of a medium fry pan.

Tip the sunflower seeds on top.

Finally, add the sesame seeds.

Warm the fry pan over a gentle heat.

Once the fry pan has warmed, stir the seeds.

Allow the seeds to cook for about 3 minutes, stirring often. The seeds will begin to pop and puff up as they cook, which is perfectly normal.

When the seeds are a golden brown, add the tamari to the pan.

Continue to stir until the seeds are dry. Be careful at this stage as the sesame seeds can catch on the bottom of the pan.

Tip the seeds onto a plate or tray and allow to cool. When cool, store in an airtight container in the fridge.
Recipe Notes
If you do not have tamari, you could substitute soy sauce but it is worth seeking out tamari for its richer flavour. Larger supermarkets and health food stores will carry it.
Save
Save