A cheese platter is ideal for entertaining, yet a simple decision such as which cheese to choose can seem overwhelming when confronted by the vast array available.  Combine this with a dizzying selection of accompaniments, and suddenly assembling a cheese platter doesn't seem at all that easy.  Luckily for you I have broken down the process of assembling a cheese platter into three simple steps to help you produce an amazing cheese board for your next gathering.

This post has been sponsored by Dairy Australia in accordance with my disclosure policy.  All opinions remain 100% my own.
Total Time Investment: 10 Minutes
January is my favourite time of the year; firmly wedged between Christmas and the start of the school year, I find it the ideal time for lazy catch ups with friends.  And every good get together is made all that much better with a great cheese platter.
Cheese platters are ideal to serve for casual entertaining.  They can be as simple as a single cheese with crackers for a one-on-one with a favourite girlfriend, or you can produce an amazing spread for a large number of guests.  A well assembled cheese platter can even double as a light meal with the right accompaniments.
How To Make A Cheese Platter In 3 Easy Steps
Whilst assembling a delicious cheese platter can seem like an overwhelming task, it really is as simple as following these three easy steps:
Select your cheese: Choose a variety of soft, semi-hard, hard, blue vein and soft cheeses.
Add bread and/or crackers: Bread will turn a cheese platter into a light meal, whilst crackers are perfect when the cheese platter is served with drinks.
Finish with delicious accompaniments: The right accompaniment will elevate your cheese platter to the next level.  Think fruits, nuts, pickles, olives, relishes, cured meats or fruit pastes.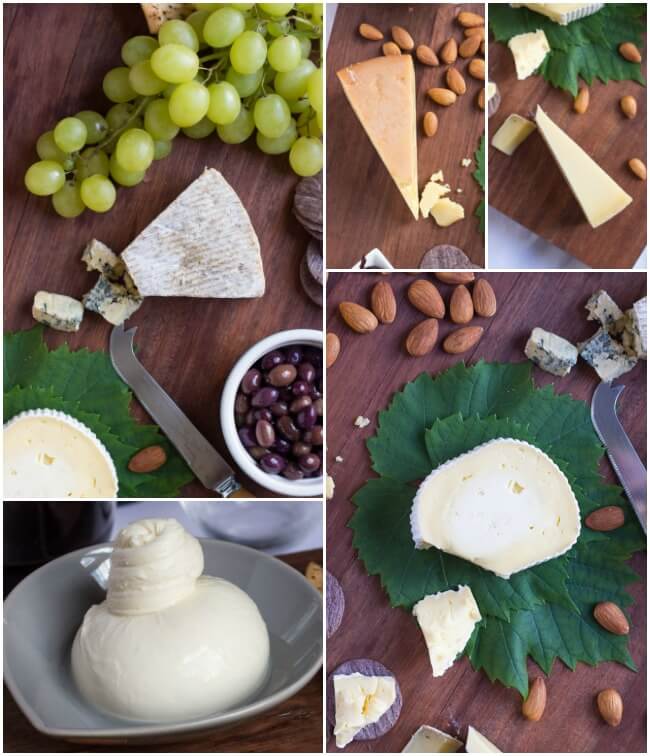 What Cheese Should I Use On The Cheese Platter?
With so many fantastic cheeses on offer, it is very easy to get overly excited at the cheese store and come home laden with way more than you need (or is this just me?).  A better idea is to approach the cheese section with a plan:
Work out how many people you are serving:  I generally serve one to three cheeses for a quiet get together, with five to seven for a more extravagant spread.  The number of cheeses you serve will be dictated by the remainder of the menu, and how fanatical your guests are about cheese.  You don't want everyone to fill up before the main event.
Select odd numbers: As we eat with our eyes first, use an odd number of cheeses on your platter.  Odd numbers are more appealing to the human eye, and are more effective at creating interest.
Choose different types of cheese: There are so many types of cheese available that it helps to divide them into five basic categories to assist with your selection. Whilst a simplistic way to categorise thousands of cheeses, it is an easy way for those of us not familiar with the finer points of cheese making to make a choice for the cheese board.  Try to include cheeses from different categories on your cheese platter, rather than a number of cheeses from the same category.  Look for:

Soft Cheese: This category includes white mould and washed rind cheeses, which typically have a soft, creamy centre and are generally everybody's favourite.  Try King Island Dairy Black Label Double Brie, Emporium Triple Cream Brie, King Island Dairy Stormy or Flinders Estate Washed Rind.
Semi-Hard: These cheese have been slightly aged, and are generally very good for melting.  They characteristically have sweet nutty or buttery flavours.  Try Heidi Farm Raclette, Heidi Farm Tilsit and Section28 Artisan Cheese Monforte.
Hard Cheese: Usually well aged, with a crumbly texture and well-developed flavour profiles.  Look for Westacre Extra Tasty Cheddar, La Vera Matured Pecorino or Ashgove Signature Parmesan.
Blue Veined Cheese: The most polarising category.  People either love or hate blue cheeses.  Try King Island Dairy Roaring Forties Blue, King Island Dairy Bass Strait Blue or Berrys Creek Oak Blue
Fresh Cheese: These are the softest cheeses, and typically have a fresh, milky flavour as they have not undergone aging.  Look for Montefiore Trecca or That's Amore Cheese Burrata
Build a platter from goats or sheep milk cheese: With so many fantastic goats and sheep's milk cheese available, consider developing a platter using cheese made from only one type of milk.  Look out for Prom Country Cheese Venus Blue, Meredith Dairy Plain Chevre (a personal favourite of mine – I wax lyrical about it here and here) or Frolicking Goat Buche.
Use different shapes: Keep an eye out for cheeses of different shapes, not just the conventional wedge, or for cheeses rolled in ash, or wrapped in leaves.  These add a small point of interest to your platter.
With such a dazzling array of #cheeses & accompaniments on offer, assembling a delicious #cheese platter is a daunting task. Don't stress! Just follow these 3 simple steps to make a platter guests will rave about. #snacks
Click To Tweet
Bread or Crackers?
The decision as to whether to offer bread or crackers will depend on the purpose of your cheese platter.
If offering the cheese platter as a meal in itself, serve lots of crusty bread on the side.  Think slices of thinly sliced crusty baguette, a good sourdough or breads containing walnuts, dried fruits or olives, all of which pair beautifully with cheese. Add a selection of crackers with the bread to provide some crunchy elements on your platter.
If serving the cheese platter with pre-meal drinks, I tend to only offer a variety of crackers. Plain crackers allow the flavour of the cheese to shine through, whilst strongly flavoured crackers can overwhelm more delicate cheeses so I would leave these off my platter.
The Best Accompaniments for a Cheese Platter
Now you've got the cheese sorted, it's time to move on to the accompaniments.  When it comes to things you can serve with the cheese, you are really only limited by your own imagination.  However, with so many options now available, the key is to exercise a bit of restraint so that you don't overwhelm the main focus – the cheese.
Offer up to three or four accompaniments in addition to the bread and/or crackers. Accompaniments can be added directly to the cheese board itself if the board is large enough, or served in small bowls to the side. Choose from:
Fresh seasonal fruits: Try thinly sliced apple or pear in autumn/winter, or use fresh grapes, figs, cherries or strawberries in summer.
Dried fruits: Apricots and figs are great with cheese.  Also try dried muscatels, or even thin slices of panforte.
Nuts: Almonds and walnuts are traditionally paired with cheese, but don't let this stop you adding your favorite nuts to the cheeseboard. I have yet to find a nut that doesn't play well with cheese.  Try using smoked or candied nuts for a little something different.
Olives: My preference is for lightly marinated Kalamata's, or the little Australian wild olives that are becoming more available.  Don't forget to provide a small bowl for the pips.
Sweet or Savoury Pickles: Try cornichons, pickled walnuts, pickled figs or cherries, or quick pickled onions.
Cured Meats: Thinly sliced prosciutto or jamon, and salamis make ideal additions to a cheese board.
Relish: Slightly sweet, but still savoury relishes, work well on a cheese board.  Use a good beetroot relish, or try caramelised onions with Brie, Camembert and other soft cheeses.
Fruit Paste: Thin slices of quince or fig paste are delicious with cheese.
* We are a participant in the Amazon Services LLC Associates Program, an affiliate advertising program designed to provide a means for us to earn fees by linking to Amazon.com and affiliated sites.
Key Serving Tips For The Best Cheese Platter
Whilst the presentation of your cheese board is key, don't be tempted to crowd the cheeses and accompaniments onto one small board as this can make it difficult to cut the cheese.  Spread the cheeses out on a large board, and fill the gaps with fruits and nuts. Consider serving breads and crackers, and other accompaniments, in separate bowls on the side to free up some space on the platter.
Offer a separate knife for each cheese.  Not everybody likes a hint of blue on their cheddar.
Cheese platters can be served either with pre-dinner drinks, or after the meal.  If you are serving cheese after the meal, consider using sweeter accompaniments such as dried fruits, fruit pastes, fruit and nut breads or panforte, and even a good fruit conserve jam or honey to serve with the cheese.
And most importantly, remove the cheese from the fridge at least one hour before serving.  Cold temperatures affect the texture of cheeses, particularly soft cheeses, and mute the flavours.  If you are worried about the cheeses drying out, cover the whole board with a damp cloth.  Do not skip this step … your guests will thank you for it.
One year ago:  Lentil & Roast Beef Salad
Two years ago:  5 Minute Sour Cream Salad Dressing
Three years ago:  Gluten Free Fig & Pumpkin Seed Bars
Have your own great tips for a great cheese platter? Tell me all about them in the comments below.
How To Make A Cheese Platter In 3 Easy Steps
Assembling a cheese platter can seem like a daunting task with the dazzling array of cheeses and accompaniments on offer. Follow these 3 simple steps to make a delicious cheese platter that your guests will rave about.
The platter below will serve 8 people as a substantial appetizer or a light main meal. Customise the platter according to the number of guests you have.

Ingredients
5

assorted cheeses; soft, semi-hard, hard, blue veined & fresh

1

crusty baguette

thinly sliced

1

sourdough or walnut bread loaf

thinly sliced

2

packets of plain or seeded crackers

5

accompaniments. Select from fresh or dried fruits, nuts, pickles, olives, relishes, cured meats or fruit pastes.
Instructions
At least one hour before serving, remove the cheeses from the fridge and allow to come to room temperature.


Select a large platter or board that will allow the cheese to be displayed with some separation between them.


Arrange the cheeses on the platter.


Place some of the crackers on the platter. Put the rest of the crackers and the sliced breads in bowls or bread baskets.


Intersperse your chosen accompaniments between the cheeses. Place wetter accompaniments, such as relishes and pickles, in small bowls. If offering unseeded olives, provide a small bowl for the pips.


Place cheese knives adjacent to each cheese. You can use the same knife for hard and semi-hard cheeses, but provide separate knives for soft, blue and washed rind cheeses.


Present your cheese platter to your guests with a flourish, and enjoy!

Notes
Adjust the quantities on the cheese platter according to the number of guests you are serving. 
Update notes:  This post was updated on 15th May 2018 to include clearer instructions for assembling a cheese platter, and various minor tweaks to the text to make it more readable.