Never know what to do with all your leftover food? Sick of your leftovers growing fur before you can work out what to do with them? Don't worry, I have the solution. With over 60 of the latest ideas for dealing with the most common leftover foods, you need never throw out furry food again.
I used to loathe leftovers. The only leftover food I would deign to eat was either lasagna or the leftover roast chicken that I would tuck into sandwiches. Mr Grumpy would take almost everything else to work for lunch. Anything he didn't eat would sit in the fridge until it grew fur and had to be turfed out.
Things did get a little easier when our own chickens arrived. They are a little less discerning than me, and eat pretty much anything Mr Grumpy doesn't want.
However, it took the arrival of the River Cottage Love Your Leftovers book as a Christmas gift a few years ago to make me completely reassess my attitude. I realised I had been looking at those containers of leftover food that I had pushed to the back of the fridge all wrong. Rather than just reheating the same meal over again, Hugh (Mr River Cottage) advocates turning those leftovers into a whole new meal.
Suddenly I found myself excited about my leftovers. I started generating new ideas as to what I could use them for. I started eating hash. Who knew hash was so awesome. I started to deliberately create leftovers so I could cook entirely new meals.
Apparently though, it's not only me that struggles with leftovers. Roughly one third of all food in the world produced for human consumption each year is wasted or thrown out. I think of lot of this waste is simply due to the fact that many people have absolutely no idea how to make those leftovers remotely edible, and it is easier to just throw them out.
Treated correctly though, those leftovers have the potential to turn into some truly delicious and tasty meals. You just need to know where to start. So to set you on the right path I have rounded up some of the newest ideas for dealing with all of that leftover food you have pushed to the back of the fridge to deal with later (after it grows fur).
Recipes for Leftover Chicken or Turkey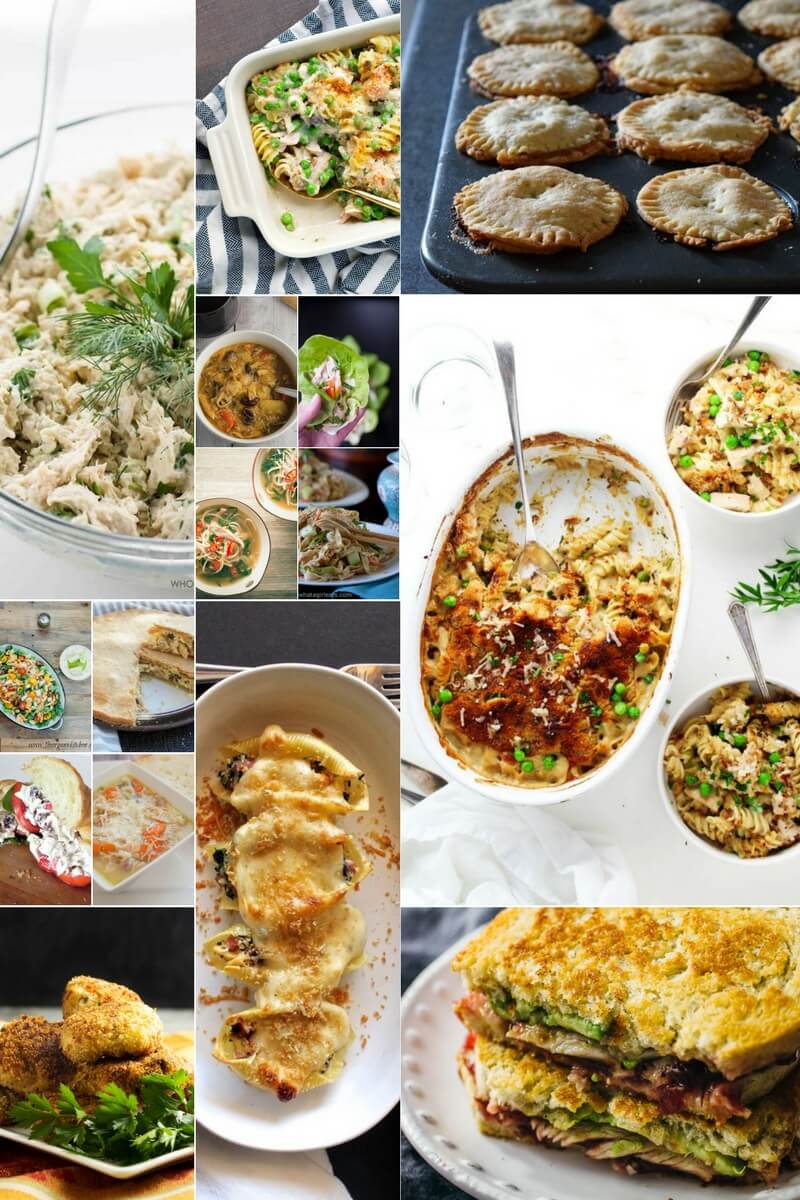 Chicken or turkey is one of the most common leftovers we deal with, particularly after a large celebration such as Thanksgiving or Christmas. Which is probably why there are so many recipes for leftover chicken and turkey on the internet. The two meats are also very interchangeable. If you fancy a turkey recipe but only have chicken, the recipe will be just as delicious if you use what you have.
So, whether you just want to fix yourself a fancy sandwich, a soothing soup to counteract all that feasting or a healthy salad, you will find a mountain of ideas below.
Asian Chicken Soup via Krumpli
Aunt Bee's Leftover Turkey Casserole via The Seasoned Mom
Leftover Turkey Pie with Bechamel via Caroline's Cooking
Leftover Turkey & Cranberry Sandwich via Savory Tooth
15 Minute Chicken Tortilla Soup via The Organic Kitchen
Easy Leftover Turkey Tetrazzini via Platings & Pairings
Easy Blackened Chicken and Quinoa Salad via The Organic Kitchen
Easy Chicken Salad with Herbs via Wholesome Yum
Cold Sesame Noodles Chicken Salad via What a Girl Eats
Asian Inspired Chicken Lettuce Wraps via Salt & Lavender
Chicken Salad with Apples and Cranberries via Feeding Big
Easy Turkey & Rice Soup via Living Well Spending Less
Chicken Cordon Bleu Stuffed Shells via The Sunday Glutton
Leftover Turkey Mini Pot Pies via The Schmidty Wife
Hearty Chicken Stew via Cooking Chat
Leftover Turkey and Stuffing Croquettes via Just a Little Bit of Bacon
And don't forget the leftover chicken carcass, which can be turned into a delicious homemade chicken stock. If you don't feel like making stock immediately, freeze the carcass for up to three months, and just make stock when you have the time.
Recipes for Leftover Ham
Every Christmas I cook a large ham for lunch, whether I am hosting or not. And every year I end up with a far larger ham than necessary, which to my family's disgust (and my joy!) means we eat ham for the next week. Cooked ham actually freezes very well, so if you find yourself with a large amount of leftovers, freeze it in meal size portions for later, or turn it into one of these tasty dishes.
Mini Ham & Edam Cheese Quiches via me
Creamy Mushroom & Ham Pies via me
Creamy Mushroom Ham Pasta via An Italian In My Kitchen
Leftover Ham & Cheddar Scalloped Potatoes via The Seasoned Mom
Curried Ham Lentil Soup via Healthy World Cuisine
Leftover Ham Pot Pie via The Rising Spoon
Black Pepper Fried Brown Rice With Ham via Food Done Light
Deep Dish Easter Leftovers Pizza via Farm Fresh Feasts
Ham White Bean Soup via Delicious Meets Healthy
Recipes for Leftover Mashed Potato or Sweet Potato
Leftover mashed potato used to sit in my fridge until it was time to throw it out. I never knew what to do with it. Then I discovered that you could freeze mashed potatoes very successfully, which is a great time-saver. Now I always make more mashed potato than I need for the meal, and either use it for pancakes, or freeze it for later.
But if you don't want to freeze your leftover mash, here a few ideas for light meals and side dishes to use up the excess. And swap out the mashed potato for mashed sweet potato if that is whatyou have on hand.
Leftover Mashed Potato Cakes via me
Leftover Mashed Potato & Corn Pancakes via me
Mashed Potato Croquettes via An Italian In My Kitchen
Mashed Potato and Mushroom Quesadilla via Cooktoria
Easy Shepherd's Pie with Leftover Mashed Potato via Cooktoria
You can also blitz leftover Sweet potato into this Healthy Chocolate Smoothie from A Virutual Vegan.
And if your local fish & chip shop is as generous with the chips as mine is, use up the leftover is these Pull-Apart Potato Stuffed Pinwheels from My Cooking Journey.
Other Ideas To Use Up Leftover Food
If you are looking for a wealth of ideas to minimise your food waste, and use up as many leftover as possible, then I would strongly urge you to invest in a copy of River Cottage Love Your Leftovers. It is now one of the most used books in my kitchen. Until that book arrives, here are a few ideas for using up some of the more common leftovers you might have.
Bread
I usually turn stale bread into croutons, crackers or breadcrumbs. Stale bread is also great for French Toast, or in Bread & Butter Pudding. Or try this Warm Panzanella & Marinated Mozzarella Salad by Allergy Girl Eats.
Stew or Curry
Almost any leftover stew or curry can be turned into pie, like my Leftover Beef & Mushroom Stew Pot Pies. Spoon your leftovers into a pie dish, or ramekins for smaller amounts, top with a circle of shortcrust or puff pastry, and bake until the pastry is crisp and the filling is hot.
Last Night's Dinner
The leftovers of last night's dinner can be quickly turned into something tasty by making hash. Fry off the leftovers in a little oil, turning occasionally, until everything is crispy and heated through. Or make this Sweet Potato Breakfast Hash with Sausage, Bacon & Eggs from The Unlikely Baker
Frittata a la leftovers
With a few eggs, and a few ingredients from the fridge, you can have a tasty meal on the table in under 30 minutes. Try my 20 Minute Leftover Roasted Vegetable Frittata or Ciao Florentina's Ricotta Frittata
Risotto
I always seem to end up with leftover risotto no matter how much I try not to create leftovers. The very best thing to do with cold risotto is make arancini balls. Try these Mozzarella Stuffed Arancini Balls from Krumpli, or these Crispy Arancini with Corn and Thyme from Savory Tooth.
Pulled Pork
You can turn even a small amount of pulled pork into another great meal. Try Pulled Pork and Chickpea Salad by Belly Rumbles or these Sheet Pan BBQ Pulled Pork Nachos from Syrup & Biscuits.
Roast Lamb
My mum would always turn leftover lamb roast into Shepherd's Pie, using the pan drippings to moisten the meat. If that doesn't interest you, what about Lamb Pilaf by Caroline's Cooking, or Leftover Roast Lamb Pilaf with Pine Nuts via The Cook Report, or Lamb Couscous with Fried Onions and Parsley via Sprinkles and Sprouts.
Roast Beef
Rare roast beef is fantastic sliced very thin, and tucked into sandwiches with your favourite relish. It is also great in Thai style beef salads or try my Lentil & Roast Beef Salad.
Roasted Vegetables
I maintain that two trays of vegetables are just as easy to cook as one, and leftover roast vegetables have an infinite number of uses. They are great tucked into salad, such as my Mediterranean Quinoa Salad or this Leftover Vegetable Salad with Avocado Dressing from Trial and Eater. Or blitz the vegetables with stock to create an easy soup, like this Leftover Roasted Butternut Squash Carrot Soup from Blender Happy.
Leftover Spaghetti
If I have a small amount of pasta leftover from last night's dinner, I tip it into a gratin dish, dust it with cheese, and crisp it up under the grill. If you have a large amount of leftover pasta in sauce, turn it into this Spaghetti Pie with Three Cheeses by From a Chef's Kitchen. If you have just cooked too much spaghetti, and the leftovers are unsauced, why not make this Easy Spicy Peanut Pasta Salad (Vegan) by Food Meanderings.
Fish
I used to find leftover fish one of the hardest types of leftovers to deal with. No longer. If I have leftover mashed potato as well, I make fish cakes. I've also successfully reheated fish nuggets and stuffed them into a wrap with lettuce and mayonnaise. Salmon is great flaked into salads, like my Leftover Salmon Caesar Salad, or you can turn any leftover fish into pate. Check out these Sardine Pate & Wild Garlic Sandwiches by Use Your Noodles.
Leftover Rice
I always cook too much rice, so I will have leftovers for lunch the next day. At least once a week I make leftover fried rice, using whatever is on hand in the fridge or freezer. I also freeze rice in meal size portions so I can cook fried rice whenever it takes my fancy. If fried rice is not your thing, what about Mexican Rice with Black Beans by Light Orange Bean.
Chili
If you have a larger amount of leftover chili, make pies (see stew above). If you have a small amount, you can turn it into a completely new meal by spooning the reheated chili over cooked potatoes or sweet potatoes, like these Loaded Chili Stuffed Sweet Potatoes by The Kitcheneer.
Puff Pastry
Are you like me, and find yourself with all those little bits of puff pastry offcuts? Love Is In My Tummy implores you to Don't Throw Away Leftover Puff Pastry Bits. She shows you how to turn them into tasty sweet and savoury treats.
Asparagus Ends
Whilst I love asparagus, I despair of all those end pieces I throw away through the asparagus season. Next time, I am going to save them and make this delicate Asparagus Soup by Books & Lavender.
Chocolate
Yes, leftover chocolate is a thing. At least in my house. If you have leftover Easter bunnies, turn them into Chocolate and Almond Scones. Smaller amounts of melted chocolate, leftover from coating truffles or other projects, can be turned into these Spiced Hot Chocolate Spoons.
Leftover Meal Planners
Still can't decide what to do with those leftovers? Plug your leftovers into one of these online meal planners and it will tell you what tasty things you can make with what you have on hand.
——————————————————————————————-
In honor of Earth Day, the challenge for this month's Recipe ReDux is to come up with ideas for reducing food waste. Make sure you check out the rest of the posts in this link up for more great ideas to help you reduce your own food waste.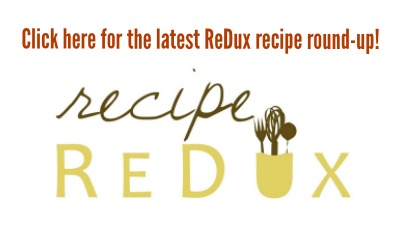 * This post contains affiliate links